Food Friday 3/31/23: Sushi with Michael Marcus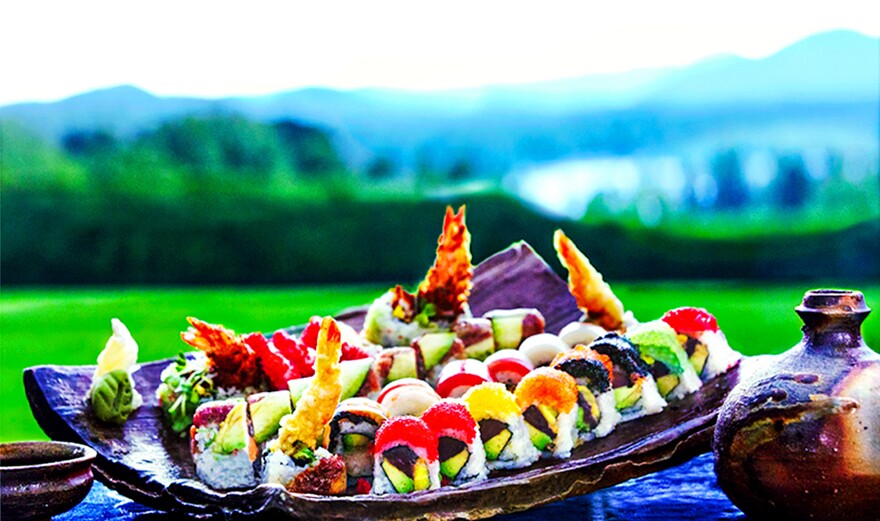 We explore the wide and wonderful world of sushi with Michael Marcus of Bizen Gourmet Japanese Restaurant in Great Barrington, MA. Call in at show time. 800-348-2551. Ray Graf hosts.
Michael Marcus is proprietor and head sushi chef of Bizen Gourmet Japanese Restaurant, and Bizen Kaiseki in Great Barrington. He has been a potter for over 35 years. He apprenticed as a potter in Bizen, Japan for four years, studying wood-fired glazed and unglazed wares, Chado, the Japanese Tea Ceremony, and later, Japanese Sushi Cuisine. His ceramics are collected internationally, and used in Japanese restaurants such as Nobu and Hatsuhana in New York City.
Michael's special focus and passion is in the harmonizing of hand-made tableware with food presentation, often using his own, wood-fired dishes, new-born out of the kiln, for some special sushi delicacy.
From its inception in May 1996, Bizen has endeavored to fulfill the needs of its community for the highest quality fish and poultry and natural products, organically grown and prepared with traditional and time honored techniques. They regularly use vegetables from their own biodynamic garden and apiary. They call it 'Farm to Tatami'.
Michael shares this knowledge by teaching "The Way of Sushi as Spiritual Practice" at the Kushi Institute, Kripalu and Omega.