City Taking Claims "Seriously" As Albany's CPRB Chair Raises Alarm About Officer's Comments
Concerns over "racist myths" being perpetuated by an Albany Police detective have prompted the Chair of the Community Police Review Board to ask the Common Council to intervene.Nairobi Vives says she couldn't believe her eyes and ears over disheartening images of people of color accompanied by racist remarks she says she and others were subjected to during a training session intended to share the principles of policing with interested local residents led by Lt. Howard Schecter.
"I was really moved to write a letter about what is happening in this class, at least from this one presenter, Lieutenant Detective Schecter. Using this platform in this position of power to spread lies and, you know, racist myths about the Black community. And the bigger piece that really hit me was that, like I said, in the letter, you know, when I reported my experience back to the rest of the board, I was, you know, told that this same person, we later figured out that it was the same presenter, had done this before."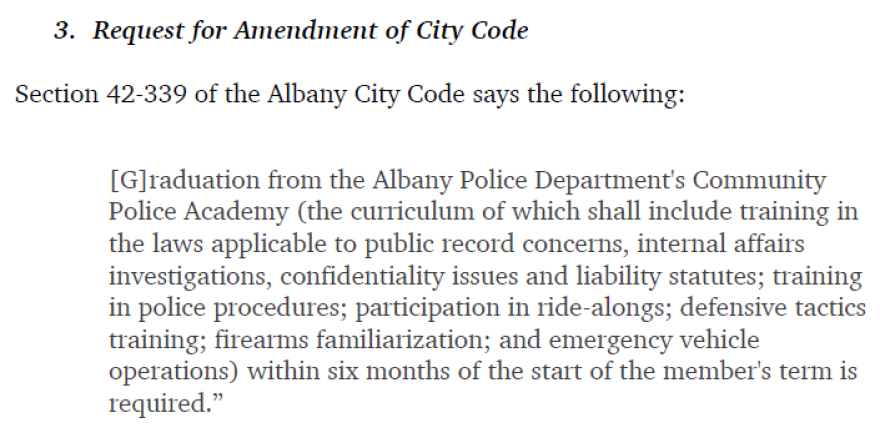 In her letter Vives asks the council for an amendment to the City Code that would delete the requirement that CPRB members attend Community Police Academy classes, stating "CPRB members should not be required to complete this program until the Common Council can be assured that racist myths are no longer part of the 'education' it offers."
"There were multiple parts of his presentation there made me uncomfortable and just like little coded sorts of things that he said, you know, in reference to certain neighborhoods, and then the display of Black and brown bodies that had been, you know, shot or... there was one young man who had been shot and I guess, had been left for a while before the police found him and, you know, a portion of his face had been eaten by rats. And he just showed this image with no sort of warning so the entire presentation was making me very uncomfortable."
Vives says she was also disturbed about statements made concerning crime and a swipe against a long-time city activist.
"He made the reference to, he doesn't see Alice Green saying anything about when Black people are killing themselves. And I just, that too shocked me, I'm like, she's not here, one, to defend herself, but two, Alice Green, to my knowledge, has spent what is most of my life in Albany, New York, fighting for improvements of all types for our community. So I just felt like for him to use his position of power, for him to use that class as a platform to spread lies, to spread racist myths to, you know, and not stop when he was called on it. I was just shocked."

"I think it's going to be very difficult for community people to continue to be involved in the program, unless there are some changes." ~ Alice Green, Executive Director of The Center For Law And Justice.
Green says she attended the very first citizen police academy class, adding that over the years, many people have taken part in the program and have positive things to say about it. She's troubled by Vives' experience.
"So I think the recent incident, you know, is quite disturbing, as we seek to, you know, address systemic racism and policing, and repair serious damage that has been done recently to police-community relations. So I think it's going to be very difficult for community people to continue to be involved in the program, unless there are some changes. So I was happy to see that Ms. Vives is calling for a restructuring of the program. I find that very encouraging. And I must note that we all must call out individual and systemic racism whenever we see it, and I applaud her for doing that."
Common Council President Corey Ellis tells WAMC the incident is a personnel matter and is under investigation, "going through the proper channels."
Mayor Kathy Sheehan's office responded to a request for comment via email, stating:
"The City of Albany is in receipt of the original complaint dated April 19 – a complaint the Mayor's Office acknowledged receipt of immediately. The Albany Police Department's Office of Professional Standards is investigating the matter, and the Mayor's Office has made a referral to the Chief Diversity Officer to assist in the investigation. The City of Albany is taking the claims very seriously as the representations described in the letter do not reflect the values or expectations of this administration."
A police department spokesman did not respond to a request for comment.