Empire Of Almonds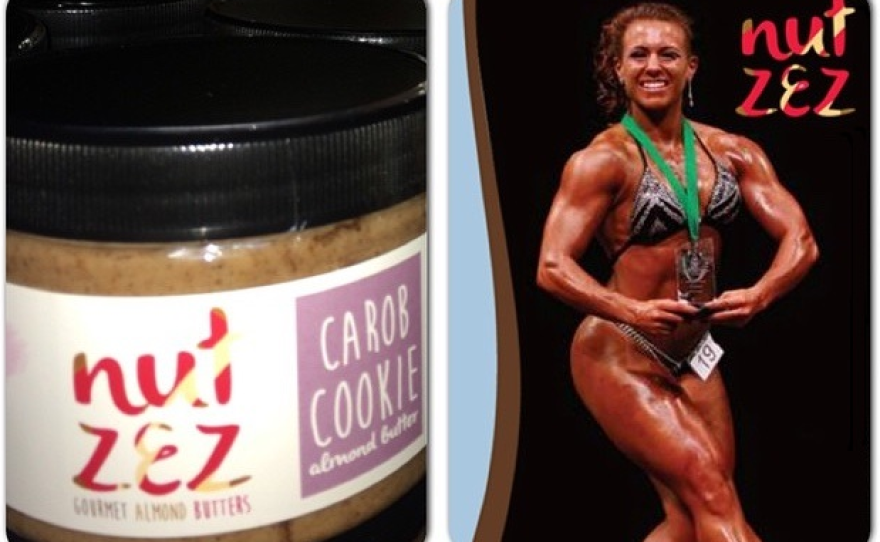 A jar of NutZez; Amanda Zezima
Amanda Zezima
Amanda Zezima (she's the "Zez" in "NutZez")!
WAMC photo by Dave Lucas
Wholesome food for a healthy body!
Amanda Zezima
A Capital Region woman turned her passion for health and nutrition into a business. She planted the seed of an idea and sprouted something called NutZez...
Each January, most of us make resolutions, but only a small percentage of people actually stick to them, which many times involve a change to a healthier lifestyle. You might get some inspiration from a story involving a local woman and her love of almond butter.
Amanda Zezima is the founder of a company based in Cohoes, called Nut Zez. "My business started pretty much because I was doing a bodybuilding competition, and the diet wasn't working with the way my body was working. So I'm diabetic, and I've been diabetic for 23 years, so my body needs more healthy fats to help stabilize my blood sugar. So instead of dropping out fats, we dropped out carbs, kept fats high to help keep my blood sugars more stable. So I was eating a lot of healthy fats. I was getting really bored with the plain almond butters that were in the stores, and it's hard to find ones that had no salt, no sugars, no added oils, just plain, so I started makin' them on my own."
Who knew nut butter could become a cottage industry? That was just the beginning. Zezima began to tinker with different flavorings, mixtures of spices and protein powders that wouldn't negatively impact nutritional value. "Not all nut butters are the healthiest, but almond butter's one of the biggest bangs for your buck. Our bodies all need fat to stabilize, to live, to go through its proper functions, and almond butter qualifies for that. For myself, I need 70 grams of healthy fats a day, just to maintain and stay the same. Almond butter is really a quick easy way to do that, you just take a spoonful of it, it has a lot of biotin in it, potassium, vitamin C, D, A. There's a bunch of different other benefits in it as well as just being a fat. The biggest thing about, that people get scared with fats, is that 'if I eat fat I'm gonna get fat.' It's not like that with healthy fats. Our bodies need it to function."
When she realized how much of an impact the nut butters were making on her own health, Zezima decided to spread the news by making her own "gourmet" almond butter. "So for all of my clients I would bring in the new batch, the new flavor I made that day, and it was all just for fun. I just wanted to share it with them, see what they thought, I wanted them to experience it and I just wanted to share. And they just kept on coming back and asking me for it. Realizing that there's nothing else on the shelf in the market that's similar to what I make, I just decided to make a career out of it."
Zezima has a grueling schedule: besides her own time-consuming bodybuilding routine and daily appointments as a personal trainer, she works long hours packaging and promoting her nut butters. Zezima buys 500 pounds of almonds every two to three weeks; a pound of almonds per jar. She just recently hired a helper to assist with labeling and other aspects of production. "So I'll go in there during the day, make huge batches, and I leave them in the fridge to cool, because if you jar them while they're hot they'll melt the jars. So I go in there, do my things, make all the butter, put it in the fridge, cool it, and then my helper comes in later on that day, and she jars it all up for me now. I used to come to the gym, train people, go back there at night to finish jarring what I had, so that I could make new ones in the morning."
Zezima recommends making sandwiches with nut butter and sprouted breads instead of snacking on doughnuts or bagels: she says healthy fats lessen your hunger pangs. "You're eating a healthy food, with vitamins, a bunch of different minerals in it. My almond butters have added protein so you're getting a really packed, full meal, on the go, easy. So something like sprouted bread is low glycemic, no processed foods in it, no salts, no sugars. Just all the good stuff that our body needs."
Almonds have a new partner. Zezima has a surprise. Anyone for nuttawanna? "Within a year I've partnered with a medical marijuana company in Connecticut. So we make the healthiest edibles in the country that anybody could have. Our philosophy behind what we make is that food packs a nutritional healing power, and if we eat the right things that go toward what our body needs and our different disorders or issues or symptoms, we can make ourselves feel better by using food."