Sports Report: NFL Season Opener Sees Bills And Jets On Top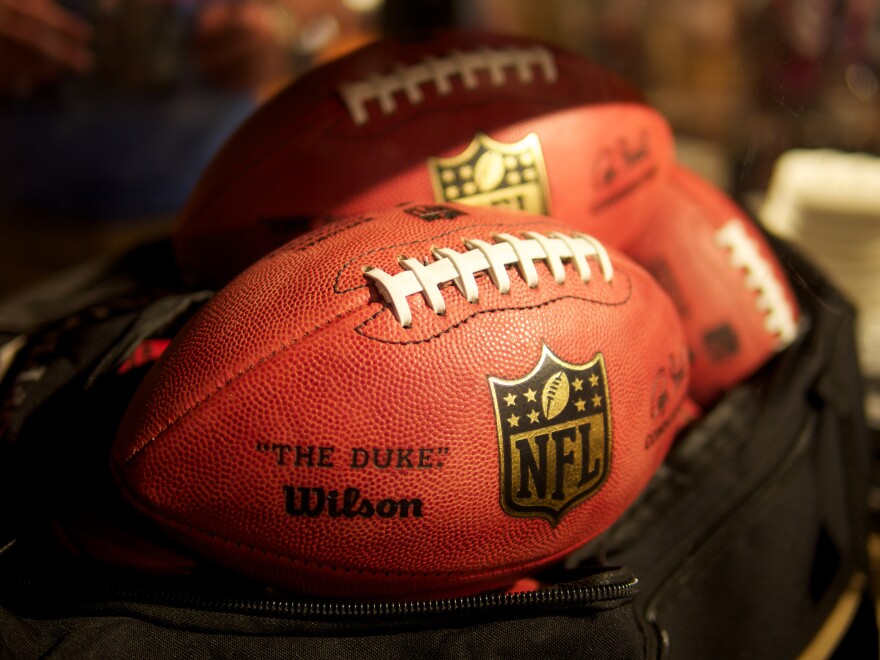 NFL:
In the NFL, Buffalo topped Indianapolis 27-14, the Jets won against Cleveland 31-10, and Dallas edged the Giants 27-26.
Meanwhile the last two Heisman Trophy winners made their NFL debuts in Tampa, Florida, on Sunday. Reigning Heisman winner Marcus Mariota had an outstanding NFL debut, throwing for four touchdown and outplaying No. 1 overall draft pick Jameis Winston in Tennessee's 42-14 pounding of Tampa Bay. Mariota threw for 209 yards without an interception and joined Hall of Famer Fran Tarkenton as the only players to throw four or more TD passes in their first NFL game.
Elsewhere Carolina defeated Jacksonville 20-9, Green Bay beat Chicago 31-23, Kansas City trumped Houston 27-20, Miami beat Washington 17-10, St. Louis kicked past Seattle in overtime 34-31, San Diego topped Detroit 33-28, Arizona won against New Orleans 31-19, Denver bested Baltimore 19-13, and it was Cincinnati over Oakland 33-13.
Tennis:
Novak Djokovic has defeated Roger Federer in four sets in the U.S. Open final for his 10th Grand Slam title. The top-ranked Serb beat Federer 6-4, 5-7, 6-4, 6-4 last night to win three major championships in a year for the second time in his career. He also topped Federer in the Wimbledon final in similar fashion — dropping the second set and taking the next two.
Meanwhile Flavia Pennetta is finally a Grand Slam champion. And she's going out on top.
The 33-year-old Pennetta won the U.S. Open women's title, 7-6, 6-2, over Roberta Vinci (VIHN'-chee) in an all-Italian championship match. Moments after becoming the oldest first time Grand Slam winner, Pennetta announced she has decided to retire.
MLB:
In baseball, in the American League, the Yankees blanked Toronto 5-0, the Blue Jays still lead the AL East with 3 ½ games over New York, Boston shut out Tampa Bay 2-0 in 13 innings, Minnesota blanked the White Sox 7-0, Texas crushed Oakland 12-4, Houston beat the Angels 5-3, and it was Baltimore over Kansas City 8-2. In a double header, Cleveland won against Detroit 7-2 in the first game, and Detroit beat Cleveland 9-2 in the second.
In the National League, the New York Mets have run their winning streak to seven games by earning a ridiculous victory in Atlanta. Down 7-4 with two out and nobody on in the ninth, the Mets took advantage of the Braves' wild relievers and rallied for a jaw-dropping, 10-7 win at Turner Field. They maintain a 9 ½ game lead over the Nationals in the NL East, Washington blanked Miami 5-0, St. Louis bested Cincinnati 9-2, Philadelphia topped the Cubs 7-4, Pittsburgh won against Milwaukee 7-6 in 11 innings, San Francisco crushed San Diego 10-3, and it was the Dodgers over Arizona 4-3.
In interleague play Colorado beat Seattle 3-2.
WNBA:
In the WNBA playoffs, Connecticut topped Chicago 86-75, Atlanta won against Washington 73-71, Tulsa beat Phoenix 91-87, Indiana defeated New York 81-76, and it was San Antonio over Seattle 59-58.
MLS:
The New England Revolution beat Toronto FC 3-1 yesterday for their fifth straight victory. Diego Fagundez scored for the third straight game, and Lee Nguyen set up two goals. New England has outscored its opposition 13-2 during the winning streak. It also has a seven-game unbeaten streak.
NBA:
Three-time NBA MVP Moses Malone has died at 60. Malone's body was discovered when he failed to report to a celebrity golf tournament in which he was scheduled to play. The Hall of Fame center was part of the 76ers' 1983 NBA championship team, led the league in total rebounds for five straight seasons and remains the NBA's career leader in offensive boards.
NCAA:
Ohio State remains the top team in this week's Associated Press college football poll.
The Buckeyes were a unanimous choice last week, but they have since lost two of the first-place votes to Michigan State. That helped the Spartans jump one spot to No. 4 after their three-point win at home to Oregon, which slipped five spots to No. 12.
Alabama and TCU remain second and third respectively, with Baylor rounding out the top five. Sixth-ranked Southern Cal is followed by Georgia, Notre Dame, Florida State and UCLA.
PGA:
Lydia Ko fired an 8-under 63 to win the Evian Championship and become the youngest major champion in LPGA Tour history.
The South Korean-born New Zealander ran away for a six-shot win over Lexi Thompson at the final major of the season.
Ko is 18 years, 4 months and 20 days old. She eclipsed the previous record set by American Morgan Pressel, who was 18 years, 10 months and nine days old when she won the 2007 Kraft Nabisco Championship.