Push At NYS Capitol To Ban Sales Of All Flavored Tobacco Products
Legislators and activists joined forces Monday at the state capitol in Albany to promote legislation that would ban the sale of all flavored tobacco products.
Anti-tobacco advocates were dealt a setback this week when a state Supreme Court justice struck down New York state's emergency ban on flavored vaping products, saying the Cuomo administration had overstepped.
"We must immediately stop this immoral and discriminatory practice of targeting minority kids by ending the sale of all flavored tobacco products in New York, including menthol." ~ Dr. Hazel Dukes, President of the NAACP New York State Conference.
NAACP New York State Conference President Hazel Dukes says for her the fight is personal. "I'm a mother of a son who last year had a six hour lung operation because of cigarettes. I've lost two aunts. Lung cancer. So I'm here today to, not just as an advocate, but one who has compassion about this work, that we end it now."
Dukes added minority communities have been especially hard hit when it comes to tobacco addiction.
Assemblymember Rodneyse Bichotte represents Brooklyn. The Democrat joined advocates in calling for swift passage of a pair of bills (Electronic Cigarettes: S428-A, Hoylman/ A47-A, Rosenthal Flavored tobacco: S6809, Hoylman/ A8808, Bichotte) they say would eliminate the sale of both combustible and electronic flavored tobacco products statewide. "We have heard concerns that restricting the sale of flavored tobacco products could lead to unwarranted police interactions. Now, this is a fair concern. However, this bill does not impose a criminal penalty. It prohibits the sale of these products. In fact, legal enforcement of this bill is the responsibility of the local health departments, not police officers. To be clear, this bill does not penalize the purchase, possession or use of these products. Some examples of entities that would be fined would be like the manufacturers, the distributors, the licensed retailers. And this was really crucial because we've been hearing that narrative even in the black community, 'oh, if we ban menthol, we're going to have another Eric Garner situation.' That's not true."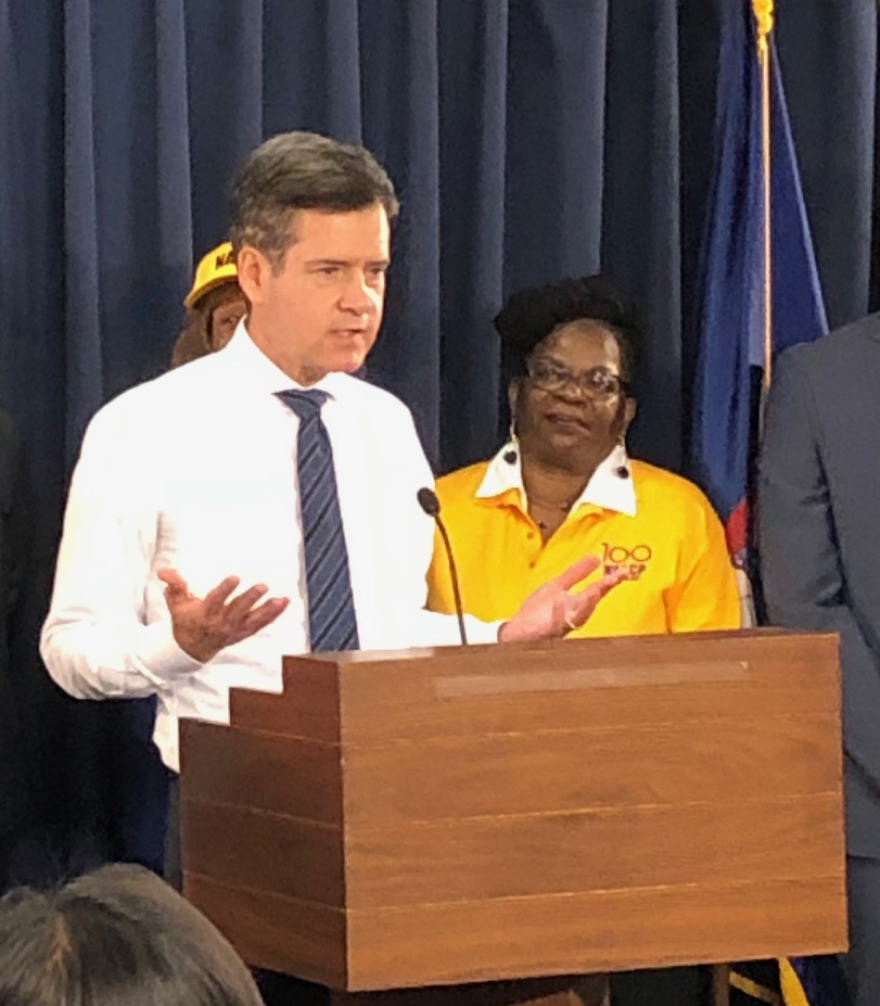 The American Cancer Society Cancer Action Network says more than half of youth smokers report using menthol products and that number is even higher among African American youth, at nearly 70 percent. Senator Brad Hoylman is one of one bill's sponsors: "We know what the problem is. Teenagers, most of whom never smoked cigarettes, have been targeted by JUUL and other e-cigarette companies and big tobacco with desert, fruit flavors and menthol. We've heard the flavors. Cap'n Crunch. Fruit punch. Cotton candy."
JUUL did not immediately respond to a request for comment.
Rebecca Carman, Director of Policy and Community Development at Shenendehowa Central School District, says savvy marketing has driven kids to think flavored tobacco is actually good for them. "And not only the words that they're using or the flavors. I wish I had brought with me different packaging containers of how they're marketing this. Kids are being used. We need to continue to educate our students about the negative effects that vaping has on them, if not deadly effects. We need the state to approve this now. It's impacting the future of our children."
Preliminary data from the 2019 National Youth Tobacco Survey shows more than ¼ of high school students used e-cigarettes in a given month and the majority of those underage vapers cited the use of fruit or mint flavors.
A spokesman told Associated Press Monday that the Democratic Senate Majority plans to pass a ban on the sale of flavored e-cigarettes and prohibition on smokeless flavored tobacco products as soon as next week.
Governor Andrew Cuomo has said he'll propose legislation this year to prohibit the sale of "all" flavored e-cigarettes and ban vaping ads targeted to youth.