At 78, Arlene Mackie Is A Mainstay Of Springfield School Volunteers
Arlene Mackie always wanted to be a schoolteacher, but life intervened. After college she got married, had four children to raise, a house to maintain, and a full time job as a church secretary. After the children grew up and moved away she joined Springfield School Volunteers and has done tutoring, mentoring, and reading-a-loud to children faithfully since 1995.
" I wanted to get back into the school system. I love kids," she explained.
Now at 78 years old, Mackie no longer tutors, but she is mentoring two children and reading to a class of preschoolers one day a week.
" It is just personal satisfaction, knowing that you are helping someone," she said.
Mackie has been mentoring this 9-year-old girl, whom we've agreed not to identify by name, for 3 years. They meet for half-an-hour, one-day-per-week, at the William N. DeBerry School.
The two sit at a small table in a hallway next to a filing cabinet, and while the girl eats her lunch from a tray Mackie helps her with math homework and asks if she's interested in doing a puzzle cut out of the newspaper.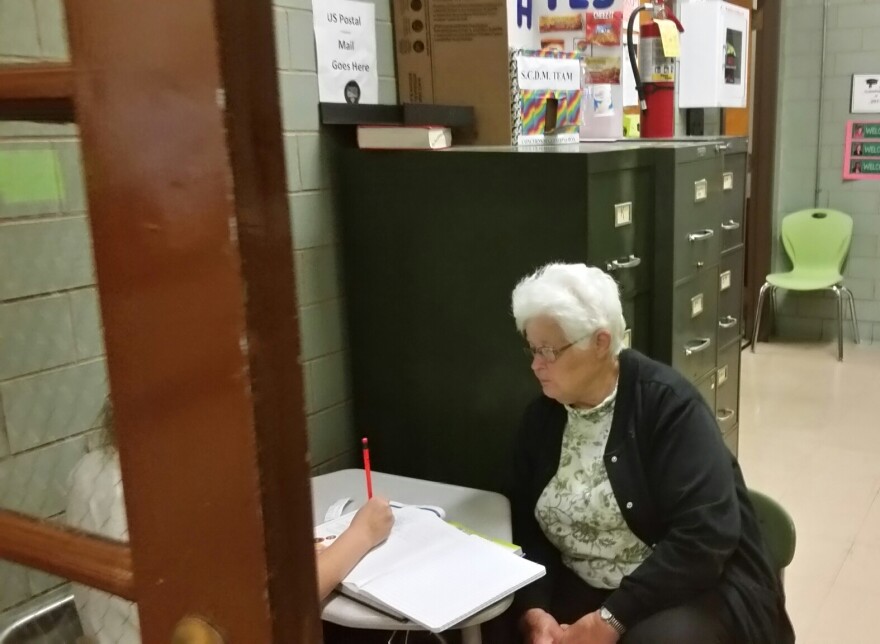 As they say goodbye, Mackie encourages the girl to keep doing the math homework. They hug and the girl heads off to a classroom.
" I feel good, and I always get a hug at the end of the day. That is the reward you get," said Mackie.
The mentoring assignments are made through the school volunteers organization,which also provides training for the mentors.
" Your not teaching in any way. You are a companion, and with each student it is different. It depends on the personality," said Mackie.
Ideally, a mentor stays with the same student right through high school, but it does not always work out that way. The Springfield schools have a high student transfer rate, and Mackie said she's been unable to follow children from school to school.
" Hopefully, we are planting some seeds," she said. " I don't always see it, but the schools say it makes a big difference. Attendance improves because the kids look forward to you coming in."
Also, the mentor and the student are not allowed contact outside the school and can't exchange personal information. As a result, Mackie has no idea what has become of the many children she mentored through the years.
DeBerry school principal Stefania Raschilla said mentors provide additional support for students in a non-confrontational way.
" If they are struggling and even if not they see the teach as an authoritative figure and working with someone who is not their teacher can give them another outlet that they can have a conversation with and discuss what is bothering them. It is not about academics," said Raschilla.
Raschilla said a lot of students would benefit from devoted volunteers like Mackie.
After saying goodbye to the student she's mentoring at DeBerry, Mackie drives over to the Sumner Avenue School, where she is introduced to a new girl to mentor. They get to know each other, in private, in the office of a school guidance counselor.
Mackie said she prays before starting her day as a volunteer school mentor. Her final volunteer assignment is not as intense as mentoring, but it is a lot louder.
This is a classroom of a dozen, or so, preschoolers, who will be quiet for just a short time, while Mackie reads a story.
"I love those little kids, they asked the darndest questions, Mackie says with a laugh.
In addition to volunteering in the Springfield public schools, Mackie also devotes a lot of time to Trinity United Methodist Church. She's a member of United Methodist Women, volunteers in the church nursery school, and the after-school drop-in center. She works in a church-hosted program that provides legal assistance for recent immigrants. Mackie has also been a volunteer for years with the Girl Scouts organization.
Does she have any estimate how much time she puts in volunteering?
" I probably would not like myself if I knew," she said with a laugh.
There is a common thread that Mackie sees in the volunteer work she does in Springfield.
" All the programs I am involved with I just see very needy kids coming from homes that have been disrupted," she said. " There is poverty, absent father, but these are good kids who need a little direction in their lives."
Mackie acknowledges that volunteering can be frustrating, wishing there was a 'quick fix,' but she encourages others to volunteer, to get out of the house and try to make a difference.
" Spending your whole life dusting furniture and vacuuming floors is not very rewarding," she said. " But, seeing a kid grow and seeing the smiles on their faces, it means a lot. It does to me at least."