Van Gogh And Whistler Take Over Clark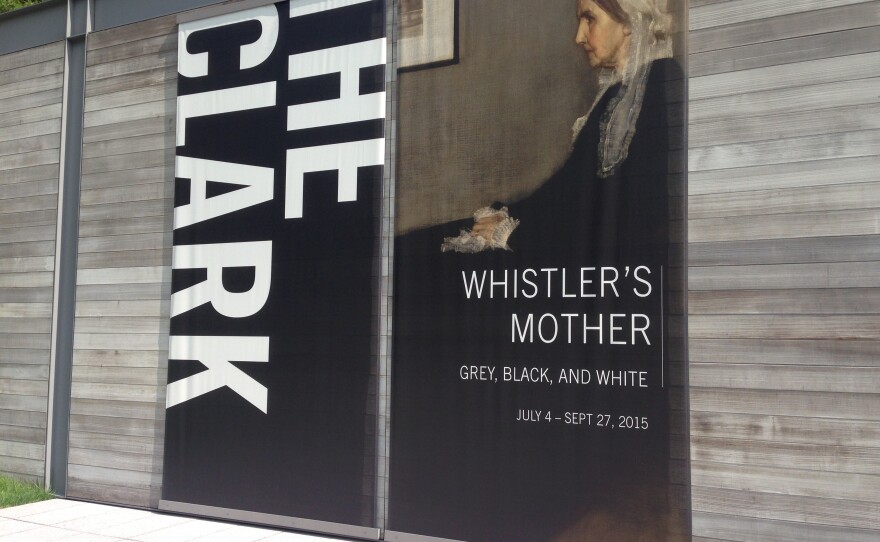 Known today as Whistler's Mother, the painting was originally titled Arrangements in Gray and Black No. 1.
Jim Levulis / WAMC
James Whistler and his mother.
Jim Levulis / WAMC
Whistler's Mother toured the U.S. during the 1930s, becoming an iconic image in America.
Jim Levulis / WAMC
Mothers of America stamp
Jim Levulis / WAMC
An iconic 19th century American painting that remains one of art's most famous works is now on view at the Clark Art Institute in Williamstown, Massachusetts. It joins an ongoing exhibit featuring works by one of the world's most popular artists.James McNeill Whistler's most famous painting known today as Whistler's Mother is an 1871 portrait of the woman born as Anna Matilda McNeill. She is depicted sitting in a chair with a profile view of a straight face donning a white cap and a black mourning dress, typical attire for a widow during the time. Despite being a portrait, curator Jay Clarke says Whistler originally titled the work Arrangement in Grey and Black No. 1.
"He saw it as an arrangement of colors," Clarke said. "Literally we see gray, we see black and we see white. When people were confounded by the fact that it [portrait] wasn't in the title, his theory was that's not the point of the picture. The point of the picture is that it's an arrangement of shapes and forms on a canvas. It is not a portrait of my mother. But then later in life he amended the title and added "Portrait of the Artist's Mother" to the end. But when it was initially conceived, it was not conceived as a portrait per say."
After leaving West Point without graduating, Whistler moved to France and then Great Britain to pursue art. Following the death of her husband, Whistler's mother moved in with her son in London where the famous painting was done.
"Initially it's believed that she was standing, but it was too hard on her and she became too fatigued so then she sat down," Clarke explained. "It's much easier to portray someone seated and she's not moving and she's very faceless. I think now people think of her as very dower and intimidating, but think about the fact that photographic portraits being taken in the time required you to sit perfectly still. You couldn't move at all because exposure times were so long. So this kind of very stayed, serious portrait did not necessarily appear so at the time. It seemed perfectly normal."
After an initial showing at the Royal Academy of Arts in London, Clarke says Whistler later had to pawn the painting when he was struggling financially following a libel lawsuit against the art critic John Ruskin.
"So he had to use the painting as collateral for loans," Clarke said. "So for a number of years it was with creditors. It wasn't until the government in Paris decided to buy the painting, specifically the Musee du Luxembourg, and basically got it out of hoc and he sold it to the French government."
Clarke says the image became an American icon during a cross-country tour in the 1930s while on loan from the French government.
"America was in such difficult circumstances at the time with the stock market crash and the Great Depression that she really served as an emblem of motherhood," said Clarke.
The image would find its way onto postage stamps, magazine covers and political advertisements throughout the 20th century. President Franklin Delano Roosevelt sketched an image of it in 1934 for what would become the Mothers of America postage stamp. Today, Whistler's Mother typically hangs in the Musee d'Orsay. Whistler's other works and how the iconic image was repurposed in popular culture rounds out the exhibition which runs till September 27th. Whistler's original etching depicted hanging on the wall in his mother's portrait is also on view.
Meanwhile, an exhibit of nearly 50 Vincent van Gogh works is on display until September 13th at The Clark. Outgoing museum director Michael Conforti says there are roughly 20 pieces from the artist's last two troubled years before the 37-year-old committed suicide in 1890.
"You have to get involved with the personality and that can't be entirely separated from the production," Conforti said. "I think that may be the thing that makes him so popular with a sense of curiosity for the general public."