Troy Officials Break Ground On $18 Million Affordable Housing Project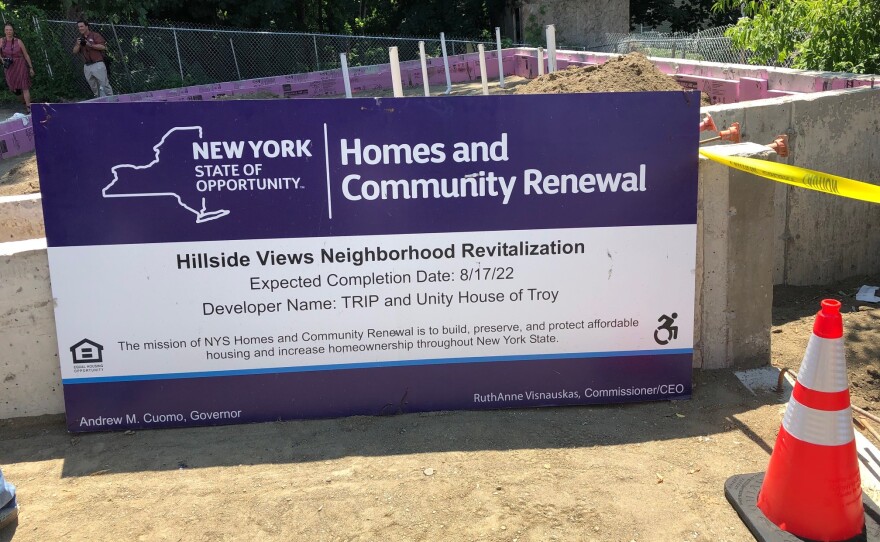 Officials participate in a ceremonial groundbreaking in Troy.
Dave Lucas / WAMC
Construction on an $18 million affordable and supportive housing development in the city of Troy is underway.
A ceremonial groundbreaking took place Tuesday afternoon at 69 Rensselaer Street in Troy.
Officials say the Hillside Views Neighborhood Revitalization project entails redevelopment of eight vacant or underutilized parcels in the city's North Central area to create 51 energy-efficient affordable homes with 26 units reserved for previously homeless households in need of support services.
Chris Burke is President and CEO of project co-developer Unity House.
"We see about 5000 families a year. And by far, the biggest need that's expressed to us when people walk in the door is 'we are struggling to keep a roof over our head, we can't afford the very high rents. Our incomes have stayed very stable have not going up. But the cost of housing continues to rise.'"
Hillside Views will consist of one four-story building with 28 apartments and seven townhouse-style buildings at scattered locations. The project is being developed on 17 individual parcels obtained over time by the city, the Troy Community Land Bank, and various private owners. Troy Mayor Patrick Madden, a Democrat, says the new housing units will provide safe, decent, affordable housing wrapped around support services.
"But also it represents optimism in the neighborhood. When the neighbors see investment going on in their neighborhood, they come to see that people value their neighborhood. That they appreciate the neighborhood. And people pride grows out of that. And then people start looking at their own sidewalk and their own porch and their own façade and they start making changes."
Officials say all of the apartments will be affordable to households earning at or below 60 percent of the Area Median Income. Six apartments are fully adapted and move-in ready for people with a mobility impairment, three for people with a hearing or visual impairment.
Republican City Council President Carmella Mantello says the neighborhood in the area between 9th and 10th streets is definitely on track for a comeback.
"I grew up about three, four blocks north of here, born and raised in North Central and at that time you know folks hung out down there on their porches. The neighborhood was a place that you want to live work, recreate. Today is another step in that direction."
Christine Nealon is President & CEO of project co-developer Troy Rehabilitation and Improvement Program.
"Please do not confuse the development of affordable housing as an act of charity. It is a fundamental act of justice."