Wanted: Public Input On Central Ave. Rezoning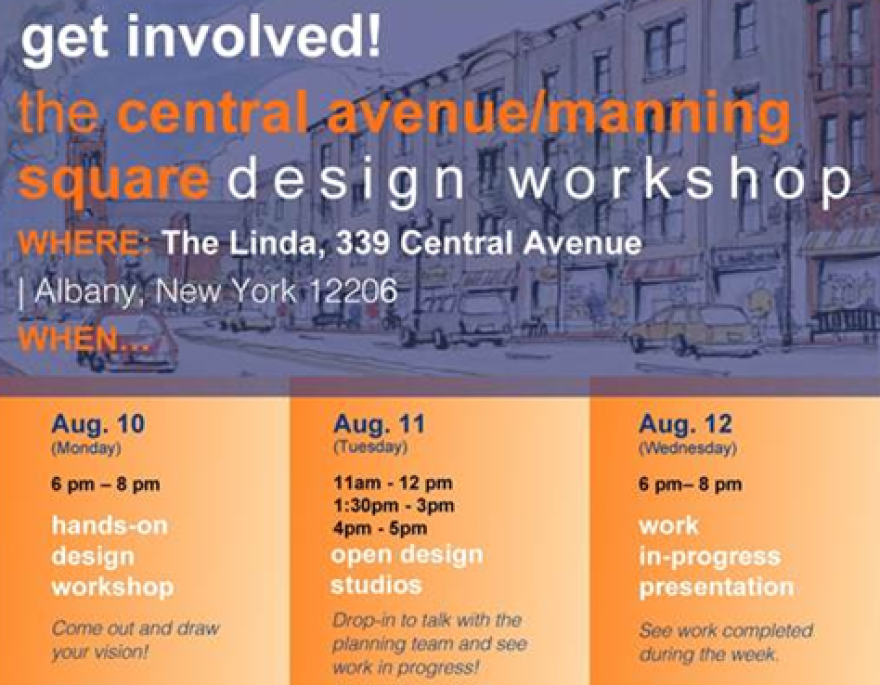 An apartment building, a car garage, a veterinary hospital . . .. What do these businesses have in common?
They're each part of a swath of Albany's Central Avenue that is being studied as part of the ReZone Albany Initiative. Beginning today, ReZone Albany is hosting a three-day public visioning workshop that focuses on the area around Central Avenue from King Avenue to Quail Street, including Manning Square. The City of Albany Planning Department will bring in Dover, Kohl & Partners, an urban design firm, to help guide the workshop.
The workshops will be used to inform the rezoning of the area and will include many public sessions and meetings with stakeholders. The workshop series will culminate on Wednesday, August 12, at The Linda, WAMC's Performing Arts Studio, in a presentation of the work completed during the week.
The Central Avenue Business Improvement District is co-sponsoring the design workshop with the City of Albany. Visit: http://rezonealbany.com/
Here is the schedule of events:
A KICK-OFF MEETING AND HANDS-ON DESIGN WORKSHOP: Monday, August 10, from 6-8 p.m. at The Linda, 339 Central Avenue
OPEN DESIGN STUDIO DROP-IN SESSIONS: Tuesday, August 11, 11 a.m.-12 p.m., 1:30-3 p.m., and 4-5 p.m. at The Linda, 339 Central Avenue
FEEDBACK PRESENTATION SESSION: Wednesday, August 12, 6-8 p.m., the group's findings will be presented at a work-in-progress presentation at The Linda, 339 Central Avenue (two parking lots available)