Sports Report: Pats Edge Giants With Last Second Kick, 27-26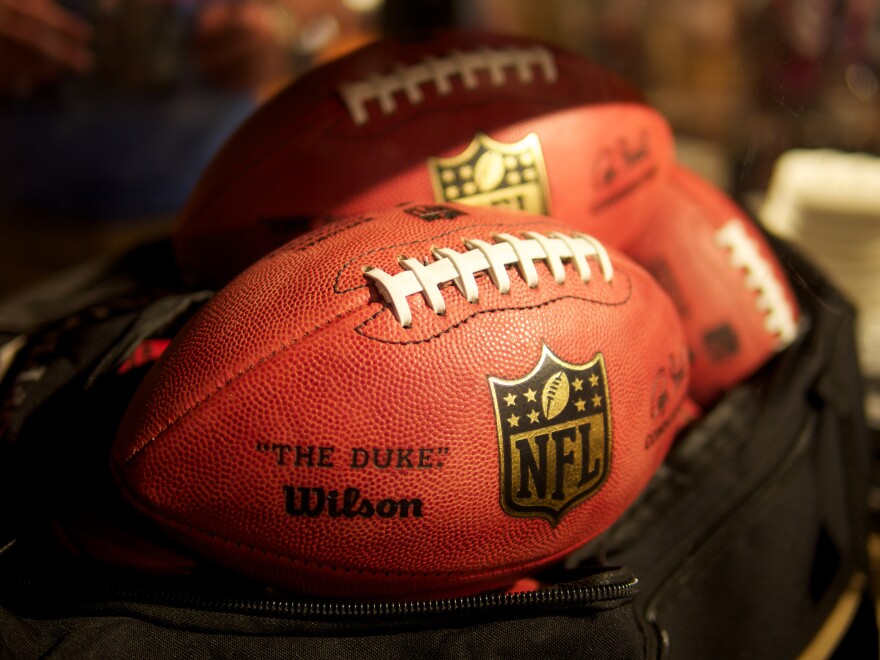 NFL:
In the NFL, New England edged the Giants 27-26. Stephen Gostkowski's 54-yard field goal with 1 second remaining kept the Patriots unbeaten. Tom Brady was 26 of 42 for 334 yards, two TDs and an interception for the 9-0 Patriots, who played most of the game without Julian Edelman because of an ankle injury. The Giants dropped to 5-5 despite Eli Manning, who was 24 of 44 for 361 yards, two scores and no interceptions.
Elsewhere Carolina beat Tennessee 27-10, Chicago bested St. Louis 37-13, Pittsburgh topped Cleveland 30-9, Tampa Bay won against Dallas 10-6, Detroit defeated Green Bay 18-16, Jacksonville trumped Baltimore 22-20, Miami slid past Philadelphia 20-19, Washington bested New Orleans 47-14, Minnesota bested Oakland 30-14, Kansas City won against Denver 29-13, and it was Arizona over Seattle 39-32.
Peyton Manning broke Brett Favre's record for passing yards, but he was just 5 of 20 for 35 yards and four interceptions before he was benched in the third quarter of Denver's 29-13 loss to Kansas City. Alex Smith hit Charcandrick West for an 80-yard catch-and-run to put the Chiefs ahead 29-0 with 11:10 remaining. West scored both Kansas City touchdowns and had 69 yards on 24 carries.
NHL:
In the NHL the Rangers skated by Toronto 4-3 and Mats Zuccarello scored with 58.3 seconds left to give the Rangers their ninth straight win. And it was Chicago over Calgary 4-1.
The entire Boston Bruins roster is expected to participate in the team's annual holiday toy shopping event for children who will be spending the holidays in hospitals. This year's shopping spree is scheduled to take place today at the Target store in Everett. The toys will be bought with donations from the players, coaching staff and the Boston Bruins Foundation.
NBA:
In the NBA, New York beat New Orleans 95-87, Boston topped Oklahoma City 100-85, Memphis bested Minnesota 114-106, Charlotte won against Portland 106-94, Utah defeated Atlanta 97-96, Sacramento 107-101, and it was the Lakers over Detroit 97-85.
NCAA:
In top 25 men's college basketball, No. 23 Purdue beat Vermont 107-79.
UAlbany's men's team lost on Friday to No.2 Kentucky 78-65. Siena's men's team fell to Duke 92-74.
Pennsylvania pulled away to beat Central Connecticut State 77-61 yesterday. Sam Jones scored 15 of his 23 points in the second half for Penn. Brandon Peel scored 17 points and grabbed 10 rebounds to lead Central Connecticut State. Khalen Cumberlander added 16 points with eight rebounds and four assists.
NASCAR:
The four-man field is set for the finale of the Chase for the Sprint Cup championship at Miami-Homestead Speedway next Sunday. Kevin Harvick, Kyle Busch and Martin Truex Jr. joined Jeff Gordon by finishing among the top 14 in the rain-shortened race at Phoenix International Raceway. Harvick was second behind winner Dale Earnhardt Jr., Busch fourth and Truex 14th.
PGA:
Russell Knox and Graeme McDowell each had six birdies on Sunday and were tied for the lead at 19-under when the final round was stopped in the PGA's rain-delayed OHL Classic in Mexico. McDowell birdied the par-5 13th just after the horn sounded to suspend play because of darkness. Knox will complete the 13th when play resumes on Monday.
LPGA:
Inbee Park won the Lorena Ochoa Invitational, her fifth victory of the season and 17th LPGA Tour title. Ranked No. 2 in the world, Park birdied the final two holes for a bogey-free 8-under 64 and a three-stroke win over Carlota Ciganda.
Speedskating:
American Brittany Bowe broke the world record in the women's 1,500 meters Sunday, and Russia's Pavel Kulizhnikov topped the previous mark in the men's 500 at a World Cup speedskating event.
The 27-year-old Bowe, from Ocala, Florida, finished in 1 minute, 51.59 seconds to break the record of 1:51.79 set by Canada's Cindy Klassen in 2005 in Salt Lake City. On Saturday, Bowe broke her own world mark in the 1,000, but teammate Heather Bergsma topped her in the next pairing.
Kulizhnikov finished the 500 in 34.00 to break the mark of 34.03 set by Canada's Jeremy Wotherspoon in 2007.
F1:
Nico Rosberg has won the Brazilian Grand Prix, the penultimate race of the Formula One season. Rosberg started from the pole before earning his second straight victory and fifth of the season. Mercedes teammate and season champion Lewis Hamilton was second, just ahead of Ferrari's Sebastian Vettel.
Tennis:
The Czech Republic clinched its fourth Fed Cup title in five years with a win in the doubles. The Czechs rallied to a 4-6, 6-3, 6-2 victory to take the best-of-five series over Russia 3-2.
UFC:
Holly Holm pulled off a stunning upset victory over Ronda Rousey in UFC 193, knocking out the women's bantamweight champion in the second round with a powerful kick to the head Sunday. The fight started at a frenetic pace with Holm landing some powerful shots to the unbeaten Rousey's head, leaving the frustrated champion with a bloodied nose at the end of the first round.
Rousey attempted to dominate the second round, pushing Holm around the ring until the challenger snapped a massive kick to the head that instantly dropped her opponent to the canvas. Holm dived on the prone Rousey, delivering several blows to her head before the referee intervened. An ecstatic Holm jumped around the ring as Rousey received medical treatment.
FIFA:
FIFA has banned the president of the Nepal federation for 10 years over election bribery, while his Laos counterpart has been suspended from soccer for two years.
FIFA says All-Nepal Football Association President Ganesh Thapa was guilty of the "solicitation and acceptance of cash payments from another football official, for both personal and family gain" over the 2009 and 2011 FIFA executive committee elections at the Asian confederation congress.
As well as the 10-year ban from soccer, Thapa was fined 20,000 Swiss francs ($19,900).
Lao Football Federation President Viphet Sihachakr was found to have sought and accepted a payment from another football official relating to the 2011 election for a place on FIFA's executive committee. Sihachakr received a fine of 40,000 Swiss francs (around $39,700) on top of his two-year ban.
©2015 The Associated Press. All Rights Reserved.