Sports Report: Giants, Jets, Bills, And Pats Win On Sunday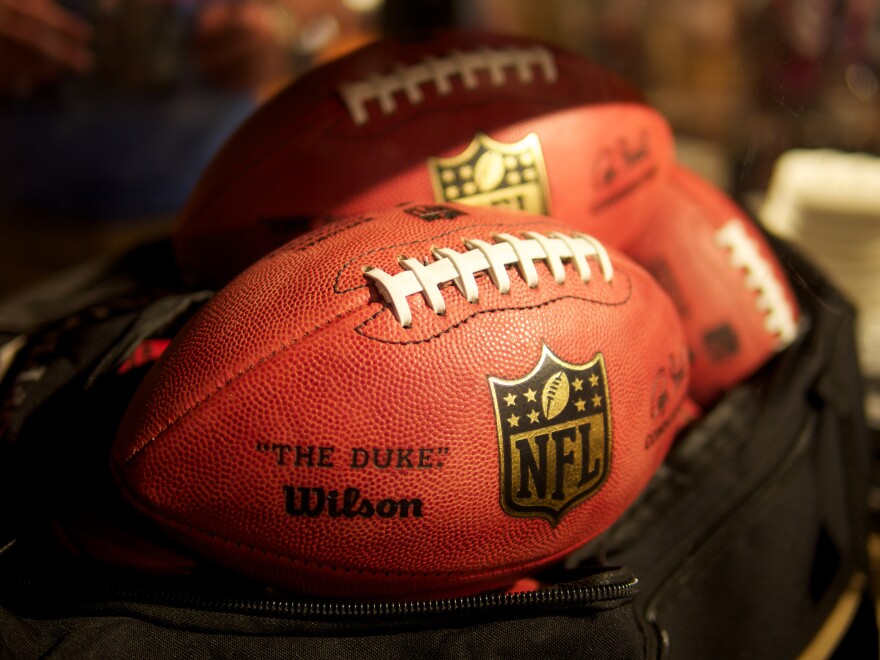 NFL:
In the NFL, the Giants beat Tampa Bay 27-24, Buffalo topped Miami 33-17, the Jets won against Jacksonville 28-23 and it was New England over Washington 27-10. Elsewhere Carolina beat Green Bay 37-29, Pittsburgh edged Oakland 38-35, Minnesota slid past St. Louis in overtime 21-18, Tennessee won against New Orleans in overtime 34-28, San Francisco edged Tampa Bay 17-16, Indianapolis beat Denver27-24, and it was Philadelphia over Dallas in overtime 33-27.
On Monday Night Football, Chicago is in San Diego to face the Chargers at 8:30.
NHL:
In the NHL, Boston bested the Islanders 2-1, New Jersey skated by Vancouver in overtime 4-3, Chicago doubled up Edmonton 4-2, and it was Dallas over Detroit 4-1.
NBA:
In the NBA, the Knicks beat the Lakers 99-95, Miami won against Toronto 96-76, Oklahoma City beat Phoenix 124-103, Detroit topped Portland 120-103, and it was Cleveland over Indiana 101-97.
NCAA:
For the first time this season Ohio State is not the top team in The Associated Press Top-25 football poll. The Buckeyes, who won Saturday to improve to 9-0, have been replaced by Clemson. The 9-0 Tigers received 31 first-place votes after beating Florida State 23-13. The Buckeyes received 26 first-place nods and are 29 points behind the Tigers. The third-ranked school is Alabama, followed by Baylor and Oklahoma State. 'Bama and Baylor each received two first-place votes.
University of Missouri:
Around 150 protesters have gathered on the University of Missouri campus in Columbia as part of ongoing demonstrations over matters of race and discrimination at the college.
For months, black student groups have complained of racial slurs and other slights on the overwhelmingly white campus, and they're now calling for President Tim Wolfe to step down. One black graduate student is on a hunger strike, and on Saturday night, black members of the football team joined the outcry.
Those gathered late Sunday near Jesse Hall prayed for the hunger-striking student, among other things. They also chanted, sang songs and read a Bible verse. Organizers at one point called student-athletes forward to lead a prayer.
At least 20 tents were set up, and many planned to camp out overnight amid temperatures that had dropped into the low 40s. Students huddled together, wrapped in blankets. Other stopped by the campsite to drop off food and other supplies. Two university police vehicles were parked nearby.
MLS:
Bradley Wright-Phillips scored 2 minutes into second-half injury time and the New York Red Bulls beat D.C. United 1-0 on Sunday to advance to the Eastern Conference finals.
The Red Bulls, who won the first leg of the two-game series 1-0 last week in Washington, advanced on aggregate goals 2-0, marking the second straight year they have beaten their I-95 rivals in the semifinals.
New York will face the Columbus Crew in another two-game series, with the first leg Nov. 22 in Columbus. The Crew beat Montreal in their semifinal series.
NASCAR:
Texas autumns continue to be kind to Jimmie Johnson.
The six-time Cup champion won the fall race at Texas Motor Speedway for the fourth straight year, passing Brad Keselowski's dominant car with three laps to go. Johnson led just six laps, while Keselowski paced the field a track-record 312 of 334 laps after starting from the pole. Kevin Harvick finished third, followed by Kyle Busch and Carl Edwards.
Johnson already has been eliminated from earning one of the four spots in the Chase of the Sprint Cup championship finale in two weeks. Kyle Busch leads the points race for at least two of the spots, ahead of defending Chase champion Kevin Harvick and Martin Truex Jr. Jeff Gordon already has one of the four slots sewn up.
PGA:
World Golf Championships:
Russell Knox got into the HSBC Championship in China just a week and a half ago as an alternate. Fast forward and he is now leaving China with a $1.4 million payoff and a spot in next year's Masters. Knox became the first person to win the World Golf Championship in his debut when he finished 20 under par for a two-shot win over Kevin Kisner. The 30-year-old Scotsman had never won in 92 previous starts on the PGA Tour.
Champions Tour:
Billy Andrade has won the season-ending Charles Schwab Cup Championship by beating Champions Tour points winner Bernhard Langer with a 2 1/2-foot birdie putt on the first playoff hole.
Andrade closed with a 6-under 64 for a 14-under total in his third victory on the 50-and-over tour.
Langer won the Schwab Cup points title for the second straight year and record third time overall, earning a $1 million annuity. He easily beat Colin Montgomerie and Jeff Maggert in the points race after entering the week third in the standings.
LPGA:
Sun-Ju Ahn won the Japan Classic for her first LPGA Tour victory and 20th Japan LPGA title. She beat fellow South Korean Ji-Hee Lee and American Angela Stanford with a birdie on the first hole of a playoff.
©2015 The Associated Press. All Rights Reserved.