Sports Report: Bills Fall To Pats, Giants Lose Second Straight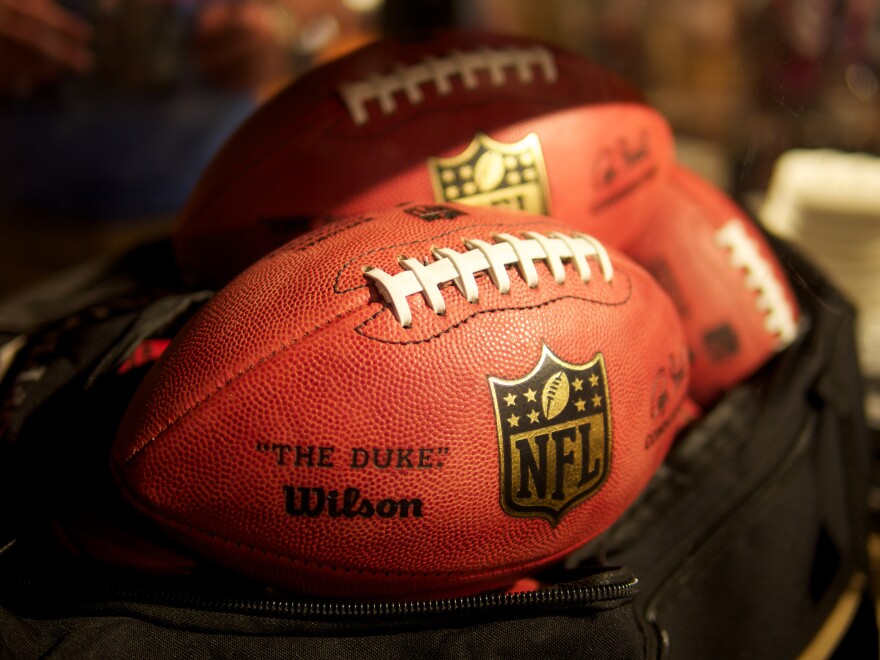 NFL:
In the NFL, New England topped Buffalo 40-32 where Tom Brady threw for 466 yards — the second-most of his career — and three touchdowns. Julian Edelman scored two touchdowns. The Patriots needed to stave off a fourth-quarter rally after building a 37-13 lead through three quarters.
Atlanta beat the Giants 24-20, where Julio Jones caught a perfect 37-yard pass from Matt Ryan, setting up Devonta Freeman's 2-yard touchdown run with 1:14 remaining. The Giants blew a 20-10 fourth-quarter lead. Eli Manning misfired to two open receivers on the Giants' final drive in another ugly finish for New York.
Arizona won against Chicago 48-23, Minnesota bested Detroit 26-16, Carolina won against Houston 24-17, Cincinnati topped San Diego 24-19, Pittsburgh defeated San Francisco 43-18, Washington beat St. Louis 24-10, Tampa Bay bested New Orleans 26-19, Cleveland won against Tennessee 28-14, Oakland bested Baltimore 37-33, Jacksonville beat Miami 23-20, Dallas doubled up Philadelphia 20-10, and it was Green Bay over Seattle 27-17.
It was another costly victory for the Dallas Cowboys yesterday. Tony Romo suffered a broken left collarbone in the third quarter. The Cowboys say Romo will be re-evaluated on Monday and joins wide receiver Dez Bryant on the Dallas sideline.
The Jets play the Colts tonight in Indianapolis at 8:30.
MLB:
In baseball, in interleague play the Yankees crushed the Mets 11-2 while in the American League Toronto fell to Boston 4-3 which puts New York just 2 ½ games back from the AL East leading Jays.
The Mets extended their lead in the NL East to 6 games.
Elsewhere in the American League, Kansas City topped Detroit 10-3, Tampa Bay edged Baltimore 7-6, Cleveland doubled up the White Sox 6-3, Minnesota bested the Angels 8-1, Houston won against Oakland 5-1, and it was Seattle over Texas 9-2.
In the National League, Washington beat Miami 13-3, Atlanta edged Philadelphia 2-1, Milwaukee doubled up Cincinnati 8-4, St. Louis slid past the Cubs 4-3, San Francisco beat Arizona 5-1, Pittsburgh defeated the Dodgers 4-3, and it was San Diego over Colorado 10-4.
NCAA:
Ohio State and Michigan State of the Big-Ten hold down the top two spots in the new Associated Press Top-25 poll.
The Buckeyes picked up 40 of 61 first-place votes after surviving a tough game against Northern Illinois. Michigan State got seven and third-ranked Mississippi 11.
Ole Miss actually shares the No. 3 spot with TCU, just ahead of Baylor. Notre Dame is sixth, followed by LSU, Georgia, UCLA and Florida State. LSU's Tiger received one first-place vote.
NHL:
In NHL preseason play, Boston blanked New Jersey 2-0, Florida edged Nashville 3-2 in overtime, Nashville beat Florida 5-2. Regular season play starts October 7th.
The Edmonton Oilers have signed defenseman Oscar Klefbom to a seven-year contract extension. He had two goals and 20 points in 60 games with the Oilers last season.
MLS:
The New York Red Bulls beat the Portland Timbers 2-0 yesterday to become the first MLS team to clinch a playoff spot. Felipe and Damien Perrinelle scored 3 minutes apart late in the first half. New York moved into first place in the Eastern Conference, a point ahead of Columbus. The Red Bulls have won three of four and 11 of 14.
F1:
Sebastian Vettel drove his Ferrari to victory in the Singapore Grand Prix. Vettel's third win of the season is the 42nd of his career, third all-time in Formula One. Red Bull driver Daniel Ricciardo (rih-KAR'-doh) was second behind his former teammate. Reigning world champ and current leader in the driver standings Lewis Hamilton failed to finish the race, leaving him 41 points ahead of Mercedes teammate Nico (NEE'-koh) Rosberg.
Stock-Car:
Police say a stock car racer taking a ceremonial victory lap died after suffering an apparent medical problem following a race in Vermont. Devil's Bowl Speedway officials say 63-year-old Leon Gonyo had just won the final asphalt NASCAR All-American Series Modified race of the season on Saturday in Fair Haven when the medical problem occurred.
PGA:
Jason Day is enjoying a tremendous finish to the 2015 season. The winner of the PGA Championship has won his second FedEx Cup playoff tourney with a six-stroke win over Daniel Berger in the BMW Championship. Day finished 22-under-par.
Golf - Solheim Cup:
After being infuriated by a call they found unsportsmanlike, the Americans staged the biggest comeback in Solheim Cup history to win the trophy back from Europe. Paula Creamer (KREE'-mur) defeated Germany's Sandra Gal to complete the turnaround and secure a 14½-13½ victory for the United States, which had trailed by four points going into the singles.
WNBA:
In the WNBA playoffs, New York beat Washington 86-68, and Los Angeles beat Minnesota 81-71.
©2015 The Associated Press. All Rights Reserved.