As Western Massachusetts prepares for snow, local forecasting legend the Weather Nut offers his assessment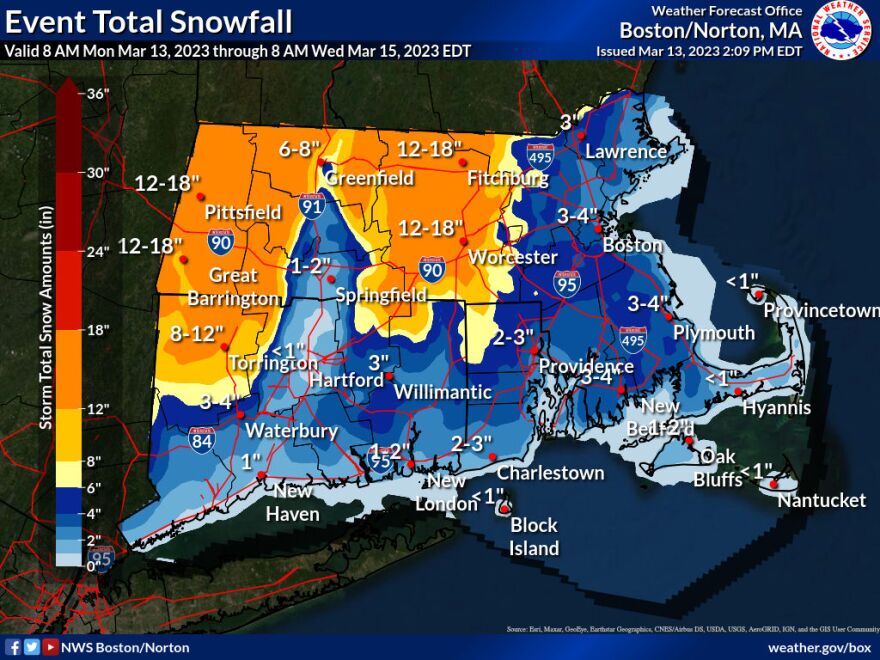 For the past decade, Dave Hayes has been better known as the Weather Nut, building an audience on social media with his daily forecasts for Western Massachusetts. Hayes' blend of colorful graphics and simple explanations of often complex weather patterns have garnered him over 50,000 followers on Facebook and thousands more on Twitter. Based in the Pioneer Valley, the Weather Nut brings a communal sensibility to the weather by soliciting on-the-spot reports from his fans to pair their observations with his forecasting. As the region braces for a Nor'easter that will bring heavy snow from tonight through Wednesday morning, WAMC caught up with Hayes to find out more about the origins of his fascination with the weather as well as his expectations for the storm.
HAYES: So, it started back right after the June 1st [2011] tornado. I had some friends – I was off of Facebook – I had friends that told me they were reaching out trying to find me to see what I had to say about the tornado, and then that got me back on Facebook to try to be more in touch with folks. And then I decided, when I thought I might be annoying some people who didn't care about the weather, I started my own weather page in August of 2011 and kind of did that for a month and a half, just when I felt like it. And then sometime in 2013, when the blizzard of 2013 hit, I decided to commit to it and do it on a daily basis, which I've been doing for about a decade now.
WAMC: Dave, I think part of what makes your webpage so appealing to people is your ability to aggregate weather from a number of sources into easily digestible takeaways from what's going on in the cosmos, as it were. Can you break that down for us? How do you go about doing that?
Well, there's a number of sources that I have. I, of course, I read area forecasts discussions by the local National Weather Service offices in Boston and Albany and sometimes as far afield as Long Island and Binghamton. And then I have sources that I, information and data that I pay for, model guidance and access to other private meteorologists to understand how they're seeing certain storms. They're not necessarily in New England, some of them are what's called downstream. So, they're kind of where the weather's coming from. And I just kind of take all that information, I read as much of it as I can and look at observations, and then I kind of put it all together with my knowledge of the various microclimates in Western Massachusetts, since I've been here for 35 years. And I just kind of put it out in as plain language as I can to try to explain it to people who aren't necessarily as interested in the weather as I am.
What is your take on our winter season so far, Dave? Are you seeing any sort of trends or any sort of historical context for what kind of winter it's been in Western Mass?
Well, it's been a very weak winter. I mean, it's been a mild winter, and we're definitely way below average in terms of snowfall. And so that's definitely something that I've noticed this year, as was the case last year. The other thing that I've noticed is, over the past five or six years, I've noticed the winter pattern doesn't seem to really haven't really been setting up in earnest until late in the season, astronomically. So, I've noticed over the past five or six years that our pattern for winter kind of sets up more towards March and April than it does in January and February. Obviously, it was quite mild in February. So, those are those are some things that I've noticed.
We're speaking on the eve of what's supposed to be the biggest storm of the season, speaking of March winter weather. What are you expecting?
As is the case of a lot of March storms, especially ones that don't have a big source of surface cold air just to the north, which this one does not, it's an elevation dependent snowstorm. So, you're going to get probably pretty big differences between a place like Great Barrington and a place like Windsor or Savoy in the northeast part of the county, the Berkshires. And so, because of that, there's a wide range of snowfall totals expected. I mean, I'm expecting somewhere between 10 to 20 inches or 12 to 20 inches of snow, and some places kind of up in the North County area there, some of those places could actually hit two feet of snow. It just depends. There's a lot of factors involved with a storm like this where you have an upper low that's merging with a surface low off the coast. There's some tricky things that can happen.
At this point in the year, do you have any forecast for what kind of spring we might see?
No, unfortunately, I don't. I gave up the idea of seasonal outlooks or seasonal forecasting about five or six years ago when I tried to- I was trying to work on that for three or four years, and then it came to a winter where it looked all the signs were really pointing to a big, cold and snowy winter, not unlike the one we had in 2013, 2014, and the whole, that whole seasonal forecast busted. So, I realized it's hard enough to figure out what's what it's going to do to, you know, one to three days from now, as opposed to trying to figure out what the next season or the next year is going to look like. So I just kind of stick to the next seven to 10 days, maybe a little further out from that.
Given your experience drawing on so many sources to put together a digestible weather forecast, what is your sense of the current accuracy of the field? Are we seeing things overblown, things underpredicted? Where's the accuracy as far as you can tell?
Well, that's a good question. I don't know the stats or the science behind that specifically, but I think it's been getting more accurate. From what I've read and some of the stuff that I've seen over the past few years, especially when it comes to severe summer forecasting, it seems like it's been getting better over time as we have access to more data. There's always some people who feel that weather people hype forecasts for ratings and stuff. And, you know, maybe that happens occasionally, but I don't really see that. I think that people in the space really care about the public. They care about trying to help the public and prepare them as best they can with the information that they have. And those are my thoughts on that.