Saratoga County Launches School Resource Officer Program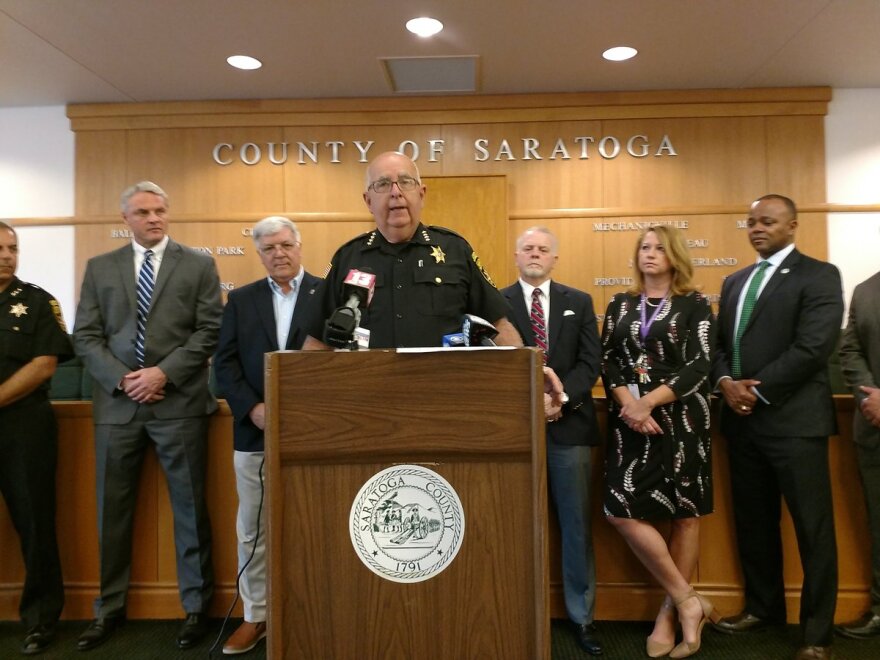 Several schools in Saratoga County will have a school resource officer on hand beginning next fall.
Saratoga County Sheriff Michael Zurlo, joined by county officials and leaders from local schools, announced Thursday a new program that would place deputies in local districts in the new year.
"Our SRO's will be able to talk with students about the dangers of substance abuse, conquer distracted driving, social media, and assist with conflict resolution. And should the unthinkable happen, our deputies are fully trained to protect students to neutralize any threat that may occur," said Zurlo.
Beginning in the 2018-2019 school year, seven school districts will participate in the program that will put a full-time SRO in schools:
Ballston Spa Central School District, Burnt Hills-Ballston Lake Central Schools, Mechanicville City School District, Schuylerville Central School District, Shenendehowa Central School District, Stillwater Central School District, and South Glens Falls Central School District.
Participating schools will be responsible for 75 percent of the costs for the SRO, while the county will cover 25 percent.
Mechanicville Superintendent Mike McCarthy says he expects a school resource officer to be on hand while students arrive and leave for the day.
"After that we expect them throughout the day to be interfacing with students, moving around our campus. We expect them to be involved, really, in our health curriculum to some degree with drug and alcohol awareness, opioid awareness, mental health…"
The Mechanicville school district has budgeted $90,000 for a school resource officer.
Sheriff Zurlo also wants to improve the perception of police among young people.
"Students are our eyes and ears in the schools. Over the last couple months, unfortunately, we've had some incidences in the county but the students have stepped forward," said Zurlo.
Some schools have been without a school resource officer since a state-run program ended almost a decade ago.
Burnt Hills-Ballston Lake was one of the districts that participated.
Principal Tim Brunson said he was glad to see a Saratoga County sheriff's deputy check into the district regularly following February's school shooting in Parkland, Florida.
"I was a huge proponent of the state-run resource officer program. If it's done correctly, they truly are a resource officer. So I'm ecstatic that we're getting back to the program," said Brunson.
Perceived threats, on social media and otherwise, were reported at a few Saratoga County schools after the Parkland shooting. Zurlo said those threats have diminished over time.
When asked if he considered arming teachers, as has been suggested by several conservative groups and President Donald Trump, the sheriff responded succinctly.
"That never came across my mind. This is the way to go," said Zurlo.
It will be up to the school districts to work out details with the sheriff's office for exactly how an SRO will serve.
In July, the Saratoga County Sheriff's Office will partner with Washington County Sheriff Jeff Murphy to hold a 40-hour school resource officer training session.