Troy Releases Downtown Parking Study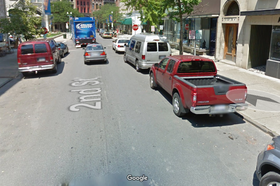 If you live in downtown Troy or are visiting for a bite to eat, chances are you may have difficulty finding parking.
Residents and businesses have dueled over the perceived parking problem for years. Now, a new study aims to alleviate car congestion.
To summarize: the Downtown Parking Study found there is sufficient parking, despite complaints from the general public. While it may be hard to find a spot near Monument Square, nearby garages are under-utilized.
Troy BID Director Katie Hammon said she's noticed many employees downtown often use street parking, even if they are allocated a spot in the high-demand garages a few blocks away.
"I think because it's so convenient to park on the street, people don't necessarily want to park in the parking garages," said Hammon.
That creates headaches for customers and residents. There's also a lack of clarity on where to park on the street.
Troy Commissioner of Planning Steve Strichman says the city is already taking steps to fix some of the easier issues.
"The first thing we did was to stripe parking spaces and we're under way doing that right now. We're partway through that at this point. And the parking...the signage system, wayfinding system really needs to be looked at here," said Strichman.
While there's some signage to point cars to lots, it's not uniform and the city is working on changing that. Strichman also says the city can step up enforcement of the two-hour parking limit in the downtown.
But that two-hour limit on weekdays is hard for downtown residents who don't necessarily work 9-5. Under current restrictions, to avoid a ticket, a nighttime worker would have to move their vehicle three times a day.
Residents have called for a parking permit, similar to cities like Albany. The idea is something supported by Ward 4 city councilor Bob Doherty, but he admits implementing such a system is not as easy as it sounds. In Albany's Center Square neighborhood, it took years of advocacy and an act of the state legislature to change the parking rules.
"That would be in my interest, but we would have to be careful about defining residence," said Doherty.
Steve Strichman points out that an early morning parking restriction to accommodate street-cleaners was also identified as an issue.
"And if you're a resident that's a really inconvenient time to have to move your car, so we're looking at ways to be able to change that," said Strichman.
The city is also considering other traffic-calming strategies and striped bike lanes.