Capital Region Congressional Candidates Head Into Election Season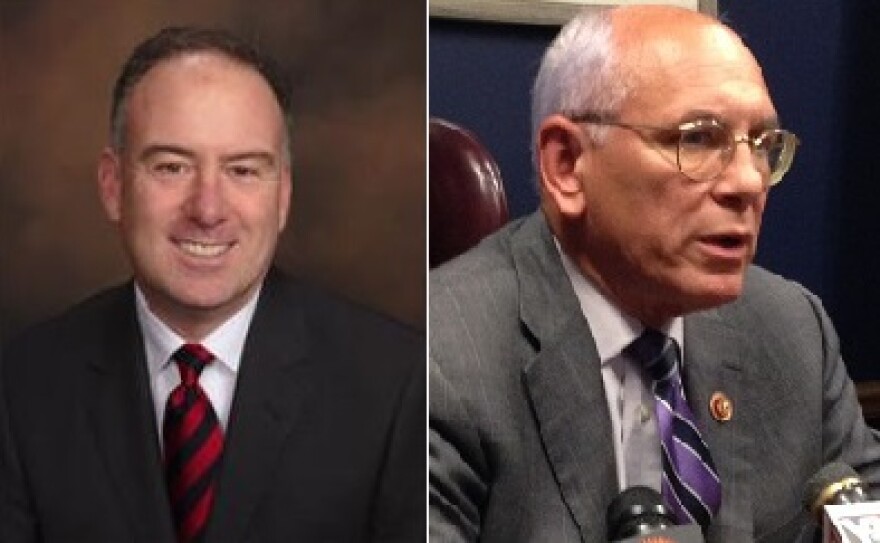 With election season now in full swing, Democratic Congressman Paul Tonko of New York's 20th district has been touring the Capital Region. Meanwhile, Republican challenger Jim Fischer is ramping up his own campaign.
In recent months, and in campaigning with other Democrats, Representative Paul Tonko has spoken frequently about the need to raise the minimum wage, an issue that is drawing attention across the country. Tonko has said a raise in the federal minimum wage, now $7.25 an hour, as well as tying it to inflation, would be a "shot in the arm" for the regional and national economies.
"I think that the raising the minimum wage speaks to just remuneration for the skill set, the worth ethic and the investment the workers make in their jobs. And when we provide for a just payment for that labor, it is empowering that individual and her or his family, and then that money, I firmly believe, for a minimum wage community is recirculated into the local, regional economy," said Tonko.
Democrats including President Obama have pushed to raise the wage to $10.10 an hour. Tonko's Republican challenger and political newcomer Jim Fischer said he would support raising the minimum wage, although not as high as the Democrats.
"Frankly I think that raising it to the extent that Paul Tonko and Nancy Pelosi would have us raise it, with about a 30 to 40 percent increase in one fell swoop, would be damaging to the economy," said Fischer. "Frankly, I'm one who believes these things should be left to the states, but certainly it wouldn't hurt to raise the minimum wage a little bit. I've always been one who's thought the minimum wage should be indexed to inflation, then it would take this political football out of it."
The two candidates also differ on the Affordable Care Act. Fischer, who owns a small wireless communications company, said Obamacare must be revamped to introduce more competition into the insurance market.
"The one thing I know is that competition does two things. It drives prices down and it drives quality up. That's what competition does, but that's not what we have. We have faux-competition with Obamacare," said Fischer.
Fischer did say he supports components of the law including the provisions to keep young people under 26 on their parents' insurance and the provision to protect people with pre-existing conditions from being denied coverage.
Tonko, in his third term, has been a supporter of Obamacare, and has criticized House Republicans for repeatedly voting to repeal the law without a replacement plan.
However, Tonko did offer some ways he'd like to see the law improved.
"I have been involved with efforts to address the medical device tax, making certain that not impact the district and the district jobs in a negative way," said Tonko. "I also believe that the pharmaceutical costs are an area of activity that could be addressed with bulk purchasing, with government programs."
On energy, the candidates addressed what should be done about the transport of crude oil along rail lines through the 20th district to refineries at the Port of Albany. Protesters have voiced safety and environmental concerns and have called upon government to stop the trains.
The U.S. Department of Transportation has issued regulations under review that would phase out the DOT 111 tanker cars and reduce speeds for oil transport.
Tonko said the changes to oil transport will be ineffective in solving the problem unless investment in renewable energy is also brought into the conversation.
"It's important for us to look at environmental, energy, and economic recovery policies in a collaborative, rather than in silo approaches, where if you just addressed a transportation mechanism and not put that into a grid, so-to-speak, a framework of comprehensive energy planning, than we will have failed in the attempt," said Tonko.
Fischer said improving safety of oil trains is critical but also suggested other methods of transport.
"We need to be looking at pipelines because pipelines are certainly more safe than the oil trains are, but a lot of environmentalists feel very strongly that we can't build Keystone or some of the other pipelines. So I think we need to take a real comprehensive view of this, and certainly safety is paramount, but also understanding that we are still dependent on oil, we need to be able to transport oil to get it to the facilities where it can be processed," said Fischer.
The two candidates have agreed to three discussions, a debate scheduled for October and two discussion forums that will be held throughout the district. Fischer has criticized Tonko for not agreeing to additional opportunities for discussion in each of the district's five counties. Tonko has said Fischer has had "ample opportunity to express what difference he would provide" instead of criticizing his record.
Edit 9/8/14: This post has been updated to correct a transcription error.