Baker Announces 'Safer-At-Home' Advisory Along With Phased Reopening Plan For Massachusetts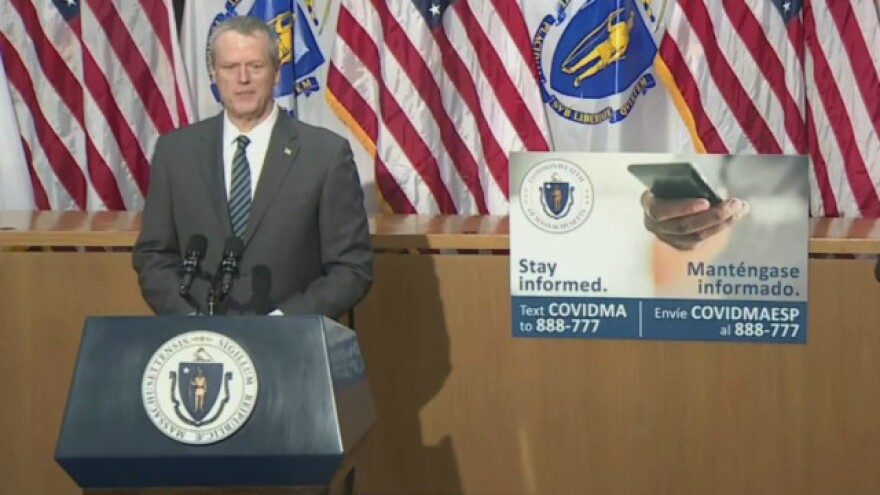 Massachusetts Gov. Charlie Baker has released a roadmap for the phased reopening of the Massachusetts economy starting today. Officials in the state's third-largest city are getting ready to put regulations in place to implement the reopening plan.
The Massachusetts economy will restart in four phases, each expected to last a minimum of three weeks. It begins with industries and activities that are considered low risk for spreading the highly contagious coronavirus before gradually reopening more-and-more of commerce and society as public health metrics signal it is safe to do so.
Baker said there will be restrictions and industry-specific safety rules in place throughout the reopening process.
"The virus will be with us throughout the reopening process, and everyone is required to cover their nose and mouth if you can't maintain six feet of distance from those around you," Baker said.
First out of the gate are manufacturing and construction. Houses of worship can reopen but with capacity capped at 40 percent of the building's total occupancy. Next week, retail stores can reopen with curbside delivery only. Barbershops and hair salons can serve customers by appointment. More outdoor activities will be allowed. Offices can reopen, but at 25 percent of capacity. Work from home is still encouraged.
Notably, Baker on Monday changed his stay-at-home advisory to what he called a "safer-at-home" advisory.
"The new Safer-At-Home Advisory instructs everyone to stay home unless they are heading to a newly opened facility or activity and it also advises those over the age of 65 and those with underlying health conditions to stay home except for absolutely necessary trips for things like health care and groceries," explained Baker.
Phase two of the reopening plan includes dining-in at restaurants. Youth sports could resume and day camps could open. Phase three would allow for the opening of museums, gyms, and casinos. The final phase would see people returning to large venues.
The reopening plan was produced with the help of a 17-member board Baker appointed three weeks ago. It is made up of business and healthcare leaders and representatives of municipal government.
Dr. Mark Keroack, the president and CEO of Baystate Health, served on the advisory board. He said he does not expect an explosion of new COVID-19 cases to result from the reopening.
"We are really taking baby steps here," Keroack said Monday. " This is nothing like back to normal."
The board made recommendations for the safe operation of individual industries and it set the parameters for when to move on to the next phase.
Dr. Robert Roose, the chief medical officer at Mercy Medical Center in Springfield, said there is reason for optimism that Massachusetts is doing its reopening the right way.
"While we don't want to see a resurgence of this deadly virus...we also don't want to see our community stalled for too long," said Roose.
Springfield Mayor Domenic Sarno commended Baker for the incremental approach to reopening.
"This is a good guideline and a path for moving forward in a safe and healthy way," said Sarno.
City officials are studying the policy directives from the governor and will put local rules and regulations in place as needed to ensure compliance with the reopening process.
The city's unemployment rate has ballooned to 30 percent, but Sarno said reopening the economy cannot be rushed.
"We have to be ever cautious, ever cautious, the lights have not been completely turned on yet," said Sarno.
Springfield's Health and Human Services Commissioner Helen Caulton-Harris said the city will take an educational approach and not be punitive when it comes to letting businesses know what is now required.
"Enforcement is going to be the most difficult part of our reopening phase," said Caulton-Harris. "It was very easy to close down, a lot harder to reopen."
Springfield has had almost 2,000 COVID-19 cases with 75 deaths. Recently, the number of new cases has been averaging about 30 a day.