Gov. Baker Announces Four-Phase Approach To Reopen Massachusetts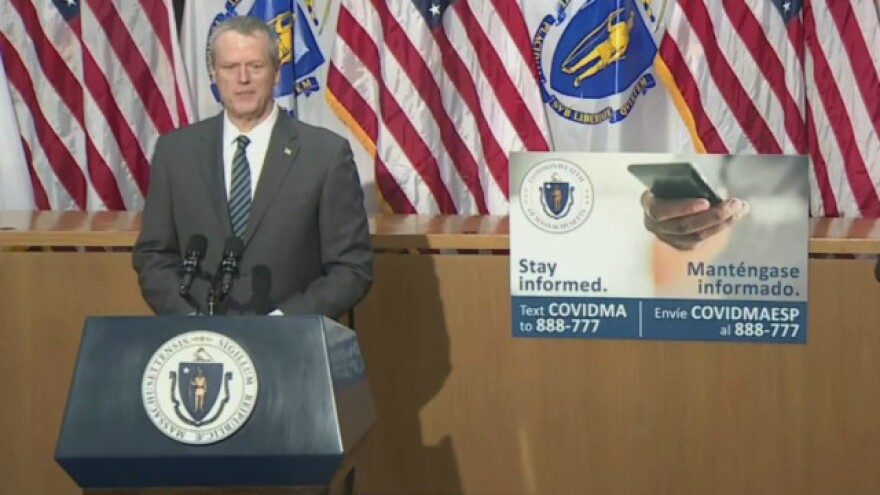 A framework has been announced for reopening the Massachusetts economy.
Gov. Charlie Baker said the state's economy will reopen in four phases beginning around May 18th – the date when his executive order shuttering non-essential businesses and a stay-at-home advisory are due to expire.
"We are seeing positive signs that the work everybody has done has been paying off and that makes it possible for us to be serious about a phased reopening," Baker said.
The four phases are called: Start, Cautious, Vigilant, and The New Normal.
In the first phase, industries that have little face-to-face interactions would be permitted to reopen. Each subsequent phase would see more sectors of the economy get the green light to open with a lessening of restrictions.
At his daily briefing Monday, Baker said when the first phase begins, and how long it will be between phases, will be determined by the closely watched data on infection rates and hospitalizations, both of which have been moving down.
" The goal of the reopening plan is to methodically allow certain businesses, services, and activities to resume while protecting public health and limiting a possible resurgence of new COVID-19 cases," Baker said.
He said details about which industries and activities will be included in the initial reopening phase will be announced in coming days
Massachusetts is one the hardest hit states in the coronavirus pandemic, with a death toll that is approaching 5,000 people. But, Baker said the epidemic curve has been flattened so that hospitals have not been overwhelmed with cases. He said people need to adhere to social distancing guidelines, the requirement for face coverings in public, and frequent handwashing.
"This is no time to quit," said Baker.
All businesses that reopen must comply with a minimum set of safety standards that include six-foot distancing, face coverings for employees and customers, hand-washing stations, and frequent sanitizing of "high touch" areas.
Industry-by-industry rules are being discussed by the governor's Reopening Advisory Board. The 17-member panel has heard from scores of people representing a variety of industries, individual businesses, and non-profit organizations. A member of the board, Dr. Mark Keroack, president and CEO of Baystate Health, said they're also keeping a close eye on other states that have already partially reopened.
" Clearly there is a risk to opening," said Keroack. "I think everyone expects as we open things up a bit there will be more cases, but I also believe there is a risk to stay closed. There are health and psychological effects of economic inactivity."
Non-essential businesses in Massachusetts closed on March 24th. Since then more than 600,000 residents have filed for unemployment benefits.
Springfield Mayor Domenic Sarno said not all the jobs will be coming back.
"The workforce is going to change," said Sarno. "...they may say 'gee, we don't need as much square -footage as before with all this remote stuff '."
MGM Springfield, in a notice filed with the state labor department earlier this month, said close to 1,900 people could be laid off by the end of August when furloughs will be up at the casino.