Utility Company To Help UMass Amherst Cut Energy Use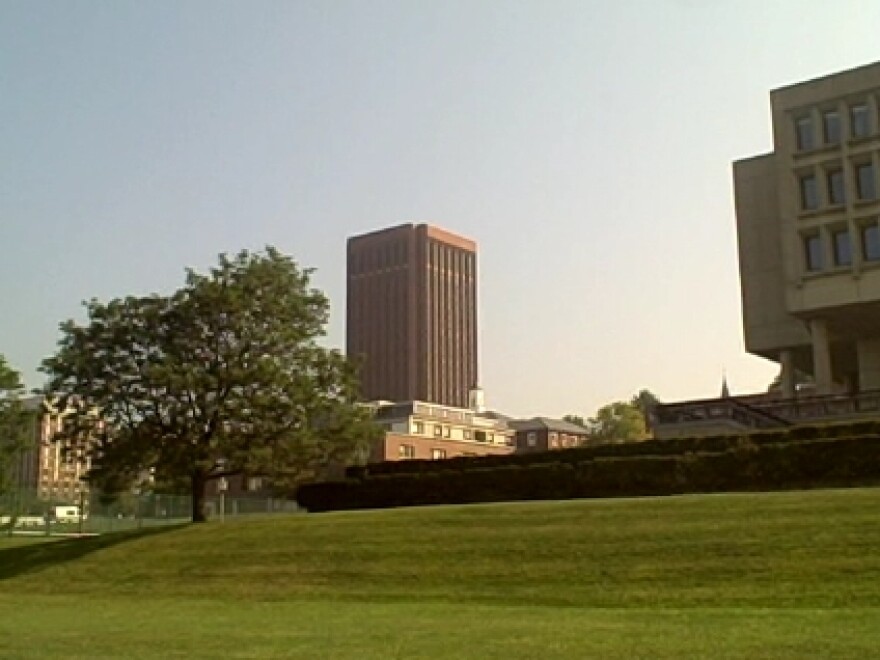 One of the biggest users of electricity in western Massachusetts is partnering with the region's largest public utility company on a three-year action plan to increase energy efficiency.
Representatives of UMass Amherst and Western Massachusetts Electric Company signed an agreement Thursday to develop plans to reduce campus energy use by at least 2 percent annually for the next three years.
James Sheehan, UMass Vice Chancellor of Administration and Finance said if the electricity use reduction goals are met, it will save the university $1 million.
" It is a significant savings in electricity. It is a significant savings in money."
As part of the plan, WMECo will be involved in helping design the construction of new buildings and major renovations to produce energy efficiencies at least 25 percent better than the current state building code. UMass has $1 billion in new construction planned at the flagship campus in the next few years.
Energy use on the sprawling campus has already been reduced by 19 percent since 2010. Squeezing additional savings out of the 150- year- old campus with more than 350 buildings will be a challenge concedes Juanita Holler, Associate Vice Chancellor for Facilities and Campus Services.
"We have picked a lot of the low-hanging fruit, like converting electric bulbs. We are looking to make sure all of the campus has all of these measures implemented such as occupancy sensors. Equipment changes at our central heating plant is an area where a lot of larger scale savings can be achieved."
The partnership agreement requires WMECo to provide incentive funding for energy efficiency projects, technical assistance, outreach, and education programs on the campus. Tilak Subrahmanian, vice president of energy efficiency at Northeast Utilities, WMECo's parent company, says the campus will be a place to test new ideas for reducing electricity use.
"Lots of opportunities to test new ideas here and figure out how to scale it and take it elsewhere."
A partnership between Northeast Utilities and the Massachusetts Institute of Technology led to a 15 percent reduction in energy use on the MIT campus over four years. The utility company is working on plans to cut energy use at hospitals in Boston and municipal buildings in Springfield.
State law requires public utility companies in Massachusetts to submit three-year energy savings plans. Companies that meet the goals are held financially harmless for the resulting loss in electricity use.
The law is one reason Massachusetts ranks as the top state for energy efficiency, according to Mark Sylvia, Commissioner of the Massachusetts Department of Energy Resources.
"The amount we invest per capita and the actual benefits that every consumer recieves as a result of that has paved the way for Massachusetts to be a national leader."
Sylvia announced a $75,000 grant to UMass to help pay for a solar thermal array at the campus central heating plant.