Pittsfield's Mayor Outlines Goals For Second Term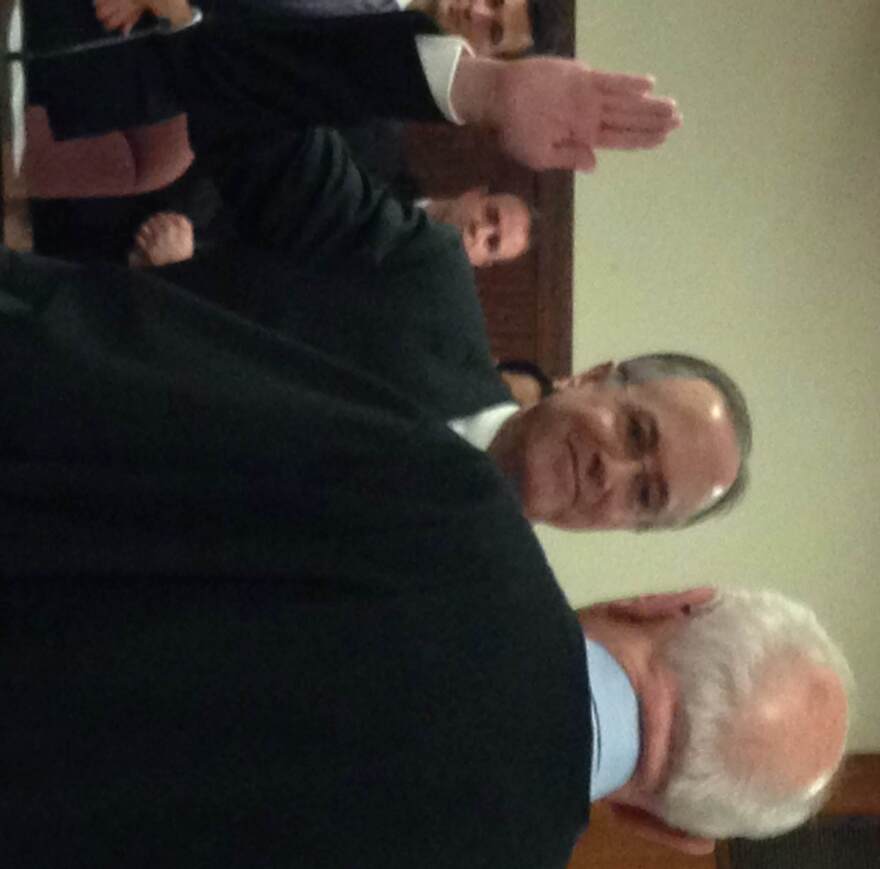 Pittsfield Mayor Dan Bianchi kicked off his second term with an inaugural address during the city's swearing-in ceremony yesterday.
Coming off an unopposed race, the democratic mayor both reflected on the past two years and laid out his plans for the next two. Bianchi stuck to his often-emphasized focus on economic development, public safety and education mentioning both accomplishments and goals. The mayor linked the vitality of the city and the region to the future of the William Stanley Business Park. He cited the expansion of the Pittsfield Economic Development Authority, the quasi-public agency in charge of managing the 52-acre former General Electric site.
"Unlike many other places, Pittsfield is still a manufacturing city," Bianchi said during his inaugural speech. "We still know how to make things here; making products that are vital to people in industries all over the world. This is our fortunate heritage and a real differentiator for this city. If we combine our manufacturing past with 21st century innovation, our future will unfold with great promise."
PEDA continues to work on a plan for the site which includes a proposal to build a life-science incubator supported by a $6.5 million earmark from the Massachusetts Life Sciences Center. Jonathan Lothrop has been on the city council for ten years.
"I think the William Stanley Business Park certainly has the potential to be a major contributor to the local economy," Lothrop said. "It is a difficult site and there are a lot of limitations to its use. Without getting too technical, it's made its challenging to redevelop it in a way that's economically feasible."
A proposal for a retail complex at the site is on hold, while the newest initiative would have rail cars manufactured at the park. In competition with three other sites in the Berkshires, PEDA is providing a $1 million incentive to the state-chosen manufacturer, expected by early 2015. City Council President Melissa Mazzeo.
"I love the fact that they're offering them an incentive," Mazzeo said. "Anything we can do, if we can even increase that initiative, I think that would be a great discussion to have because that would be a kick-start while we're waiting for this incubator building to take hold."
Bianchi also brought up accomplishments in education going back to 2012 when the city signed a three-year contract with its teachers as well as expanding vocational programs. Bianchi says a designer for a vocational school at Taconic High School will be chosen in the next two weeks.
"The biggest goal that I think the mayor touched upon was the Taconic High School project," Lothrop said. "I think that is something we definitely want to move forward. We have very aging infrastructure out there. We are bringing on the consultant to help us make the final decisions about what it will look like, do we renovate, do we build new? Those are some pretty big decisions. But I think the state of public education in the city is critically important to its future economic development and also to retaining the citizens in the city of Pittsfield who want to be here and invest here."
Bianchi turned his attention to public safety, citing the establishment of a public safety task force, a Code Red alert system and two community centers with another on the way.
"I promise that the city of Pittsfield will not be defined by crime statistics," said Bianchi pounding the podium.
Bianchi also reactivated the police advisory committee which is conducting a feasibility study to help decide whether to renovate or build a new police station, as the current one is nearly 80-years old. Bianchi is hopeful of wrapping up renovations of the city's parks, the Downtown Streetscape project and expanding efforts with five other Berkshire towns to clean up the Housatonic River under the Rest of the River project.
"For Springside Park, I'd love to see a working, small model farm established in a small portion of that park," the mayor explained. "I'd like to see it done in collaboration with the University of Massachusetts. It could expand the horizons of Pittsfield's students, but it could also help our community to explore its capacity as a sustainable food source while also examining the unique relationship between agriculture and renewable energy."