Lawmakers Press For NYS DOT Rail Crossing Study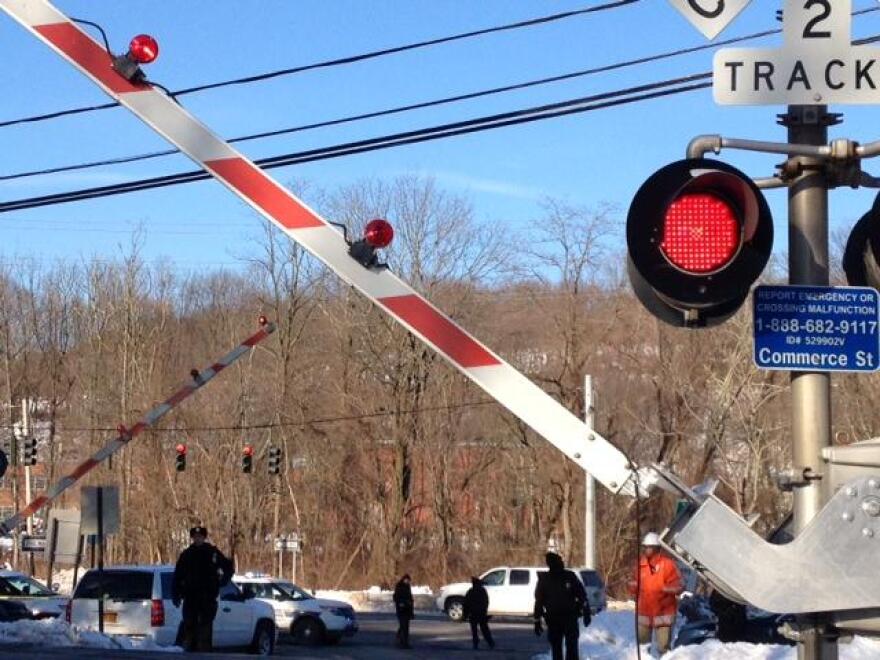 Five years after the deadliest crash in Metro-North Railroad history, New York state lawmakers are renewing calls for safety upgrades to rail grade crossings.
On February 3, 2015, a Metro-North commuter train crashed into an SUV that was stopped on the tracks at the Commerce Street crossing in Valhalla, in Westchester County, killing five people on the train and the car's driver. The crash highlighted the need for safety improvements at a number of rail crossings, including in Valhalla. This prompted two Hudson Valley lawmakers to sponsor a bill that was signed into law in 2016. Democrat David Carlucci sponsored the bill in the Senate that mandated a state Department of Transportation study of New York's more than 5,300 level-grade rail crossings.
"What we've recognized is that New Yorkers are vulnerable because our safety has not been improved at rail crossings in 100 years. The technology we're using is the same that was used decades ago. And we know some of these 5,300 rail crossings should be eliminated altogether," Carlucci says. "But when we don't have a comprehensive plan on tackling the most dangerous rail crossings, nothing gets done. Many of the rail crossings need just minor improvements that can make a big difference and save people's lives."
Democrat Tom Abinanti sponsored the bill in the Assembly. A report on the study was due to Governor Andrew Cuomo and the legislature by April 1, 2017. Carlucci says he's still waiting.
"I feel like a legislator, we're flying blind. We don't have communication with the Department of Transportation. We don't have the professionals telling us which rail crossings are the most vulnerable. So now it's up to local municipalities and neighbors to scream and yell and propose ideas on how to make rail crossings more safe," says Carlucci. "Meanwhile, we have thousands of employees at the Department of Transportation, and professional engineers that should be telling us which rail crossings are the deadliest, which need to be eliminated altogether and which ones just need minor improvements."
A spokesman says safety is the top priority of the state DOT, which has an aggressive grade crossing safety program in place that includes the testing of new visual and audible technologies for use at grade crossings. He adds, "Together with our partners at the MTA, we are in the process of reviewing the voluminous data collected through this process and will use those findings to better inform the final Grade Crossings Report."
Democratic state Senator Pete Harckham, whose district includes Valhalla, stood near the Commerce Street Crossing Monday urging DOT to release its study. And he wants to see more.
"In the $55 billion capital plan for the MTA there's not a penny for grade-crossing safety. This is unacceptable," Harckham says. "Metro-North and the Department of Transportation need to get their act together and prioritize rider safety."
An MTA spokeswoman says safety is a core value and highest priority for Metro-North. She writes, "The railroad has installed flexible delineators and partnered with Google/Waze so that motorists are clearly and boldly warned in approaching all of Metro-North's 103 crossings. These treatments are a major innovation for the railroad industry and have proven to be extraordinarily effective at preventing instances of motorists errantly turning onto tracks."
About 1,000 vehicles use the Commerce Street crossing each day.