President Obama Awards Medal Of Honor To Henry Johnson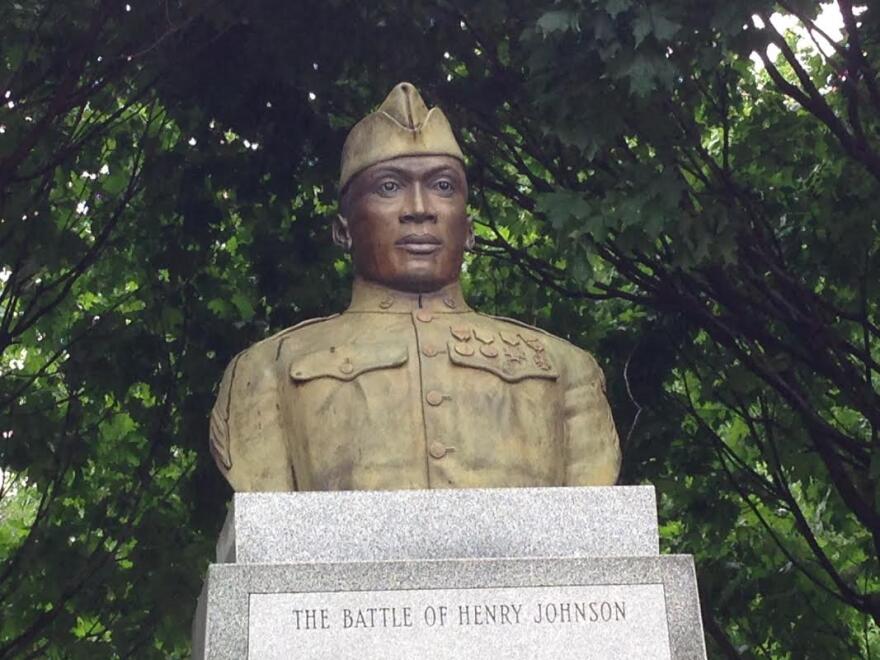 With onlookers beaming from the White House to Albany City Hall, today's awarding of the Medal of Honor to Sgt. Henry Johnson capped a decades-long campaign.
U.S. Senator Chuck Schumer was at the forefront of the years-long initiative to have the Medal of Honor bestowed upon Johnson. Historical papers uploaded to the internet circa 2011 provided the necessary documentation to carry Schumer's quest to fruition.
One attendee at city hall dubbed the livestreamed ceremony a "communal experience."
When the TV screen finally lit up with images from the White House, the crowd listened intently to the words of President Barack Obama. "As a young man Henry Johnson joined millions of other African-Americans on the great migration from the rural south to the industrial north and people in search of a better life. He landed in Albany, where he mixed sodas at a pharmacy, worked at a coalyard and as a porter at a train station. And when the United States entered World War I, Henry enlisted. He joined one of only a few units that he could, the all-black 369th infantry regiment, the Harlem Hellfighters. Soon, he was headed overseas. At the time our military was segregated. Most black soldiers served in labor batallions, not combat units, but General Pershing sent the 369th to fight with the French army, which accepted them as their own. Quickly, the hellfighters lived up to their name, and in the early hours of May 15, 1918, Henry Johnson became a legend."
First ward Albany Common Council member Dorcey Applyrs proclaimed the long-overdue honor for a local war hero a source of pride for the community. "To know that we had such a profound, brave soul, walk the streets of Albany, who served his country at a time in which he was facing discrimination, oppression, even with facing those things, felt the need to go fight, to protect the freedom of this country, that speaks volumes to the person that he was."
Henry Johnson suffered 21 wounds and rescued a fellow soldier while singlehandedly repelling an enemy raid in France in 1918. He and 17-year-old fellow soldier Needham Roberts received the French military's highest recognition, the Croix de Guerre. In February of 1919, the Harlem Hellfighters returned to New York for a parade up Fifth Avenue, and Johnson returned to Albany, where historians say he died, destitute, in 1929, at age 32.
Hispanic Coalition of New York chairman Nathan LeBron grew up in New York City, knowing the name "Henry Johnson" without realizing the enormity of his heroism. "This event is magnificent. It shows that after nearly a hundred years, racism and prejudice in the end always loses."
Johnson, whose name adorns a busy city street and who is honored in Washington Park, has no living relatives. Command Sergeant Major Louis Wilson of the National Guard traveled to D.C. to accept the nation's highest military award from President Obama on Johnson's behalf. Albany Mayor Kathy Sheehan was also at the White House.
Johnson's Medal of Honor will be permanently displayed in Harlem at the 369th division headquarters.