Sports Report: Gronk, JPP, Incognito All Staying With Respective Teams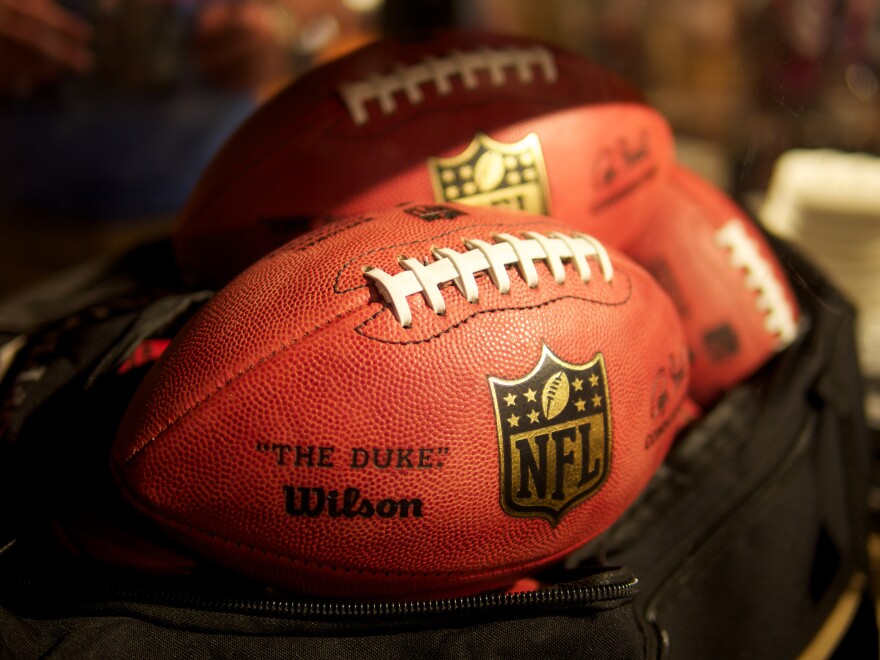 NBA:
In the NBA, Denver beat New York 110-94, Toronto won against Brooklyn 104-99, Portland topped Washington in overtime 116-109, the Lakers bested Orlando 107-98, Atlanta defeated Utah 91-84, and it was San Antonio over Minnesota 116-91.
The Brooklyn Nets have hired Trajan Langdon as assistant general manager. The former Duke star had a successful international career playing for Russia's CSKA Moscow, owned by Nets owner Mikhail Prokhorov. He has spent the past few seasons working for the Spurs and Cavaliers organizations.
NHL:
In the NHL, the Rangers doubled up Buffalo 4-2, the Islanders won against Pittsburgh 2-1, Boston edged Tampa Bay in overtime 1-0, Carolina skated past Ottawa in a shootout 4-3, Nashville bested Winnipeg 4-2, San Jose blanked Edmonton 3-0, Montreal won against Dallas in overtime 4-3, and it was Columbus over Detroit 5-3.
NFL:
A person with knowledge of the negotiations tells The Associated Press on condition of anonymity that the Patriots have picked up the option that will keep Pro Bowl tight end Rob Gronkowski in New England through 2019. Gronkowski was the team's leading receiver this season, with 72 catches for 1,176 yards and 11 touchdowns.
Citing unfinished business, defensive end Jason Pierre-Paul says he has agreed to terms on a new contract with the New York Giants. The free agent posted the news on Instagram. He says he decided to return to the team that made him a first-round draft pick in 2010 despite interest from several other teams, including Arizona.
The Buffalo Bills have reached an agreement to re-sign offensive guard Richie Incognito to a three-year contract worth $15 million. The Bills announced the agreement being reached on Tuesday afternoon, a day before Incognito was scheduled to become an unrestricted free agent. A person with direct knowledge of the contract terms provided the details to The Associated Press on the condition of anonymity because the Bills did not release those figures.
Receiver Calvin Johnson has retired from the Detroit Lions. The 30-year-old issued a statement announcing his decision to walk away from the NFL after nine seasons with the Lions. Johnson had 88 receptions for 1,214 yards and nine touchdowns last season. He leaves the game with 731 career receptions for 11,619 yards and 83 TDs.
Forty-three-year-old kicker Adam Vinatieri, the NFL's oldest player, has agreed to terms to remain with the Indianapolis Colts. Vinatieri has been with the Colts for 10 seasons, including the 2006 NFL championship season. He also won three titles with the Patriots before joining Indianapolis as a free agent.
A person familiar with the negotiations says Jacksonville has agreed to a six-year, $90 million contract with Denver defensive end Malik Jackson. Jackson had 129 tackles, 14 sacks and two forced fumbles in his past three seasons. He started all 16 games in 2015, finishing with 45 tackles, seven passes defensed and five sacks as a mainstay on the Broncos Super Bowl team.
NCAA:
Four teams have played their way into the 68-team NCAA tournament that starts next week:
Gonzaga is making its 18th consecutive trip to the NCAA men's basketball tournament starting next week. The 'Zags beat St. Mary's 85-75 to win the West Coast Conference and earn the automatic bid into the NCAAs. Eric McClellan scored 20 points and Kyle Wiltjer added 17.
— Jordan Fouse scored 16 points, and Green Bay wrapped up a spot in the NCAA Tournament for the first time since 1996 by beating Wright State, 78-69, in the Horizon League title game.
— Fairleigh Dickinson wins the Northeast Conference by beating Wagner, 87-79. Darian Anderson scored 28 points and Earl Potts Jr. had 27 to lead Fairleigh Dickinson, which is in the NCAA tournament for the fifth time but first since 2005.
— South Dakota State beat North Dakota State, 67-59, to win the Summit League title. Freshman forward Mike Daum scored 18 points and grabbed nine rebounds for the Jackrabbits, who are in the NCAA tourney for the third time in five years.
A Wesleyan University football player has pleaded guilty to federal charges that he distributed a synthetic drug to fellow members of his team. Ryan Welch was accused of providing up to 20 teammates with a drug mixture that was described in court papers as a synthetic version of "Molly and acid." Wesleyan University is in Middletown Connecticut.
FIFA:
Swiss authorities say evidence has been seized in a search at the French soccer federation headquarters for their criminal case against former FIFA president Sepp Blatter. The office of Switzerland's attorney general says the governing body for French soccer consented to the search carried out Tuesday with the cooperation of the French Financial Prosecution Office. Criminal proceedings were opened against Blatter last September for suspected financial mismanagement over a $2 million payment he approved from FIFA funds for Michel Platini in 2011.
The Swiss attorney general's office says "documents were seized in connection with the suspected payment."Blatter and Platini were both banned from soccer for six years after an investigation by FIFA's ethics committee. They deny wrongdoing and are appealing to the Court of Arbitration for Sport.
Tennis:
Serena Williams beat good friend Caroline Wozniacki 7-5, 6-4 in an exhibition at Madison Square Garden yesterday. The 21-time Grand Slam champion hasn't played a match since losing the Australian Open final in January, pulling out of two tournaments because of illness. She's scheduled to return to competition at Indian Wells this week.
Three of Maria Sharapova's major sponsors are cutting ties with the Russian tennis star after she admitted to failing a doping test at the Australian Open. The sponsors are Nike, Tag Heuer and Porsche. Sharapova says a drug she has taken for medical reasons for 10 years became banned this year and she failed to realize it. The manufacturer of the drug, meldonium, says the normal course of treatment for the drug is four to six weeks.
Justine Henin and Marat Safin have been elected to the International Tennis Hall of Fame. Henin won seven Grand Slam singles titles, an Olympic gold medal and helped Belgium win its first Fed Cup championship. Safin earned two major titles and briefly reached No. 1.
MLB:
The Miami Marlins beat the New York Yankees 1-0 yesterday in an exhibition game. CC Sabathia pitched two hitless innings. The 35-year-old left-hander threw only six pitches in the first, all strikes. The lone baserunner against him was Chris Johnson, who walked on a 3-2 pitch with two out in the second. It was Sabathia's first outing since he entered an alcohol rehabilitation program last October.
The Atlanta Braves beat the New York Mets 5-4 yesterday in a spring training game. Matt Harvey went three innings in his first appearance since Game 5 of the World Series. The right-hander threw 24 of 41 pitches for strikes in the first outing this year among the Mets' heralded young starters. He surrendered three hits, walked two and gave up one run.
The Boston Red Sox beat the Baltimore Orioles 5-1 yesterday in a spring training game. Roenis Elias pitched two scoreless innings for the Red Sox, allowing four hits. The Orioles dropped to 0-8-1 in the exhibition season.
©2016 The Associated Press. All Rights Reserved.