Massachusetts nurses union pushing for legislation to establish patient limits, address workplace violence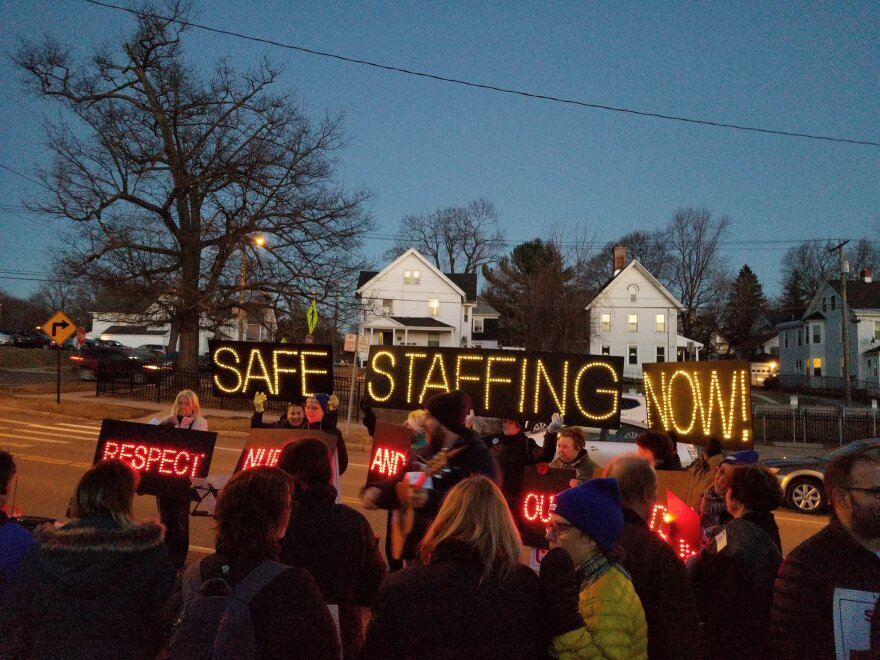 The largest nurses union in Massachusetts is laying out its legislative agenda for 2023.

One of the Massachusetts Nurses Association's top goals is limiting the number of patients a nurse can be assigned at a given time.
In 2018, the union unsuccessfully backed the issue as a state ballot question. Had it passed, it would have imposed specific ratios of patients to nurses in hospitals around the commonwealth.
"The day after our ballot question did not succeed, we rolled up our sleeves and said, okay, now, what's our next strategy to keep our patients safe?" said Practicing ICU nurse and MNA President Katie Murphy. "And since there seem to be so much confusion sown the last time, what this legislation says is, okay, let's hand this off to DPH, the Department of Public Health, who will then hold hearings around the state, let's hear from all the stakeholders, and now have DPH work with us, work with the stakeholders to develop standards and limits of the number of patients a nurse can care for at any one time."
Murphy says the union is supporting the "Act Promoting Patient Safety and Equitable Access to Care" sponsored by State Senator Lydia Edwards and State Representative Natalie Higgins, both Democrats.
"What you're seeing across the Commonwealth – except for the intensive care units, where we passed a law in 2014 limiting those patients to two per nurse – there are no limits," Murphy told WAMC. "So, a nurse can have four or 5, 6, 7, 8 patients. And that's in the emergency room, which, the numbers are skyrocketing, on the regular floor, in labor and delivery, in a nursery. We expect that the hearings that will be held by Department of Public Health will hear our testimony providing evidence that lower numbers make patients safer, and maybe you'll hear from patients and community members and elected officials that support that evidence."
Democratic State Senator Paul Mark of the Berkshire, Hampden, Franklin and Hampshire district is a co-sponsor of the bill.
After losing a hard-fought battle over patient limits to the hospitals that lobbied against Question 1 in 2018, Murphy says nurses know better than anyone else about how to provide safe care.
"Picture yourself, your family member in the hospital, who because of age, or immobility, can't feed himself, and needs to be fed three meals a day," she said. "If nurses have six patients, they cannot, literally can't get to those patients to feed them. Whereas administrators aren't there at the bedside. A lot of them are still working remotely. They're home, they're not there at night and on the weekends. And so, we feel that when we say, and I'm talking about a medical surgical floor where majority of patients are, when we say we can only provide care to four patients, we know what that takes."
Another legislative concern for the MNA is workplace violence.
"Nurses, doctors, respiratory therapists, phlebotomists get assaulted every day, every shift in the hospital, and some of them are career ending injuries," said Murphy. "So, we are once again filing our bill for hospitals to assess the circumstances that exist at their facility and then put a plan into place and then assess it every year to prevent these injuries. The vast majority of these assaults don't get reported."
Access to essential services is also one of the union's priorities this year.
"We have actual deserts in Massachusetts where maternity care is a long distance away," Murphy told WAMC. "And this goes to racial and social and economic justice, but we want to see that our patients have access to care in their communities."
Hundreds of nurses around Berkshire County are represented by the Massachusetts Nurses Association, including around 700 at Berkshire Medical Center in Pittsfield.