Warehousing And Logistics Economy Growing In Southern Adirondack Region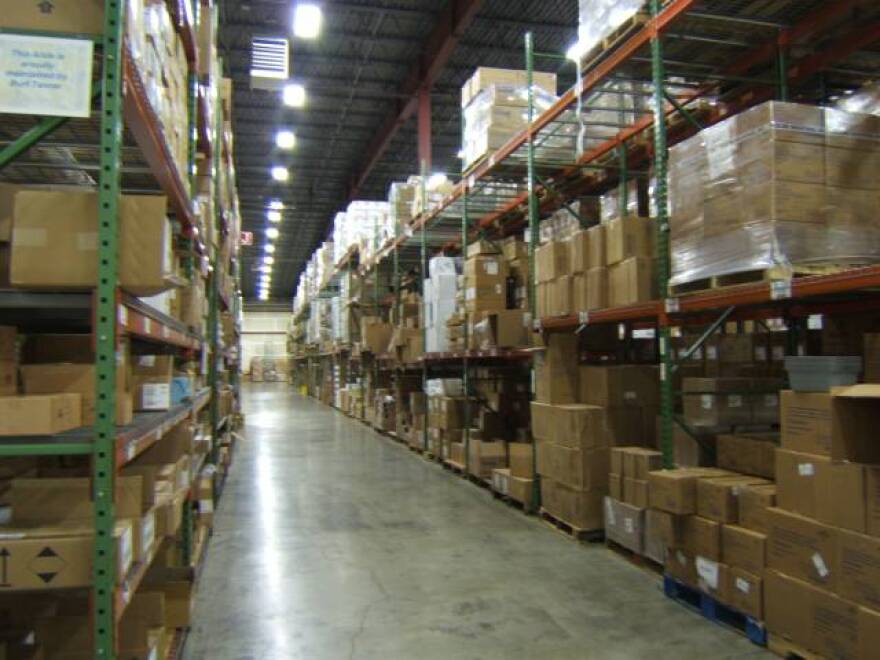 A new economic analysis has provided a snapshot of one of the Capital Region's growing economic sectors: warehousing and logistics.
According to a new analysis by the Saratoga County Prosperity Partnership, the warehouse and logistics economy employs 2,500 people and has an economic impact of $220 million anually across Saratoga, Washington, and Warren Counties.
Those numbers are looking good, and employment in the sector has increased by 21 percent since 2001.
Wages within the sector are up to, by 29 percent in Saratoga County alone since 2007. By comparison, the average increase across New York is 23.7 percent, the national average 24.0 percent.
The growth has to do with the simple fact that more people are ordering more things online these days. With that, Saratoga Partnership's Marty Vanags says more ways to get products from point A to point B are needed.
"And logistics make that happen. And so it's very important that most communities and regions have a strong logistics hub. And it turns out in Saratoga County where we're located, we have a lot of opportunity for logistics. We have the Ace Hardware, we have the Target. And there's a lot of smaller ones that you probably aren't even aware of," said Vanags.
The corridor located along Interstate 87 is attractive to companies. In largely rural Washington County, areas that are easier to travel to attract the warehousing and logistics businesses, says Laura Oswald, Director of Economic Development of Washington County.
"The things that companies come to look for is access to highway. So we have some sites in the Fort Edward area that would be suitable for that," said Oswald.
But there are some big challenges. According to a survey by the Saratoga Partnership, limited warehouse and storage space — and space for expansion — is one hurdle. Another is attracting workers.
While Saratoga County's economy is booming, employers are in need of workers. Other partners in the region are hoping to attract those types of workers to the area.
Todd Shimkus of the Saratoga County Chamber of Commerce says there's a big need for job training for the logistics industry.
"These are high-tech companies now that are doing some tremendous work. So there absolutely is a need for training but there's also some great jobs. These are not entry-level salaries anymore. These are jobs that pay well, that are open, that are available, that have great benefits," said Shimkus.
Another challenge: transportation. As one example, a cluster of businesses around Adirondack Northway Exit 16 can be hard to reach if you don't have your own car.
State Assemblywoman Carrie Woerner, a Democrat who represents Saratoga and Washington Counties, asks a couple questions about what it would take to expand public transportation from Exit 16 to communities up the Northway, in the Glens Falls region.
"Is the ridership going to be strong enough to be able support the economics of it? Or are there funding streams that the legislature can put in place to help supplement the fares that come in from riders?" asked Woerner.
The Capital District Transportation Authority has recognized the need to bring riders out to warehousing and logistics hubs within the region. During the last legislative session, CDTA along with state and local officials and businesses sought a $3.5 million financial commitment from the state to expand service to Montgomery County, which is without its own public transportation system and is home to its own large employers, including distribution centers for Target and Dollar General.
Marty Vanags said the industry and its partners must also look to emerging technologies.
"When you look at autonomous transportation…"
Think self-driving cars and trucks.
"The interesting thing is what happens in the last mile. How are they going to get product from the big warehouse distribution center into the hands of people? And that's the really interesting topic."