Rivers Casino: Countdown To Grand Opening
Rivers General Manager Mary Cheeks
WAMC photo by Dave Lucas
Blackjack table
WAMC photo by Dave Lucas
Poker table at the Rivers Casino
WAMC photo by Dave Lucas
As workers put finishing touches on a $330 million project that turned a Schenectady brownfield into a resort, WAMC's Capital Region Bureau Chief Dave Lucas joined other members of the media for a sneak peek at the area's new casino — just one week before the grand opening.
"Welcome everyone to Rivers Casino and Resort. As you can see, we're ready and I want to welcome you to our beautiful facility."
General Manager Mary Cheeks addressed reporters Wednesday at the new gaming hall. She has overseen the project since before the first shovel was in the ground. "Initially it's understanding and learning the market and my way around the Capital Region. Hiring a lot of great team members from the Capital Region. Doing training and getting ready for the big day of opening or doors to never be closed again."
On the gaming floor, there's row after row of gleaming, colorful state-of-the-art slot machines — 1,150 in all. Patrons can place bets ranging from pennies to hundreds. Steve Colache is director of slot operations. "We have actually the latest and greatest that the slot market has to offer here. Everything is brand-new, freshly manufactured and delivered here within the past few months."
Reporters were given mock player cards. In a few seconds, I "won" $37 on a Game of Thrones machine. For traditional or hardcore gamers, Rivers offers 67 tables: there's blackjack, pool, roulette, craps... and poker. Bruce Dixon manages the poker room. He's put together a team whose strategy is "customer service." "There's such an interest in poker now. It gives a little more choice to the people in this area. I think they've been confined to play in just a few areas in different places. We're gonna bring a different atmosphere. The games are the same but we're gonna have different buy-in ranges, so, we have different amenities in a room. You can text to order your mal right at your seat and have your food brought out to you. There's a lot of things in this room that we're gonna do. We're gonna aim to blow our customers away here."
Mary Cheeks says Rivers, aside from the slot machines and gaming tables, is much more than just a casino. "Although it's 'Rivers Casino,' we're not just a casino experience. Once our hotel is open, it's gonna be great lodging, we have a great fitness center, a great spa, great dining, great local entertainment that will be engaged at Proctors... it's gonna be a overall experience for everyone."
The Rivers Marketplace has various dining options, including Johnny's To Go, FLIPT and Villa Italia.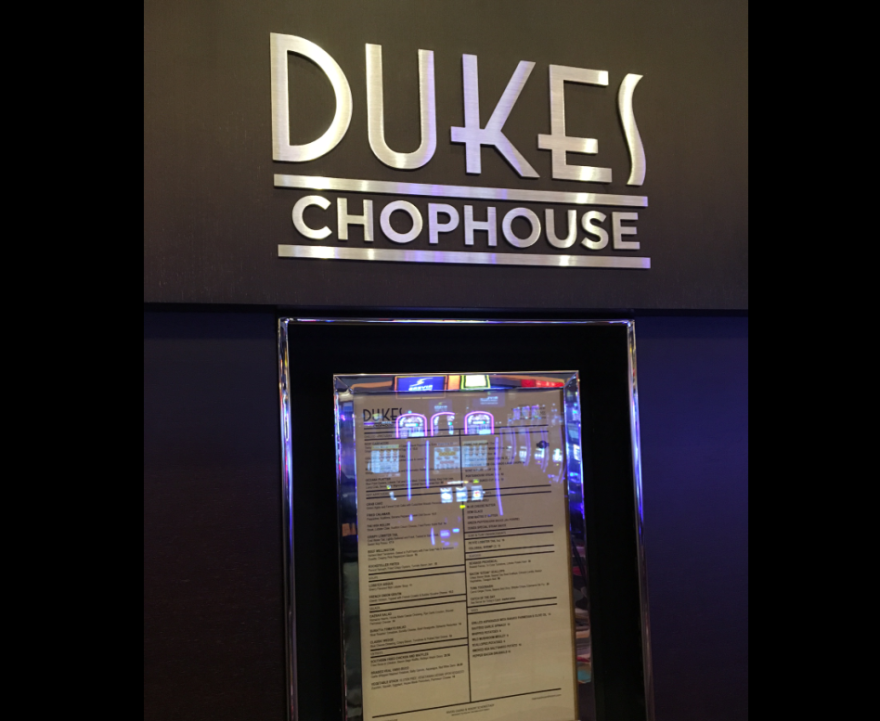 For steak afficianados, there's Duke's Chophouse. Joe Scibetta , Vice President of Development and Operations for Rush Street Gaming, says there are no great steakhouses anywhere else in downtown Schenectady, certainly none with views of the Mohawk River. "We really focused on making a great steak, with great sides, and letting folks come in at a reasonable price. We right-sized it to make sure that it makes sense for the amount of business we would have come through the door for the gaming. One of the most important pieces is, if you look at the lounge, it's actually bigger than the dining room. Most restaurateurs would say 'that's crazy,' but we wanted to make sure that the lounge came alive, and that's why we put booths, seating and tables in the lounge."
Galesi Group President David Buicko says initially he had no idea the old heavy industry site would evolve into a modern riverside resort. "We closed in 2010, we bought this property. So it took us two and a half years of tearing it down, getting the site ready, and the casino legislation didn't pass until November of 2013. We weren't sure what to do with these 30 acres. And we were very fortuitous that the state of New York and Governor Cuomo ended up getting the legislation passed. It was enjoyable. The challenge of competing with three other qualified bidders, whether it's East Greenbush, Rensselaer, Howe's Cavern, to be able to get Schenectady designated. But this is not about a casino. This is about a riverfront brownfield development. We've got a harbor, we've got apartments, we've got two hotels. And I think that's one of the reasons why we were selected by the gaming board. Because it had a bigger impact."
The 50,000-square foot Rivers Casino also features Van Slyck's, a club area featuring large-screen TV and live entertainment, and a 10,000-square foot event center.
The official opening is set to take place Wednesday, February 8th at noon.
BONUS AUDIO - Galesi Group's David Buicko tells WAMC intern Nicholas Tantillo that Duke's was named after the company's first employee.

BONUS AUDIO - WAMC news intern Nicholas Tantillo speaks with table games dealer Melissa Vincent.

Another one of New York's new gaming halls, the del Lago Resort & Casino, opened Wednesday in the Finger Lakes... here is a photo gallery via cny.com