Baker Extends COVID-19 State Of Emergency Through May 18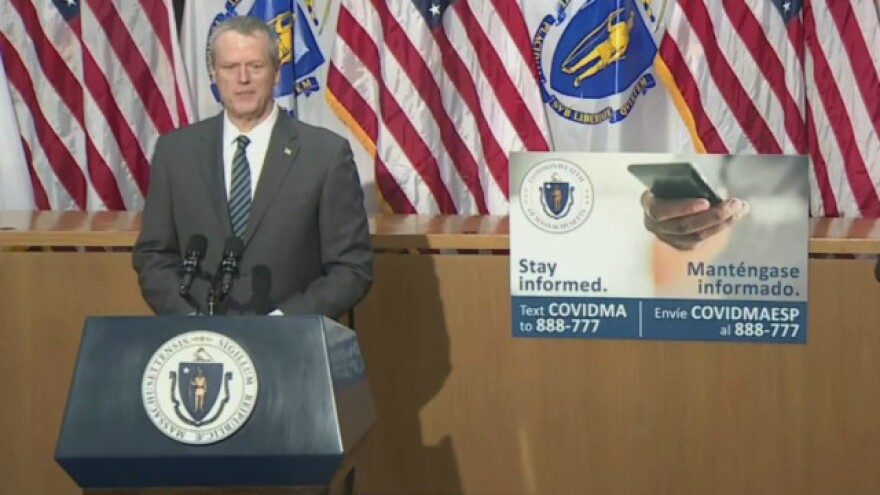 The coronavirus shutdowns and restrictions in Massachusetts will continue until at least mid-May.
Massachusetts Gov. Charlie Baker on Tuesday extended the stay-at-home advisory and non-essential business closure until May 18th. The order had been scheduled to expire on May 4th.
"I know pushing these dates back a couple of weeks is probably not what many people want to hear," Baker said.
Also extended until May 18th is the ban on gatherings of more than 10 people.
Although the state appears to have hit a plateau in hospitalizations for COVID-19, there has not been enough downward movement in the number of new cases to allow for a safe reopening, Baker said.
"The public's compliance with the closures of nonessential businesses, our ban on large gatherings and our stay-at-home advisory has slowed the spread and helped our hospitals keep up," said Baker. "These mechanisms all need to remain in place so we can do better than just keep up and actually start to get ahead."
The shutdown in Massachusetts that started on March 24th closed dine-in restaurants, shopping malls, Main Street retailers, cultural institutions, theaters, factories, and construction sites. More than a half million state residents filed for first time unemployment benefits in the last month.
"We all look forward to stepping in front of this podium to tell you we are starting to open for business," Baker said, adding "I know we'll get there soon."
Baker said when it comes time to reopen, it won't happen all at once.
" This is going to be phased and based to some extent on those busineses that are most likly to be successful coming out of the gate with respect to a reopening," said Baker.
Although the surge in COVID-19 cases in western Massachusetts appears to have happened weeks ago, Baker said he would not reopen one part of the state before another.
" I am glad since western Mass was one of the first areas hit hard by this that the numbers are moving in the right direction and I would hate to do anything to screw that up," said Baker.
The Republican governor announced the creation of an advisory panel that will put together a set of recommendations before May 18th on how the state should proceed to reopen and what safety standards, protocols, rules, and regulations will need to be in place.
The panel consists of 11 representatives from the business community, three people from the healthcare sector, and three local government officials and is chaired by Lt. Gov. Karyn Polito.
"We will do a lot of listening to our Main Street businesses, our small business owners, the best academic institutions, and innovators all over our Commonwealth," said Polito.
Members of the Reopening Advisory Board from western Massachusetts are Easthampton Mayor Nicole LaChapelle and Dr. Mark Keroack, the president and CEO of Baystate Health.
Massachusetts is also coordinating with neighboring states about restarting the economy.
Schools are closed in Massachusetts for the rest of the academic year. School districts have switched to remote learning.
Child care providers are currently closed until the end of June.
It was announced Monday that all court buildings in Massachusetts would remain closed to the public until at least June 1st.