Mass. AG Talks Soldiers' Home Investigation, Price Gouging, Charity Scams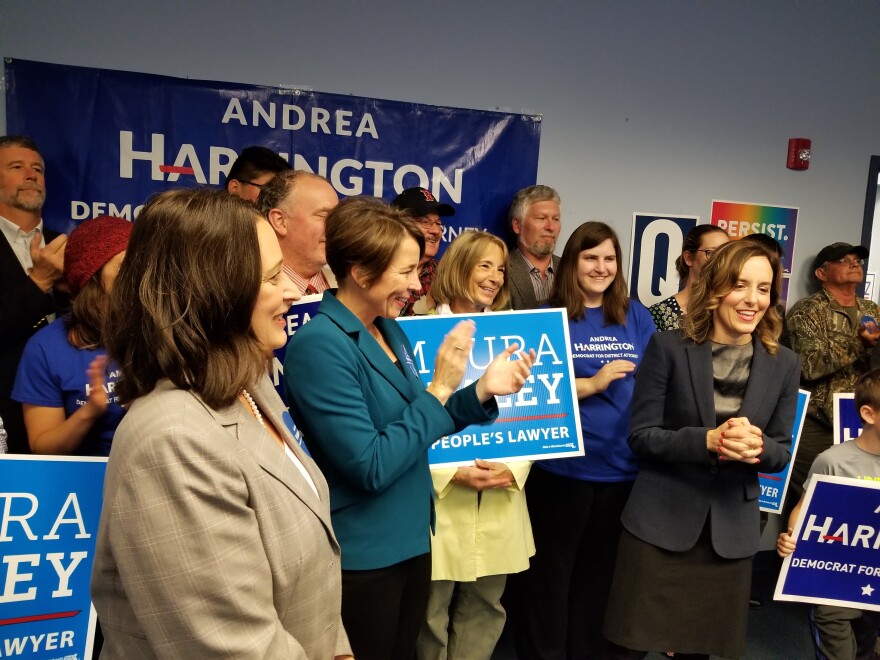 WAMC spoke with Massachusetts Attorney General Maura Healey Monday about how her office is responding to the challenges of the COVID-19 pandemic. The Democrat discussed how she's working to stop price gouging of medical equipment, as well as charity scams, racism, and her office's investigation into the Holyoke Soldiers' Home, where almost 40 residents have died after testing positive for the virus.
Well, we're really concerned about getting to the bottom of what happened there. Obviously, it's a incredibly distressing situation. My heart goes out to the families who lost loved ones, the families who currently have loved ones there, and we are concerned for those residents. We are concerned for staff, and my office will conduct this investigation and go wherever the facts take us.
Statewide, an overwhelming number of folks who have passed away from COVID-19 are related to long term care facilities. Does your office have any interest in investigating how long term care facilities reacted to the outbreak?
You know, I think this is a concern for all of us and certainly we've seen the real problem that exists, you know, within these facilities. You know, it is definitely the fact that this is a virus that older people are particularly susceptible to, and it's important that these facilities and staff there, as well as patients, have the protective gear available to them and that everything is being done to test and an isolate, and make sure that folks are protected. So obviously, very concerning to my office. We are we are reviewing all of this. And we just want to do everything we can to get resources to these facilities and support that, but also make sure that they're doing all they can to protect their patients and their staff.
One issue your office has identified is price gouging around PPE during this crisis. Is that an ongoing issue that you're still tracking from your office?
Absolutely. We filed an emergency regulation making price gouging illegal two weeks ago, and I've encouraged the public to report to our office any price gouging. Early on, we saw price gouging of masks, of hand sanitizers, and the like. We've had reports made to us by both consumers as well as our hospitals. So please continue to flag those issues for my office. We take it seriously and we don't want people exploiting this crisis. For a really unreasonable profit,
Your office has been vocal about its efforts to support immigrants and folks of color during the pandemic. What issues of equity do you think are being exposed or expressed during the outbreak?
Well, these are incredibly frightening and uncertain times for families across the state, but especially for our immigrant communities and for our black and Latin X communities. It's, you know, it is absolutely the case as we've seen in other parts of the country that communities of color will suffer disproportionately from the Coronavirus and we want to do everything we can here in the state to try to mitigate that. There are terrible disparities that exist systemically within our system, and with respect to health care. And so, you know, we have done a few things. One, we're working hard to make sure people get the help that they need. We have put out a lot of resources in multiple languages. We're trying to reach communities, identify what they need, whether it's food, or housing, places to self-isolate, childcare, advocate for their getting testing and access to care and treatment. And we're just going to continue to do that. I mean, it is really important that throughout this pandemic, that we do everything we can to take care of all of our residents. And so, you know, that means getting them testing and the care that they need. It also means making sure they're not taken advantage of in other ways. We've been doing a lot of webinars in multiple languages on things like landlord tenant rights right now. No evictions, no foreclosures in the state, no debt collection, no utility shutoff. We want to make sure that people know their rights and their protections throughout this crisis. I have multilingual staff available to help people with a variety of issues including childcare, and discrimination, and paid sick time, and scams and we're just going to try to get out as much information as possible through our Immigrant Council, and our Race and Equity councils and all the community organizations that we work closely with as an office. This is really a top priority for me in the team.
Have you seen a rise in charity scams during the pandemic? And if folks are trying to make a meaningful contribution to a charity during the outbreak, do you have a guide to do that in the most effective way possible?
Yeah, we've unfortunately seen a lot of scams. We've seen scams out there where people are pretending to sell Coronavirus treatments or vaccines. Lately, people scamming people by pretending to help them get access to some of the federal money that's out there. And we've also seen scams where people pretend to set up a charity that's going to help fight Coronavirus and it's just a scam. So be really careful. You can always check with my office as to the legitimacy of a charity. But just be really, really careful and make sure you do your homework. Before you make those contributions. It's absolutely the case that some of our nonprofits and community organizations definitely need, you know, funding they're suffering. But just please make sure you know who you're giving to
Doubling back for a minute to civil rights. There's been a lot of conversation about specifically a lot of racism directed towards Asian Americans during this crisis. I'm interested in what kind of work is your office doing to support that community here in Massachusetts?
Well, we reached out right away to the Asian community to say, "Hey, we're here, please report any instances of discrimination". Also, I've spoken out forcefully against acts of discrimination targeting this community. You know, unfortunately, we've seen really unhelpful language from the President and others that inflames this. But I think, you know, we've tried to be really clear that here in Massachusetts, we're going to stand up to that. We're going to stand for civil rights, take care of people. And we just ask that any incident like that, if it happens, be reported to my office. Fortunately, you know, we really haven't had to date that kind of experience here in Massachusetts, the likes of which we've seen in some other places, but I continue to keep in close touch with the Asian community and with other political leaders who were actively engaged in these efforts as well.
Something I've heard from the mayor here in Pittsfield, Massachusetts, is the municipality struggling with some businesses that are dubiously essential remaining open during the pandemic. I know that your office has a fair labor division. Are there resources for workers who are concerned that they're working in a business that should not be open?
Yeah, absolutely. I mean, protecting workers is something that's central to our office. It's why we spoke out to make sure that workers had access to paid time off if they or somebody in their family gets sick. And you know, on this essential business, I think my point is like, this is no time to mess around. I mean, for those who are truly you know working at essential businesses, grocery stores, for example, let's make sure that they have the protective equipment that they need. And consumers really need to be respectful about maintaining physical distancing in those places. And if there is concerns that somebody's operating a business that they shouldn't be operating right now, you know, report that to your local authority. You can also report it to the state. But you know, you're not helping anybody. And in fact, you're hurting a lot of people if you're out there playing games, and staying open, when you're really not supposed to be open. And I think it's, it's frustrating for municipal leaders who have a lot on their plates right now, already. I know this is causing devastation to businesses, large and small, all across this country. And I'm sympathetic to that. But we've got a larger issue of public health here and if we don't do everything we can right now to take the steps to contain the virus contain, the spread, we are going to continue to pay for this, not just for weeks, but for months and months to come. Public Health has to come first and people cannot be pressed to get back to business or opening up the economy. It just can't be right now as a matter of public health, and what has to be the priority not just for Massachusetts, but for this country.
At this point in the pandemic, what do you see as the next big challenge for Massachusetts and the work you're doing through your office?
Well, I think that you know, really, it comes down to the needs of people. You got a ton of people out of work, we've got small businesses that have been lost. You know, people are hurting. So we're going to need major funding for, for unemployment, for food, for housing, for really all the basics. I also think it's going to be a challenge too, for families who are struggling with, you know, homeschooling their kids right now. Because, you know, we're not going to see schools open, I don't, I don't think here this year; they're going to have to be closed. And that means that families are going to have to adjust, school districts are going to have to adjust, and that's going to require, you know, some serious work in engagement, as well. And finally, I think the challenge is just getting people to continue to take seriously the need to stay at home, maintain physical distancing, and stay safe. It's not just about you, you know, it's about others. And we may be walking around feeling fine, but we may be carrying the virus, and all of a sudden, you know, infect somebody else who could end up sick and in on a vent in a hospital and that's the reality right now and so the more we stay at home, the better off we're all going to be and the faster we'll be able to move through this.