Columbia Gas Streamlines Repair Efforts In Merrimack Valley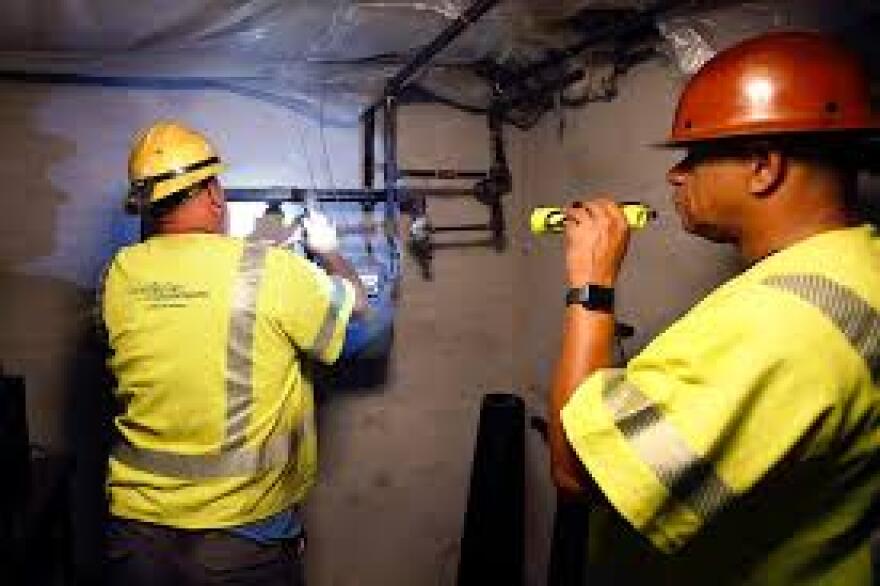 Hoping to get natural gas service restored to several communities north of Boston before cold weather sets in, a utility company has announced a streamlined repair process.
Crews working for Columbia Gas Company of Massachusetts will need to do repairs in at least 350 homes a day in order to meet the goal to restore gas service to an estimated 10,000 buildings in Lawrence, Andover, and North Andover by November 19th.
Before the gas can be turned on, the damaged underground pipeline system has to be replaced and gas lines and appliances in individual homes and businesses must be assessed, repaired or replaced, and inspected for safety.
In a conference call with reporters, Chief Recovery Officer Joe Albanese said it is has been a "massive task" to procure the materials and appliances and hire tradespeople to do the work.
" We know that when we get our out pace that we're going to need to, we're planning to, put in place 350-400 house-ready units per day. And we need to get that that point in the next week, week-and-a-half," said Albanese.
An over-pressurization of gas lines operated by Columbia Gas led to a series of explosions and fires in the greater Lawrence area on Sept. 13th. One man died and two dozen people were injured. What caused the over-pressurized gas lines remains under investigation.
Columbia gas has hired 3,000 temporary workers including pipefitters and plumbers as part of the gas restoration effort.
Albanese said the so-called "house-ready" process will be synchronized with the "gas-ready" work of replacing the pipelines in the streets.
An interactive map was launched this week on the gas company's website so customers can track the restoration projects in their neighborhoods.
"We think we've put together a plan that will be easy for residents to check in with and understand what to expect when we arrive at their homes," said Albanese.
Of the estimated 700 businesses impacted by the disaster, priority for restoration work is being given to those that have "an impact on human needs," according to Columbia Gas Restoration Officer Pablo Vegas.
"Whether it be emergency response organizations, schools, food services, daycare, busineses of those nature, we are working to find a way to get them their gas service more quickly, while continuing to work on all the other residents and businesses that need suport too," explained Vegas.
He said the company's claims adjusters will work with customers to provide restitution.
" We know that all eyes are on us and we're holding outselves accountable for this," said Vegas. " We're going to do whatever's needed to regain our customer's trust and we'll be here to support them."
Following the disaster, the Massachusetts Department of Public Utilities announced plans to hire an outside evaluator to assess the state's entire natural gas pipeline infrastructure.
The DPU ordered a moratorium on all but non-emergency work by National Grid after a gas line over-pressurization incident in eastern Massachusetts this week.
In late June, National Grid locked out more than 1,200 gas workers in a contract dispute. Their unions claim the replacement workers have committed numerous safety violations at job sites.