Protest Held After Three Muslim Sisters Allege Bullying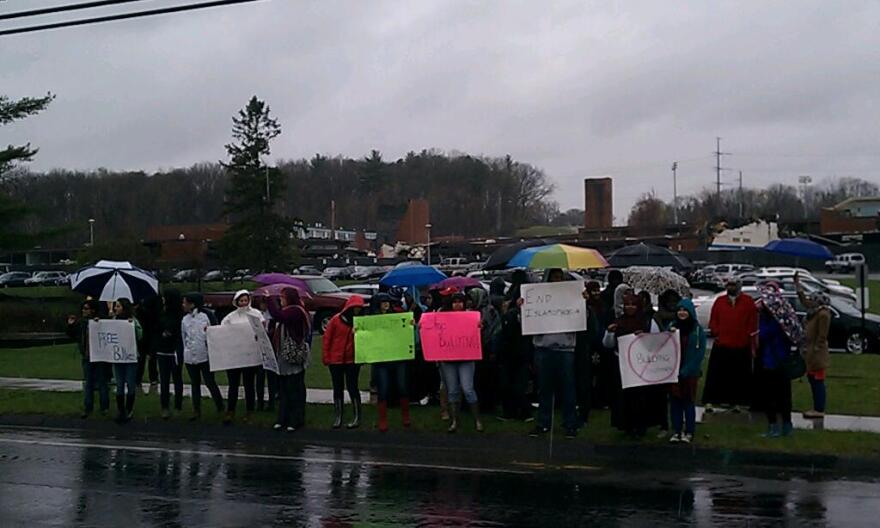 A protest was held today outside a western Massachusetts high school to draw attention to alleged anti-Islamic bullying.
About 50 people, most of them college students, stood in a steady rain on the sidewalk in front of West Springfield High School for about half-an-hour on Wednesday holding signs denouncing bullying and bigotry. They were joined by three Muslim sisters who claim they've been harassed at school because of their religious beliefs.
" I've been called terrorist, towel head in my class," said Najma Hussein.
Hussein, a senior claims the bullying has taken place since she was in middle school. Her sister Hibo, also a senior, said she believed Wednesday's protest will help call attention to what they allege is a pattern of abuse.
Filsan Hussein, who left West Springfield High School last year after a fight in the cafeteria and enrolled in a private school, said the sisters kept quiet about what was going on until a few weeks ago when they told their story during a panel discussion at Westfield State University.
"We kept it inside. We thought it would blow over, but then we'd had enough."
Najma and Hibo Hussein are both facing criminal charges stemming from the fight last year with another female student . They declined to answer questions about that, saying they had been told by their attorney not to speak about it.
One of the protestors, Susan Swain, a Westfield State student, held a sign reading "No Tolerance for Hate." She said she was motivated to attend the protest after hearing the sister's story.
" It's 2014, we need to move forward."
Westfield State professor Kamal Ali, who is also vice president of the Islamic Society of Western Massachusetts organized the protest. He said school officials have reached out to him to discuss the bullying issue.
" This demonstration was the only reason more than likely that they are now willing to talk, which we are absolutely willing to do. But we wanted to make this statement very public that bullying of any student, but especially Muslim students will not be tolerated by the community."
West Springfield School Superintendent Russell Johnston disputed the assertion that the threat of a protest prompted movement toward a resolution.
Johnston said the West Springfield schools have a strict anti-bullying policy. He said teachers and students, starting in the 7th grade, are taught about Islamic faith and culture, lessons that include a field trip to a local mosque.
" This is an ongoing responsibility that the district has. We rise to that responsibility and we will always keep striving to come up with new ways to make sure we are supporting our students well and understand the various backgrounds our students come from."
Johnston would not comment on the allegations made by the Hussein sisters.