Storm Leaves Destruction In The Hudson Valley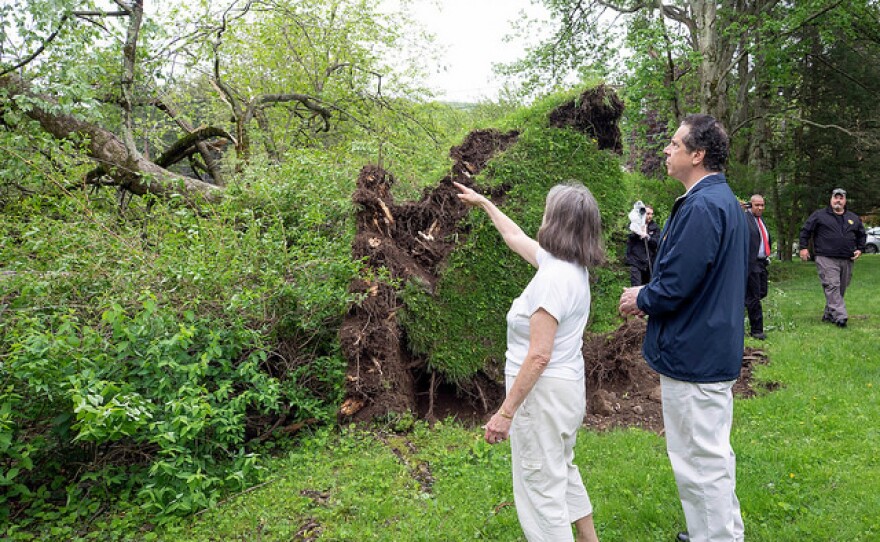 NY Gov. Andrew Cuomo tours storm damage in Putnam County
Following Tuesday's severe weather in the Hudson Valley, New York Governor Andrew Cuomo toured storm damage in Putnam County and delivered a recovery update Wednesday. And he spoke about two deaths in Orange County.
Severe thunderstorms that tore through the Hudson Valley are blamed for two deaths in Newburgh, one in the town and another in the city. Here's Cuomo.
"Trees down, homes damaged, that we can handle. The worst situation is loss of life, and we had that in this situation. We lost two lives. One woman in Newburgh was in her car driving and a tree fell, and she lost her life," Cuomo said. "Second situation, which is just heartbreaking, is a mother and an 11-year-old daughter were in their driveway. The mother was unpacking her car. A tree fell and killed the young girl in the driveway."
Officials say the girl was still in the car in the driveway when the tree fell. The storm left portions of the Hudson Valley with impassable roads from downed trees and power lines, and nearly entire towns without power. Cuomo, a Democrat, delivered an update from Putnam Valley after inspecting damage in the county.
"We had about 200,000 people without power. The utility crews did a great job working overnight. That number is now down to about 157,000," said Cuomo. "We have 30,000 in Putnam County. Putnam Valley is 4,000; Dutchess County 23,000; Orange County, 50,000; Rockland, 2,000; Sullivan, 19,000; Ulster, 7,000 and Westchester, 24,000 people without power."
Republican Putnam County Executive MaryEllen Odell:
"Our 911 dispatch center fielded 1,800-plus calls last night. We have 144 roads closed," Odell said. "We're working our best to get our Putnam Hospital Center, our major healthcare center, up and running and off generator."
Roger Parrino is commissioner of the Division of Homeland Security and Emergency Services.
"The governor has activated 125 National Guard. The DOT has upped their staff up to 1,000," Parrino said. "And that's your two biggest work crews for a situation like this, the National Guard and DOT."
Mutual aid crews have been arriving to help utility workers and Cuomo says Department of Public Service staff will continue to monitor the utilities' efforts during the storm restoration period. Utility companies came under fire following March snowstorms that left several thousand customers in the dark for some two weeks.
"There's an emergency number for someone who is without power: 1-800-342-3377," said Cuomo. "If you are without power and you have an emergency situation, we can bring emergency generators, we can bring meals, we can bring water."
John Maserjian is spokesman for Central Hudson, which had some 65,000 customers without power as of Wednesday afternoon. He says hardest hit areas in the utility company's service territory are in southern Ulster County, northeastern Orange County, southern Dutchess and western Putnam County.
"We're seeing entire trees toppled, large limbs broken, roads are blocked. And these trees took down wires, broke utility poles," Maserjian says.
Meantime, Sullivan County Manager Josh Potosek says a state of emergency for southern Sullivan County will be extended for certain towns until 5 p.m. Thursday.
"We have a state of emergency, not total travel restrictions, but for the bulk of our southern towns in our county, from Cochecton all the way over to Mamakating, including the Town of Thompson and the Town of Bethel," says Potosek.
Southern Dutchess County also was hard hit, especially Beacon, Fishkill and Wappinger. There were numerous reports from area residents about possible tornadoes in Dutchess, Orange, Putnam and Sullivan Counties. The National Weather Service is determining whether to send crews to conduct damage surveys.
Update at 5:45 p.m. Wednesday: The National Weather Service has confirmed that a tornado of 110 mph struck Kent and one of 100 mph ripped through Patterson. Weather officials say they're investigating other potential tornadoes in Putnam and Orange counties.