NY Congresswoman, FRA Head Discuss Rail Crossing Safety, Enforcement
New York Congresswoman Nita Lowey was in Westchester County today, at a rail crossing just miles from the site of a fatal Metro-North train collision with an SUV nearly two months ago. She was joined by a number of officials pledging their commitment to improve all facets of rail crossing safety.
Lowey, the ranking Democrat on the House Appropriations Committee, stood near the Metro-North crossing at Roaring Brook Road in Chappaqua.
"The safest grade crossing, frankly, is one that doesn't exist," says Lowey. "But with more than 212,000 public and private grade crossings around the country, we must tackle this important safety challenge with a multi-faceted approach, including eliminating the most dangerous grade crossings and developing new technologies to identify obstructions."
Lowey says she was not yet prepared to call for the elimination of a particular crossing. She says there needs to be more grade crossing examination before coming up with a list. Lowey was joined by Federal Railroad Administration Acting Administrator Sarah Feinberg to demonstrate the danger posed by grade crossings. Again, Lowey.
"Her visit couldn't be more timely. Just yesterday, hard to believe, a van was on the tracks as a train approached," says Lowey. "The train slowed as the van broke through the gate avoiding a crash, but it is at least the second close call this month."
Feinberg spoke about the need for stepped up enforcement and commended Lowey's call for a public awareness campaign.
"We need education. We need enforcement. And we need awareness."
She adds:
"New York, New Jersey, and Connecticut really have a challenge on their hands," says Feinberg. "Metro-North, New Jersey Transit, and Long Island Railroad alone have almost 800 grade crossings, many like the one here at Roaring Brook."
Joseph Giulietti, President of MTA Metro-North Railroad, rode with Feinberg on Metro-North from Grand Central Terminal to Westchester. He says improvements are in the works for the Chappaqua grade crossing.
"The MTA's working with the New York State DOT [Department of Transportation] and the town on signage and safety improvements at this crossing," says Giulietti. "And I want you to know that even in the last, since we began this campaign, there were 137 violations issued by the MTA police, 20 for Roaring Brook alone, 189 on the Long Island Railroad."
Those 20 tickets for the Roaring Brook crossing in Chappaqua were issued in the past month. Chappaqua is in the Town of New Castle, and New Castle Police Chief Charles Ferry says with more state and federal funding, enforcement could be increased.
"Twenty tickets is a lot for that violation, especially when the officers – MTA and New Castle combined with that But they're here in a marked police vehicle where people most likely see them or should, and they're doing that," says Ferry. "I think when we're not here there's probably people still doing it. But the 20 tickets doesn't even speak to the number of violations that are actually happening."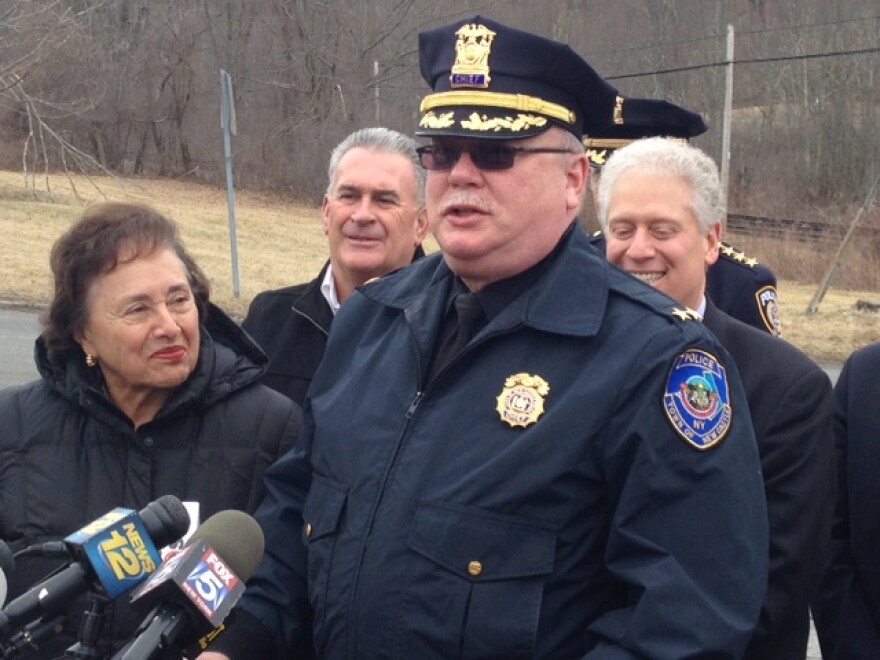 He says state officials should consider increasing fines for rail crossing violations. Again, the FRA's Feinberg.
"Metro-North's answer to the FRA's call to step up enforcement has been huge and useful and we're grateful to them and I thank them because I do think it will make a difference."
Lowey and Congressman Sean Patrick Maloney at the beginning of March stood near the same Chappaqua crossing to push passage of a passenger rail bill that included legislation concerning rail crossing safety. The bill did pass the House.
There has been a heightened focus on rail crossing safety in the Hudson Valley since a woman in an SUV was killed when a Metro-North train hit her vehicle at a crossing in Valhalla February 3. Five people aboard the train also died.