Capital Region City Councils, Legislatures Return To In-Person Meetings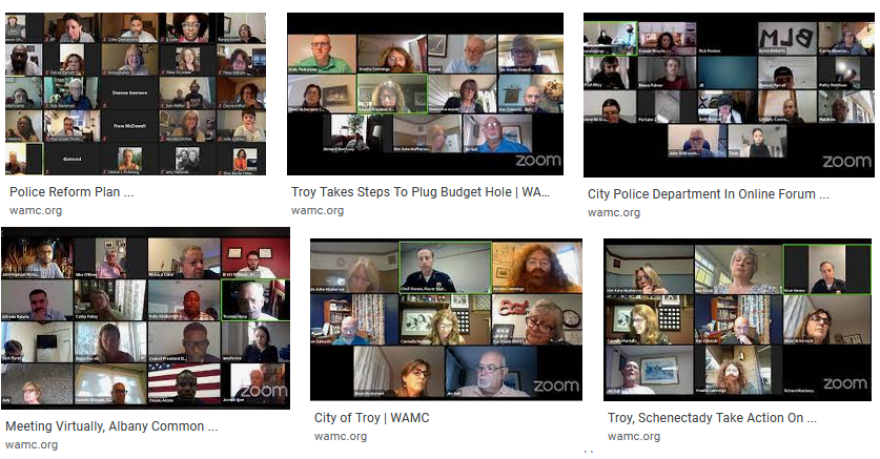 With the easing of COVID-19 restrictions and the lifting of an executive order prohibiting in-person meetings, local government groups are getting back together in a room — but officials say they're not forgetting what they've learned from months of virtual sessions.
As local governments return to in-person meetings following the COVID-19 emergency, Albany County Legislature Chairman Andrew Joyce says he welcomes the changes wrought by new technology. Although details remain to be worked out, the Democrat says the 39-member body is hoping to move forward under a hybrid model of some kind:
"Showing up and being in person and being in the seat, which is what we were elected to do. But you also have to take into account the incredible participation that we had when we did remote meetings not only for our membership, and when we talked about building the budget and doing a number of things, it was just easier for folks to be present and to participate when we're doing things remote."
In Troy, Republican City Council President Carmella Mantello says she and her colleagues are excited about once again meeting in the flesh.
"I think that the virtual and the Zooming, they were productive for the times and places, but there's nothing like face-to-face and in-person. You really get to see someone's emotions. Also, if you think about it, we have to have a time limit of when to sign in. So there was a 3 p.m. deadline. Now, someone can just attend a council meeting and participate at that council meeting."
Albany Common Councilor Richard Conti, a Democrat, says the city is investing in a new sound system to facilitate online streaming of meetings, but has to play catch-up because they didn't expect the executive order would expire until late summer. Governor Andrew Cuomo's state of emergency ended on June 24th.
"We're trying to livestream them in a way that people can still watch. But the acoustics are horrible. We always used to record our meetings and then archive them, but the live stream is a problem right now. But we're working on it. But you know, as much as I understand the virtual and the ease and etc., that can't be a substitute for real in person meetings and in person interaction with our colleagues, and be able to have dialogue. And that's something that, you know, one of the things we've lost, was that personal interaction, that's really important, especially, as you know, for a deliberative body, that we can interact with our colleagues right on the scene, versus this virtual, you know, computer stuff. So, we're trying to find how do we find the best, you know, medium between the two, to have some of those positive elements, but also get back to in-person where we really need to be."
Joyce says open meetings laws may need tweaking for the new Zoom era:
"You know, what is our capability to not only show up, be present in person, but also allow for a hybrid option, where we have folks that can come in, both our members and the public, come in and do things remotely. We are bound by state law. But we're certainly interested in lobbying our state delegation, to look at the law. And it would be foolish of us just to turn our back on all the things we learned during the pandemic."