Albany Housing Authority Names New Executive Director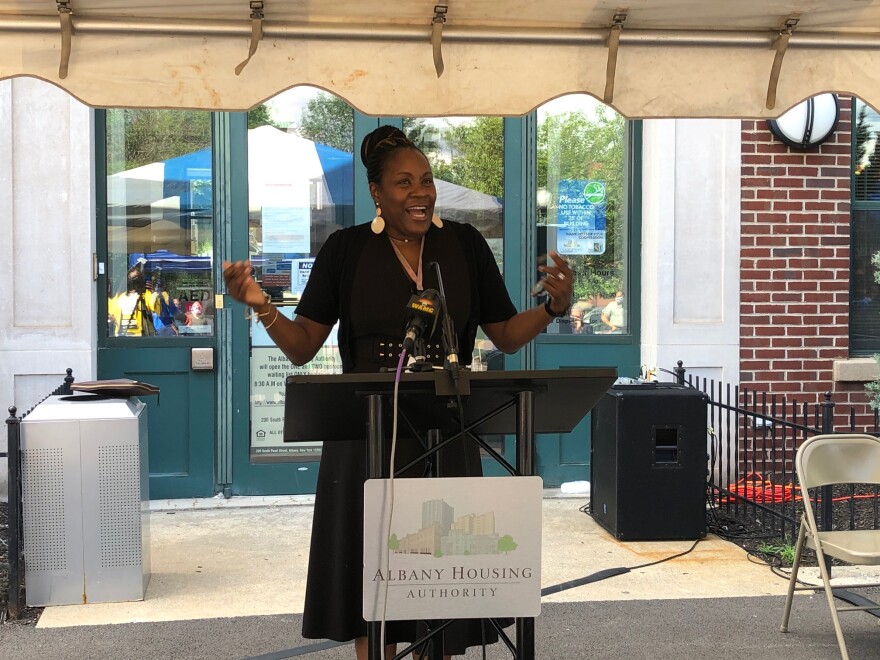 The Albany Housing Authority is getting a new Executive Director.
A nationwide search led city officials right back to Albany:
"We didn't have to look very far to discover the perfect candidate for this job."
Albany Housing Authority Chair Michael Whalen was joined by Mayor Kathy Sheehan Wednesday to announce the appointment of Chiquita D'Arbeau as the new Executive Director.
"I appreciate the community as a community partner and I look forward to creating new partnerships and building new bridges that will create sustainable and equitable opportunities."
Sheehan says the Authority provides federally subsidized housing for more than 7,000 city residents.
"It truly is a remarkable organization. I, in the time that I have been mayor have been visited by people from New York City and other places wanting to know how we do what we do here in the city of Albany. And it happened because of the leadership of this housing authority, but also because of each and every person who works here, who maintains these buildings, who ensures that the residents have the services that they need, who ensures that we are doing all that we can to provide compassion and care and housing, which is the basis of, for, when we talk about the social determinants of heath we know that secure housing is at the foundation of that. And these are all things that this housing authority has been committed to."
D'Arbeau has worked with the Authority in multiple roles since 1999, including stints as Housing Eligibility Assistant and Housing Authority Inspector, Employee Relations Manager and Executive Assistant, Director of Human Resources and Customer Relations, and most recently as Deputy Director.
Earlier, D'Arbeau worked with the Arbor Hill Development Corporation, the Minneapolis Public Housing Authority, and the St. Paul Public Housing Agency.
Democrat John McDonald says he's worked with D'Arbeau during the eight years he's served the 108th Assembly district, and believes she is the best person for the job.
"A person who has worked every position in this authority, understands the needs and wants of the community and now is actually in a position to work collaboratively with the city, the county and the state. I couldn't be more excited. I think as much as I always have a hard time envisioning Albany Housing without Steve Longo, I now see a greater vision with Chiquita at the helm."
D'Arbeau succeeds Longo as Executive Director when Longo, who has headed the authority for 30 years, retires this summer.