Albany County Democrats Have Key Vote To Replace Longtime Comptroller Tuesday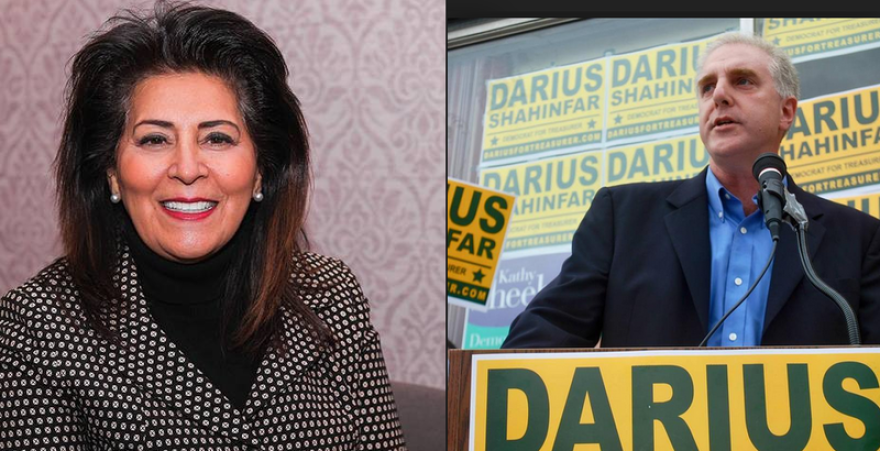 The key primary election for a Democratic candidate to take over for retiring Albany County Comptroller Mike Conners is less than a week away.
Last September, after serving 24 years, Mike Conners announced that he would not be seeking another term. By January two hopefuls emerged to vie for comptroller in a summer primary: Albany City Treasurer Darius Shahinfar and Albany Chief City Auditor Susan Rizzo.
Shahinfar: "We've initiated our mail plan. We hit mailboxes last week and this week and next week. We've initiated our TV commercial that has been on social media this weekend but is now being broadcast. It's been relatively quiet. We're getting a very good response door-to-door. Sometimes I felt I was squirreled away in obscurity as city treasurer but it turns other people pay attention and know who I am."
In January, Shahinfar promised if elected: "We will be transparent. We will perform and publish post audits of the county finances. We'll improve data access online of county finances and information, which will make it easier for the public and the media to analyze facts and figures. We'll demand public service excellence."
City Auditor Rizzo's campaign also has a video ad on Facebook . Rizzo says she too has been busy going door to door and planting campaign signs on supporters' lawns. "I'm just trying to be positive. I don't believe in smear campaigns. I'm honest with people. I tell people that I think I'm the best candidate because of my experience and being an accountant as well as auditing, several times too for the city, as well as what I've audited before in my last 30 years. Initially people would say, 'I'll check your credentials,' and now I will say a lot of people are saying 'I'm gonna vote for you.'"
The campaigns locked horns in May after Rizzo held a press conference on what she characterized as "the pattern of fiscal mismanagement at City Hall." Rizzo's words didn't set well with Shahinfar. One of his campaign people invited reporters inside to speak with him. Rizzo wanted in as well. He asked her to leave his office.
Rizzo stood her ground, refusing to go. Shahinfar criticized a streetlight bond audit Rizzo conducted, saying its conclusions were erroneous and "a tremendous waste of time."
The situation escalated when a Rizzo campaign aide accused Shahinfar of keeping two sets of books.
Sitting Comptroller Conners says it's going to be all about turnout. "It's very difficult go get people to show up at a primary anyway in September. Now people are gonna have good weather and they're gonna have all of the transition dates going on junior high school to high school, the graduation schedule and of course holidays, so I'm really worried. Hopefully people will know it's a primary and they'll show up."
Rizzo says when she goes door to door "...my last line to everybody when I leave their door is I say 'don't forget to vote June 25th.' And they'll say 'yes I know,' and then there'll be, you know, 20 percent that might say 'Oh my God I didn't know.'"
Conners says whoever wins the primary and regardless of who takes the November election, his office has a transition plan in place.