51% Show #1363
On this week's 51%, it's living large with a same-sex couple from many decades ago; and women going to or teaching at the gym is commonplace in the U.S., but not in another country.
Living Large: WilnaHervey and Nan Mason, by noted silent film historian Joseph Eckhardt is a dual biography and a love story. WilnaHervey, a six-foot-three-inch, three-hundred-­pound heiress, won the role of "The Powerful Katrinka" in the Toonerville Trolley comedies of the early nineteen-­twenties because of her impressive size. While filming on location in the Philadelphia suburbs, Wilna Hervey met Nan Mason, the surprisingly tall daughter of her Toonerville co-­star, Dan Mason. Wilna and Nan became inseparable friends and ultimately, life partners, for 59 years.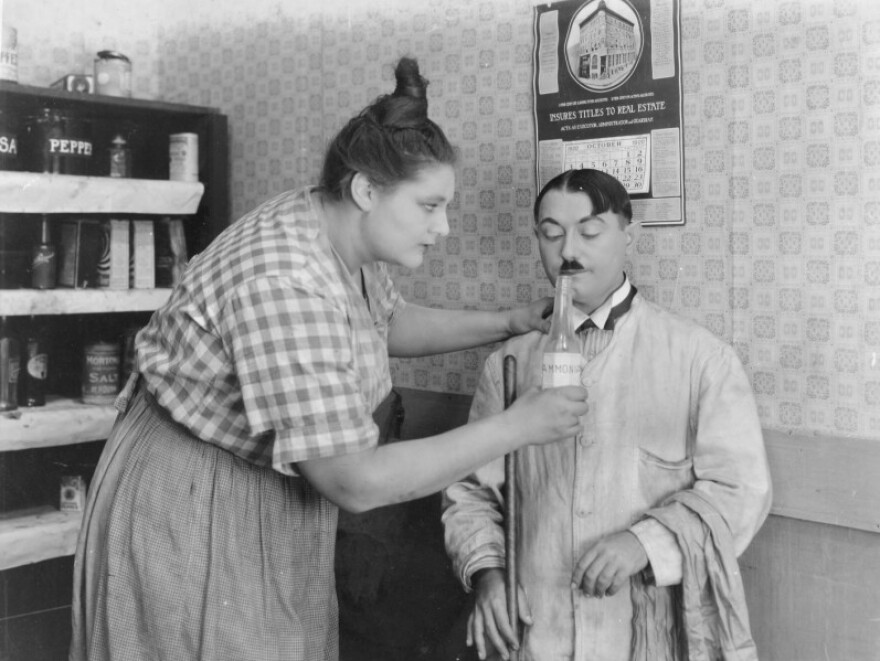 When Wilna's cinema work began to wane, she and Nan decided to pursue careers as artists in the famed artists' colony in Woodstock, New York. As artists, the two evolved into accomplished talents exploring a wide variety of genres over the course of their long careers. As a same-­ sex couple, living in one of the few American communities at the time where they could comfortably be themselves, "the Big Girls," as they were known locally, carved out extraordinary creative lives. They hosted some of the wildest parties ever seen in the Catskills and used their legendary "full moon" soirées to raise money for such local causes as the Woodstock Library and the children's health center. The two were never apart from the fall of 1923 until Wilna's death in the spring of 1979.
Joseph Eckhardt, again the author of Living Large: WilnaHervey and Nan Mason, says the book was born of his interest in the silent Toonerville Trolley comedies made at the Betzwood studio in the Philadelphia suburbs. I asked how he stumbled across these women.
That was Joseph Eckhardt, author of Living Large: Wilna Hervey and Nan Mason. He is Professor Emeritus of History at Montgomery County Community College in Blue Bell, Pennsylvania.
And here's an update to a story we brought you a few shows ago in which I'd interviewed two Seattle moms about their company buddingSTEM, which launched a line of girls clothes that celebrate science, technology, engineering and math - and other things typically marketed to boys. Jennifer Muhm and Malorie Catchpole are the two Seattle moms behind buddingSTEM, making clothes like rocket ship leggings and dinosaur dresses to empower young girls.
Well now buddingSTEM is part of a group of 10 small independent businesses (all mom-owned) that have launched a campaign around back-to-school time called #ClothesWithoutLimits to raise awareness of the limited messages found in most girls' clothing departments and to bring attention to how those messages affect young girls' views of what it means to be a girl. The interview with the buddingSTEM founders was in show #1360.
We now turn to a story in Africa, where something completely different is budding. For decades men have dominated gyms in northern Ghana, mainly because most men would not allow their wives or daughters to enter a gym. Prejudices are widespread - women often believe that they cannot have children once they exercise. In fact, you'll hear from one woman about dispelling the myth about exercise and giving birth. Meanwhile, some men are afraid their wives could become stronger than they are. But one young woman has defied all odds and has managed to become an aerobics teacher, as we hear in this report from DW correspondent Maxwell Suuk, presented by Sarah Nicole.
Again, that was Sarah Nicole presenting a report by DW correspondent Maxwell Suuk.
And that's our show this week. Thanks to Katie Britton for production assistance. Our executive producer is Dr. Alan Chartock. Our theme music is Glow in the Dark by Kevin Bartlett. This show is a national production of Northeast Public Radio.