Sports Report: NFL First Round Draft Picks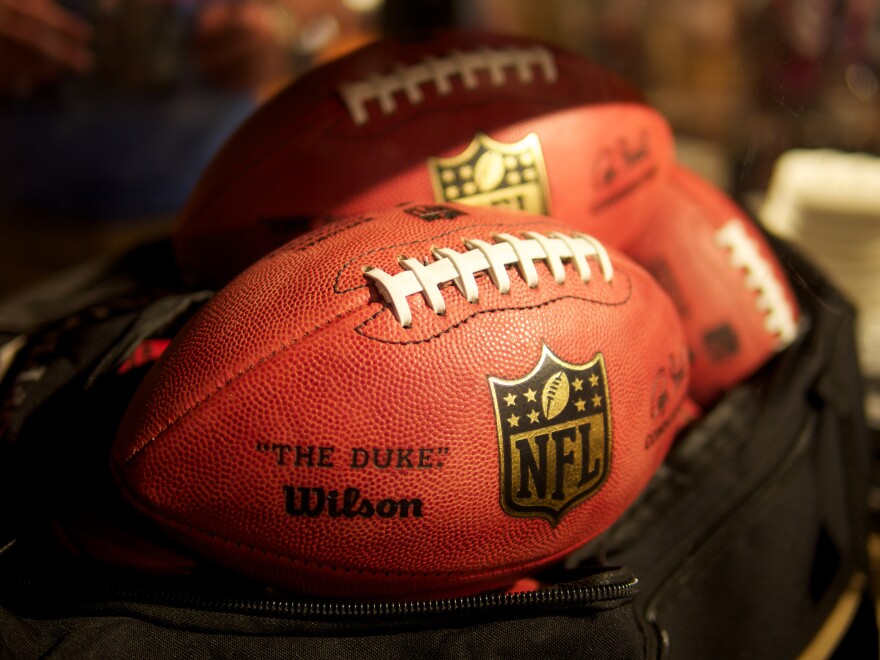 NFL:
The NFL Draft started last night at Radio City Music Hall. Johnny Manziel, the 2012 Heisman trophy winner out of Texas A&M, was expected to go early, but it wasn't until pick 22 from the Cleveland Browns that he dropped his sullen expression. The first pick went to Houston, which selected Jadeveon Clowney a defensive end from South Carolina, St. Louis went next and picked Greg Robinson an offensive tackle out of Auburn, and Jacksonville took quarterback Blake Bortles out of Central Florida. Buffalo picked wide receiver Sammy Watkins from Clemson fourth pick, the Giants picked up Odell Beckham Jr., a WR out of LSU, the Jets went with safety Calvin Pryor of Louisville, and the Patriots grabbed Dominique Easley a DT from Florida.
NCAA:
UAlbany men's lacrosse will face Loyola in the first round of the NCAA tournament tomorrow at noon on ESPNU.
NBA:
In the NBA playoffs, Miami beat Brooklyn 94-82, giving the Heat a 2-0 series lead, and San Antonio bested Portland 114-97,giving the Spurs a 2-0 series lead.
NHL:
In the NHL playoffs, Boston skated past Montreal in overtime 1-0, tying the series at two, and Anaheim outshot Los Angeles 3-2, but the Kings still lead the series 2-1.
MLB:
In baseball in interleague play, Toronto blew out Philadelphia 12-6, Texas shut out Colorado 5-0, and the Cubs bested the White Sox 12-5.
In the American League, Baltimore defeated Tampa Bay 3-1, Houston tripled up Detroit 6-2, Cleveland trumped Minnesota 9-4, and Seattle slid past Kansas City 1-0.
In the National League, Miami topped San Diego 3-1 in 11, and San Francisco edged the Dodgers 3-1 in 10.
NFL Draft List:
1) Houston - Jadeveon Clowney [DE] South Carolina
2) St. Louis - Greg Robinson [OT] Auburn
3) Jacksonville - Blake Bortles [QB] Central Florida
4) Buffalo - Sammy Watkins [WR] Clemson
5) Oakland - Khalil Mack [OLB] Buffalo
6) Atlanta - Jake Matthews [OT] Texas A&M
7) Tampa Bay - Mike Evans [WR] Texas A&M
8) Cleveland - Justin Gilbert [CB] Oklahoma State
9) Minnesota - Anthony Barr [OLB] UCLA
10) Detroit - Eric Ebron [TE] UNC
11) Tennessee - Taylor Lewan [OT] Michigan
12) NY Giants - Odell Beckham Jr. [WR] LSU
13) St. Louis - Aaron Donald [DT] Pittsburgh
14) Chicago - Kyle Fuller [CB] Va Tech
15) Pittsburgh - Ryan Shazier [OLB] Ohio State
16) Dallas - Zack Martin [OT] Notre Dame
17) Baltimore - C.J. Mosley [ILB] Alabama
18) NY Jets - Calvin Pryor [S] Louisville
19) Miami - Ja'Wuan James [OT] Tennessee
20) New Orleans - Brandin Cooks [WR] Oregon State
21) Green Bay - Ha Ha Clinton-Dix [S] Alabama
22) Cleveland - Johnny Manziel [QB] Texas A&M
23) Kansas City - Dee Ford [DE] Auburn
24) Cincinnati - Darqueze Dennard [CB] Michigan State
25) San Diego - Jason Verrett [CB] TCU
26) Philadelphia - Marcus Smith [DE] Louisville
27) Arizona - Deone Bucannon [S] Washington State
28) Carolina - Kelvin Benjamin [WR] Florida State
29) New England - Dominique Easley [DT] Florida
30) San Francisco - Jimmie Ward [S] N Illinois
31) Denver - Bradley Roby [CB] Ohio State
32) Minnesota - Teddy Bridgewater [QB] Louisville