#SportsReport: After 18 Years, Buffalo Fans Continue To Wait For A Title Game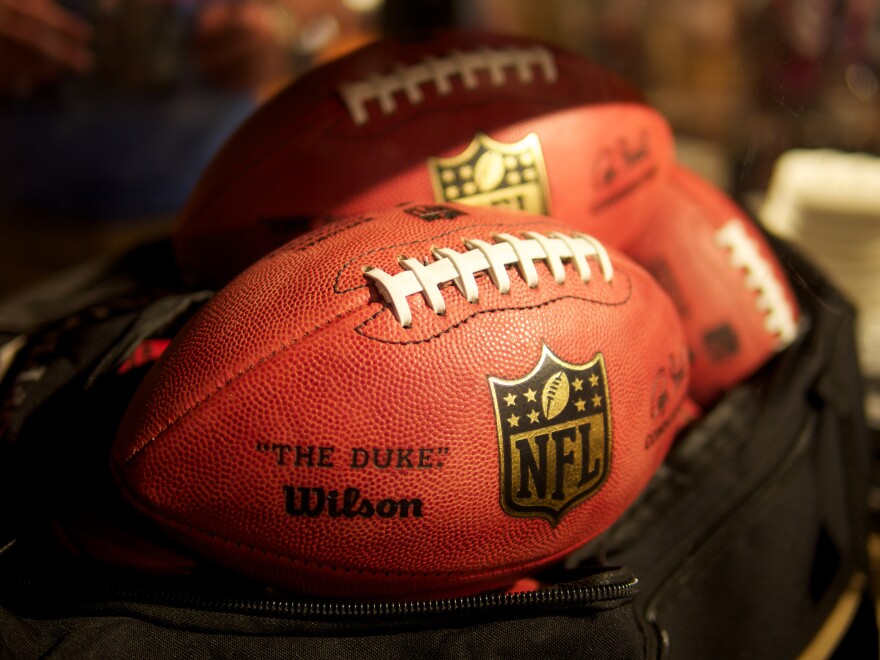 NFL:
The New Orleans Saints and Jacksonville Jaguars have advanced to the NFL's divisional round by winning at home on Sunday.
Despite exceeding expectations by making the playoffs for the first time in 18 years, the Buffalo Bills lamented missed opportunities in their 10-3 loss to the Jaguars in an AFC wild-card game. There were problems that had plagued the Bills late in the season. They didn't score a touchdown for the second time in six games and squandered a key red zone opportunity late in the second quarter.
Drew Brees threw for 376 yards and two touchdowns as the New Orleans Saints downed the Carolina Panthers 31-26 in Sunday's NFC wild-card playoff game. Ted Ginn had an 80-yard scoring reception to open the scoring late in the first quarter, putting New Orleans ahead to stay. Josh Hill added a nine-yard scoring reception, while Alvin Kamara and Zach Line added short TD runs.
Next Saturday, the Tennessee Titans face off with the New England Patriots at 8:15 p.m.
In other NFL news:
— A person familiar with the decision tells The Associated Press that the Packers are promoting player personnel director Brian Gutekunst to be their next general manager. Gutekunst would replace Ted Thompson, who is transitioning to a senior advisory role in the front office. Gutekunst has been Green Bay's player personnel director for nearly two years, though he has been with the Packers' player personnel department for nearly two decades.
— Mike Mularkey will remain head coach of the Titans after leading the team to its first playoff victory in 14 years. Owner Amy Adams Strunk issued a statement today saying that Mularkey isn't going anywhere after the Titans made the postseason in just his second full season at the job. Tennessee advanced to the AFC divisional round by turning a 21-3 halftime deficit into a 22-21 victory at Kansas City on Saturday.
NCAA:
Football:
Alabama coach Nick Saban has his Crimson Tide back in the College Football Playoff national championship game for the third straight season. Alabama has won four national titles since Saban took over in 2007, and played for another. There has never been anything quite like this Crimson Tide dynasty in college football. No. 4 Alabama faces No. 3 Georgia in an all-Southeastern Conference title game Monday night that could give Saban a record sixth national championship. The game kicks off tonight at 8 p.m. on ESPN.
Ohio State has earned its first signature win under new coach Chris Holtman by downing the nation's No. 1 team. Keita Bates-Diop scored a career-high 32 points and the Buckeyes improved to 4-0 in the Big Ten by whipping Michigan State 80-64. Joshua Langford and Miles Bridges each had 17 points for the Spartans, who shot just 39 percent after entering the game with the best percentage at 53.3.
Clemson receiver Ray-Ray McCloud will skip his senior season to enter the NFL draft, becoming the first of several Tiger underclassmen who could go pro. McCloud was Clemson's third leading receiver this season, grabbing 49 passes for 503 yards and a touchdown.
Former Michigan cornerback, punt returner and receiver Charles Woodson will be among the 2018 inductees into the College Football Hall of Fame. Woodson was the first player who primarily played defense to win the Heisman, doing it in 1997 before starring in the NFL with the Raiders and Packers. He will be the 31st Michigan player inducted into the Hall of Fame. The rest of the 2018 Hall of Fame class will be revealed Monday morning by the National Football Foundation.
Basketball:
Jordan Horn hit a deep 3-pointer with 5.4 seconds on the clock and an answering trey by Jermaine Crumpton rattled in and out at the horn as Siena upended Canisius 65-62 handing the Golden Griffins their first conference loss. Horn scored 12 points for the Saints, including three 3-pointers in seven attempts. Ahsante Shivers led with 18 points, Evan Fisher 16 and Prince Oduro 13. Canisius saw a five-game win streak snapped.
Nick Griffin hit five 3-pointers and scored 22 and Elijah Gonzales added 15 points and nine assists to power Saint Peter's to an 84-58 victory over Quinnipiac. Nnamdi Enechionyia also had 15 points and Samuel Idowu scored 10 for the Peacocks (8-7, 2-2 Metro Atlantic Athletic Conference).
Matt Scott scored 23 points with 15 rebounds and Dominic Robb came off the bench to score all of his eight points in the paint during a comeback run in the second half as Niagara rallied to defeat Marist 86-70. The Purple Eagles were trailing 52-46 five minutes into the second half when Scott found Robb down low for a layup that started a 23-6 run. Robb, scoreless until then, was a force in the paint with a variety of layups and a jump hook. Khalil Dukes added 15 points.
Deyshonee Much scored a career-high 32 points to lead Iona to an 84-65 victory over Fairfield. Much sank a season-high six 3-pointers on 10 attempts, made all eight of his free throws and contributed seven assists and six rebounds.
Miranda Drummond scored a career-high 38 points, including 11 straight late in the fourth quarter that lifted Syracuse to a 76-69 win over No. 11 Florida State. Drummonod's 3-point play put the Orange on top 58-56, the 13th lead change, with 7½ minutes to go.
NHL:
William Karlsson scored his team-high 22nd goal of the season midway through the third period to lift the Vegas Golden Knights past the New York Rangers, 2-1. Marc-Andre Fleury stopped 28 shots to improve to 9-2-1 in front of a season-high 18,234 in attendance. The Golden Knights own the top home record in the league, moving to 18-2-1 in the first 21 contests at T-Mobile Arena. Vegas is 9-0-1 in its last 10 at home, including seven straight wins.
Brock Nelson scored the only goal in the shootout to lift the New York Islanders over the New Jersey Devils 5-4. The victory snapped a five-game losing streak for the Islanders, who trailed 4-2 early in the third period.
Sean Couturier scored the go-ahead goal in the second period and added an empty-netter to put it away and the Philadelphia Flyers beat the Buffalo Sabres 4-1 for their third straight victory. Couturier has four goals in two games and has 42 points, three more than his previous career-best season.
Evgeni Malkin got his second goal of the game at 2:51 of overtime to rally the Pittsburgh Penguins to a 6-5 victory over the Boston Bruins. Phil Kessel set up Malkin, who one-timed a shot over Tuukka Rask's pad during a 2-on-1. Malkin and Kessel scored power-play goals in regulation, while Kris Letang, Jamie Oleksiak and Riley Sheahan also scored for Pittsburgh, which has consecutive victories for the first time since Dec. 1-2. Sidney Crosby had three assists.
The Washington Capitals grabbed a three-point lead in the NHL's Metropolitan Division and allowed the Winnipeg Jets to move three points ahead of St. Louis in the Central Division. Nicklas Backstrom scored 4:17 into overtime to send the Capitals to their fourth straight win, 4-3 over the Blues. Winnipeg was a 4-1 winner against the Sharks behind Matthieu Perreault's two goals and Connor Hellebuyck's 31 saves.
NBA:
Kristaps Porzingis scored 29 points and Jarrett Jack made the tiebreaking basket with 31.2 seconds left as the New York Knicks beat the Dallas Mavericks 100-96. Kyle O'Quinn had 15 points and 11 rebounds, and Enes Kanter added 13 points and 18 boards for the Knicks, who ended a three-game losing streak and sent the Mavericks to their third straight loss at home.
Spurs coach Gregg Popovich says forward Kawhi (kah-WY') Leonard suffered a partial tear in his left shoulder during Friday's win over the Suns. It was not immediately known how serious or extensive the tear is. The game was just Leonard's eighth appearance of the season after missing the first 27 games with right quadriceps tendinopathy.
PGA:
Dustin Johnson powered his way to an 8-under 65 and an eight-shot victory over Jon Rahm in the Sentry Tournament of Champions. Johnson stretched a two-shot lead to six strokes at the turn, then delivered the biggest moment of the week with a drive on the par-4 12th hole that stopped 6 inches from the cup for a tap-in eagle. He finished at 24-under 268 for his 17th career victory.
U.S. Figure Skating:
Two-time national champion Nathan Chen, veteran Adam Rippon and rising star Vincent Zhou have been selected to represent the United States at the Pyeongchang Olympics next month. Although Rippon ended up fourth at the national championships on Saturday, the U.S. Figure Skating Committee chose him over second-place finisher Ross Milner. The committee takes into consideration a number of criteria, including overall performance for the season. Also, U.S. Figure Skating has selected husband-and-wife team Alexa Scimeca Knierim and Chris Knierim for the Olympic team.
World Cup – Women's Slalom:
Olympic champion Mikaela Shiffrin dominated a women's World Cup slalom for her 40th career win and seventh in her last eight events. Shiffrin, of EagleVail, is tied with Swedish great Ingemar Stenmark for the second-most World Cup victories before their 23rd birthday, one behind Austrian standout Annemarie Moser-Proell.
©2018 The Associated Press. All Rights Reserved.