#SportsReport: Clemson Avenges Last Year's Defeat With Last-Second TD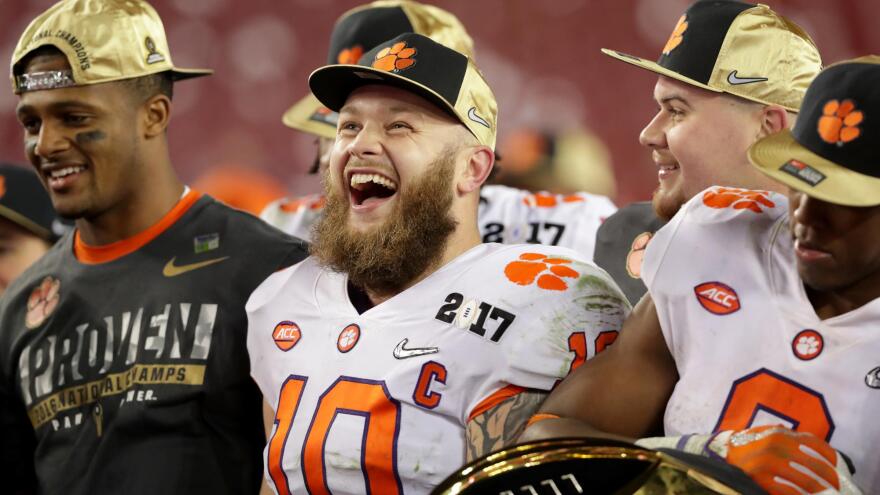 NCAAF:
As far as Clemson is concerned, the sequel was much better than the original. The underdog Tigers upset defending national champion Alabama 35-31 as Clemson quarterback DeShaun Watson beat the Crimson Tide with his arm, his legs and his heart to win a rematch of last year's title game. Alabama beat Clemson 45-40 last season in the championship.
Roughed up early by the Tide's hard-hitting defense, Watson regained his composure to throw for 420 yards and three TDs. His final strike was a 2-yard score to Hunter Renfrow to cap a nerveless final drive with one second left. Watson also ran the ball 21 times for 43 yards and a touchdown. The lead changed hands four times in the fourth quarter of the seesaw affair.
After falling behind 14-0 early, Clemson scored 21 points in the fourth quarter against an Alabama defense that had allowed just 32 points in the fourth quarter all season. That ended Alabama's 26-game winning streak and its dreams of back-to-back national titles.
Instead, Clemson won its first national title since 1981. The Tigers have their junior quarterback Watson to thank for his gutsy performance in what probably was his final college game before heading to the NFL draft.
Elsewhere:
Ohio State All-American Curtis Samuel is giving up his final year of eligibility to enter the NFL draft. He made his announcement on Twitter. His high school coach, Danny Landberg of Erasmus Hall in Brooklyn, New York, told The Associated Press that Samuel went back and forth on whether to return for his senior season, but decided this weekend to leave. Samuel was the Buckeyes' best offensive player in 2016 while playing a hybrid receiver-running back position. The junior had 1,636 yards from scrimmage and 15 touchdowns.
Colorado coach Mike MacIntyre has been rewarded with a contract extension through the 2021 season. The school announced the deal Monday that extends MacIntyre's agreement for three more years. MacIntyre, who just led the Buffaloes to a 10-4 record, a Pac-12 South title and their first bowl appearance since 2007, will make $3.1 million in 2017. The value of his deal over the next five seasons is $16.25 million, the school announced.
Thirteen former players and coaches have been elected to the College Football Hall of Fame. Among those being inducted next December are Peyton Manning who excelled at Tennessee and former Florida coach Steve Spurrier. The group also includes former Southern California Heisman Trophy winner Matt Leinart, San Diego State running back Marshall Faulk, Danny Ford, who coached Clemson to its first national championship, Georgia Southern running back Adrian Peterson and New Mexico defensive back Brian Urlacher.
NBA:
In the NBA, New Orleans beat the Knicks 110-96, Oklahoma City won against Chicago 109-94, and it was Minnesota over Dallas 101-92.
NHL:
In the NHL, Florida shut out New Jersey 3-0, Washington beat Montreal 4-1, Winnipeg blanked Calgary 2-0, and it was Dallas over Los Angeles 6-4.
FIFA:
FIFA says it will expand the World Cup to 48 teams, adding 16 extra nations to the 2026 tournament. President Gianni Infantino's favored plan — for 16 three-team groups with the top two advancing to a round of 32 — was unanimously approved by the FIFA Council.
It meets Infantino's election pledge of a bigger World Cup, and should help fund promised raises for FIFA's 211 members. With 80 matches instead of 64, FIFA forecasts $1 billion extra income from broadcasting and sponsor deals, plus ticket sales, compared to $5.5 billion forecast for the 2018 World Cup in Russia. FIFA's six continents should find out by May how many extra places they will get. UEFA wants 16 European teams in the tournament, which will likely be held in North America.
Cristiano Ronaldo has won his fourth FIFA best player award beating rival Lionel Messi and Antoine Griezmann to complete a sweep of top individual awards. Carli Lloyd of the United States won a FIFA women's player prize for the second straight year, despite a quarterfinals exit at the Rio de Janeiro Olympics.
Gymnastics:
Russian rhythmic gymnast Yana Kudryavtseva has retired from competition aged just 19 following a brief but dazzling career. Kudryavtseva won 13 world championships from 2013 to 2015, making her the early favorite for the all-around gold medal at the Rio de Janeiro Olympics, but a foot fracture disrupted her preparations. She had to settle for silver in Rio behind fellow Russian and friend Margarita Mamun following a rare mistake on her club routine.
The International Gymnastics Federation says her retirement, which follows numerous injury struggles, ends "one of the most glittering careers in rhythmic history." Kudryavtseva was the latest in a long line of world-class rhythmic gymnasts from Russia, which has won every Olympic gold medal in the discipline since 2000 with stars such as Alina Kabaeva and Evgeniya Kanaeva.
NFL:
Jacksonville's coaching search landed someone from its past and present. The Jaguars can only hope the old-school combination leads to better results in the future. Owner Shad Khan hired Doug Marrone as head coach and brought back Tom Coughlin to oversee football operations. Marrone replaces Gus Bradley, who was fired in late November after going 14-48 in three-plus seasons.
The 3-13 Jaguars also gave general manager Dave Caldwell a two-year contract extension. So Marrone, Coughlin and Caldwell are now signed through 2019. Coughlin was the Jaguars first head coach before coaching the Giants to a pair of Super Bowl victories.
Meanwhile the Giants are looking into damage outside of the team's locker room in Green Bay Sunday after it was alleged receiver Odell Beckham, Jr. punched a hole in a wall. General manager Jerry Reese says the team is investigating and the appropriate party will be held responsible for the damage. Beckham dropped a career-high three passes in the loss to the Packers.
Patriots assistants Josh McDaniels and Matt Patricia say they were humbled to speak with NFL teams about head coaching vacancies over the weekend, but have turned their full attention to preparing for Saturday's playoff matchup with the Texans. New England's offensive and defensive coordinators acknowledged Monday that they had participated in interviews, but neither specified which teams they met with.
The San Diego Chargers said Saturday that they had completed an interview with Patricia, and the Los Angeles Rams had also planned to speak with both Patricia and McDaniels. McDaniels, who was a head coach with the Denver Broncos in 2009 and 2010, said these latest interviews "will play out how it's supposed to play out." Patricia has spent all 13 of his years in the NFL as a Patriots assistant. He said he was fascinated to learn about different organizations, but said his focus is now on Houston.
A witness expected to testify at the upcoming double murder trial of former New England Patriots player Aaron Hernandez has been sentenced to five years in prison for his involvement in a 2014 Connecticut bar shooting. The Hartford Courant reports Alexander Bradley was sentenced Monday for illegally possessing a firearm and reckless endangerment. Bradley says he isn't the same person he was then.
MLB:
NL Cy Young Award winner Max Scherzer has an injured finger on his pitching hand and will miss the World Baseball Classic. The Washington Nationals say that their star right-hander has a stress fracture in the knuckle of his right ring finger. The team says Scherzer is still expected to take part in spring training which begins next month. Scherzer went 20-7 with a 2.96 ERA and 284 strikeouts last season.
Manny Ramirez has agreed to terms with the Kochi Fighting Dogs of an independent league in Japan. The 44-year-old played for Taiwan's Rhinos in 2013, .hitting .352 with eight home runs and 43 RBIs. Ramirez finished his 19-season major league career with a .312 batting average, 555 home runs and 1,831 RBIs. A 12-time All-Star, Ramirez helped the Boston Red Sox win World Series titles in 2004 and '07, the first for the franchise since 1918.
Soccer:
The National Women's Soccer League announced Monday that the Western New York Flash has been sold to a group that will move the team to North Carolina for the upcoming season. North Carolina FC acquired the rights to the defending league champion Flash, who will be renamed the North Carolina Courage and based in the Raleigh suburb of Cary. The name is a nod to the Carolina Courage of the now-defunct Women's United Soccer Association in the early 2000s. The team will play at the WakeMed Soccer Park. It is the first time a team in the NWSL — now entering its fifth year — has been moved. Flash players will remain on the Courage's roster. The Flash won the NWSL title in October, beating the Washington Spirit.
NCAAM:
Baylor has moved into the top spot in the weekly Associated Press men's basketball poll. The Bears replace Villanova which was upset last week by Butler. The 15-0 Bears have made a meteoric rise in the poll, going from a team that didn't receive a vote in the preseason poll to one that received 55 first-place votes from the 65-member national media panel.
The second-ranked school is Kansas, which received eight first place votes, with Villanova third after getting one first place nod. Ranked No. 4 is UCLA and the Bruins were given the remaining first place vote. The fifth-ranked team is unbeaten Gonzaga while Kentucky is sixth followed by Duke, Creighton, Florida State and West Virginia.
Duke forward Amile Jefferson will not play tonight against ninth-ranked Florida State because of a bruised a bone in his right foot. Jefferson averages 13.6 points and a team-best 10.1 rebounds for the Blue Devils. He was hurt in the first half of a victory over Boston College on Saturday when he landed awkwardly after a shot in the paint. The bruise is in the same foot he broke last season.
NCAA:
A Massachusetts college's men's cross country team has been placed on probation as a result of a probe into emails some team members sent making sexual comments about female students. Amherst College on Monday said several individuals will be suspended and the team will be on athletics probation through the fall of next year. The college suspended the team's activities last month after the student magazine The Indicator reported on a series of emails among some team members from 2013 to 2015.
The magazine said the messages were racist and misogynist, sometimes including pictures of female students and comments on their sexual histories. Some women were referred to as "meat slabs" or "a walking STD." The team has said it's ashamed and promised to improve its culture.
UFC:
Former UFC champ Ronda Rousey is turning to "Harry Potter" author J.K. Rowling for inspiration more than a week after getting humiliated in a comeback match against Amanda Nunes.
The fight at UFC 207 was halted just 48 seconds in after Rousey was pummeled by Nunes. Rousey didn't talk to reporters afterward.
On Monday, Rousey posted a quote from Rowling on Instagram , "And so rock bottom became the solid foundation on which I rebuilt my life."
Rousey's Dec. 30 matchup with Nunes was her first fight since losing the UFC women's bantamweight title to Holly Holm at UFC 193 in 2015.
A photo posted by rondarousey (@rondarousey) on Jan 9, 2017 at 1:37pm PST
Tennis:
Maria Sharapova will return from her 15-month doping ban at a tournament in Germany in April. Car manufacturer Porsche, which sponsors both Sharapova and the event in Stuttgart, said Tuesday that Sharapova has been given a wild-card entry into the tournament. It will be her first official competition since she tested positive for meldonium at last year's Australian Open.
"I could not be happier to have my first match back on tour at one of my favorite tournaments," said the 29-year-old Sharapova, who won the Stuttgart tournament from 2012-14. "I can't wait? to see all my great fans and to be back doing what I love."
Sharapova will be eligible to return on April 26, the third day of main-draw play, which could leave her facing a busy schedule of matches in order to win a fourth Stuttgart title. "I'm sure the fans will be excited to see her play," WTA CEO Steve Simon said in a statement.
The Russian will have to rely on wild-card invites to tournaments, including Grand Slams, for a while because her ban means she has fallen out of the world rankings, which only count tournament performances over the preceding 12 months.
Sharapova was originally banned for two years but that was reduced on appeal in October. She said she had used meldonium for years for medical reasons and was not aware it had been banned for 2016.
During her ban, she has played in some exhibition events. Known for setting up her own confectionary brand and for an interest in the commercial side of tennis, Sharapova also enrolled in a two-week program at Harvard Business School last year.
©2016 The Associated Press. All Rights Reserved.