Malatras resigns as SUNY Chancellor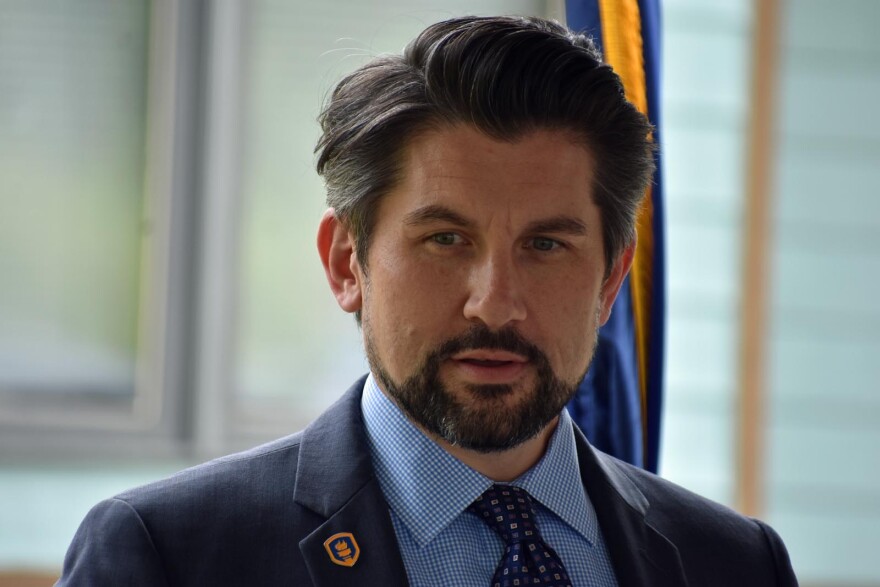 Embattled SUNY Chancellor Jim Malatras is resigning after facing weeks of criticism for his actions as part of former Governor Andrew Cuomo's inner circle, which worked to counter claims that Cuomo had overseen a toxic workplace and — later — that he sexually harassed multiple women.
The resignation, effective January 14, was sent by letter to the SUNY Board of Trustees today. It comes days after a newly-released audio recording from 2017 showed him berating a Rockefeller College employee.
A number of public officials were already calling for his resignation after the publication of text messages by the state attorney general from 2019 when the longtime aide to Cuomo used profanity to smear Lindsey Boylan, who would go on to accuse Cuomo of sexual harassment. Support further waned for Malatras Wednesday, when 30 state lawmakers signed a letter calling for his ouster.
In his letter, Malatras says the situation has become a distraction and he does not want to be an impediment to SUNY's success. Malatras was hired without a national search in 2020 by the Board of Trustees, which thanked him for his service in a statement.
Manhattan Democrat Deborah Glick, chair of the Assembly Higher Education Committee, spoke WAMC's Ian Pickus late Thursday morning.
I take it you're satisfied with this turn of events?
Well, I think it's an appropriate resignation. But I'm not happy that there is this upheaval and disruption. It's very difficult for a great many people. But I think it was a necessary step. And hopefully, the board who had neglected to do a national search before has learned a lesson that it is important for them to be independent, and for them to do a national search for an academic leader.
As we speak, the SUNY Board of Trustees has called a special meeting and is expected to meet in an executive session which would not be open to the public. So we don't know what discussions will be going on today. But where do you expect things to go from here?
Well, you know, I hope that they will return to regular order. The previous chancellor was selected by a national search. She was a strong academic leader with great credentials, but did not have the kind of support from the board that Dr. Malatras had enjoyed. And I think hopefully it's a lesson to them that their job is to be an independent board focused on the mission of the university. And that that's where their loyalty lies, not to an appointing authority.
Chancellor Malatras got a vote of confidence from the SUNY Board of Trustees last Friday. Do you know what changed?
Well, no, I can't speak for the board. I think that they gave a vote of confidence, in part because he had done a decent job around the very difficult COVID issues on campus, but also because they had agreed to appoint him and to take the governor's recommendation, rather than do a national search. So of course, you know, nobody likes to admit they were wrong. So it didn't surprise me. Didn't make me happen, but it didn't surprise me.
It was reported that state lawmakers heard on the phone from SUNY Board Chair Merryl Tisch this week, she apparently tried to save Jim Malatras' job as the SUNY Chancellor. Can you tell us anything about the chain of events and those conversations between that vote of confidence and today's resignation?
I really can't. I didn't receive a call. I did before I released my statement, out of courtesy, I did inform the board chair that I was about to release a statement.
And did you hear back?
Well, yes, we spoke and I you know, and we've known each other for a long time and she was not going to debate the point with me and was very...I don't get into the details of the conversation other than to say that I spoke with her to let her know that I was releasing a statement but I had had no communication from her any board member Friday or over the weekend.
Malatras does have his defenders and they say that he led the system at a very critical time on during the pandemic. And he's being punished for the fact that he was installed without a national search by a governor who's now out of favor. So what would you say to that?
I would say that his actions are the reason that he is he has been asked to resign. And it has nothing to do with anything other than the way he has behaved. And I, in my statement, acknowledged that he was a very able operational manager. And so he did do a good job managing a crisis. But I also indicated that what this the university needs, is a strong academic leader, and that was not Dr. Malatras, and I don't think anybody could argue that it was.
You know, I think the 2017 audio that was published by The Times Union from when Dr. Malatras was running Rockefeller College, which was the latest entry in this ongoing story this week, that audio raises some questions about what kind of background search was done before the hiring of Chancellor Malatras. Does the SUNY Board of Trustees need to do sort of a different level of oversight or a different kind of background search when it hires the next chancellor in your mind?
Well, they did a good job in the previous search, so as I said, this should go back to doing what they did in the past.
Governor Kathy Hochul this week said that she will be announcing an overhaul of similar an overhaul of SUNY and her state of the state address in January. Do you know what she's envisioning?
No, I do not.
As Chair of the Higher Education Committee, what would you like to see in a potential overhaul of SUNY?
Well, I, you know, for years, I have passed in near unanimous vote in both houses, even when the Republican Senate was in charge, the requirement for there to be a five-year capital plan so that appropriate planning and allocation of resources could be put in place to provide certainty to the university. And there is a need for focus across the system. The comprehensive colleges are stepchildren, the university centers are great university centers, they need support, but so do the other segments.
And we do have to do something about community colleges. They are more expensive in our state than they are in many others. And that's because of a failed structure of one-third by the commitment by the state, a third by the counties, a third by the students. That has never actually been the case. And so the burden on the students and community colleges has gotten higher and higher and higher. And that costs for community colleges, which are the gateway for many people, is too high. So I think that adjusting some of the financial supports and the way in which the funding is allocated would be an appropriate way of strengthening the system.
Just one more thing about Chancellor Malatras. When Nancy Zimpher left as Chancellor we had like a year's notice, and when Chancellor Johnson left there was enough lead time. Even though you were not satisfied with the way that search played out, there was a transition time to Chancellor Malatras, but this is going to be a very abrupt change in leadership. Does that put SUNY in any sort of danger, the fact that he'll be leaving now in just about a month?
Well, you know, I think that there are individuals who have worked with SUNY, currently, and in the past, and it remains to be seen who will be appointed as an interim. There are some really stellar people we have some presidents who have resigned recently essentially, retired, who have great skills, and are would be excellent choices for an interim chancellor. So I think that there's a pool of people who have the necessary skills and the understanding of the system that could in fact, be a bridge that would help guide the university through the next several months.
Is there anything I didn't ask you that you think people should know right now?
Well, you know, I think that it's always difficult when you've had an executive who has led the state for a long period of time, and the board is entirely appointed by that one person. That may be something that we should be looking at, that the makeup of the board, perhaps should be reviewed.