Baystate Health Has Exponential Growth In Hospitalizations For COVID-19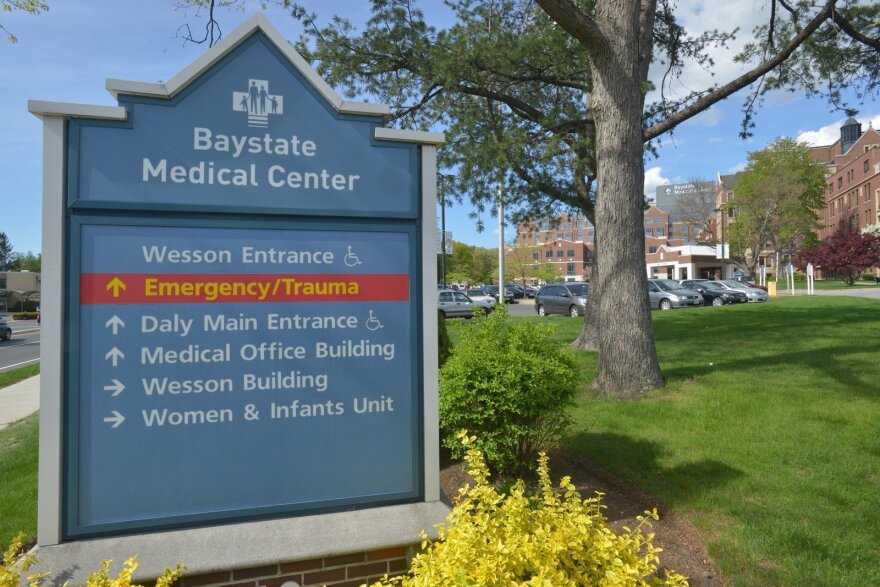 COVID-19 cases are exploding exponentially in western Massachusetts.
The number of people hospitalized with COVID-19 at Baystate Health – the largest hospital network in western Massachusetts—was 88 Monday. The number of coronavirus patients has more than doubled in two weeks.
Baystate Health president and CEO Dr. Mark Keraock said the surge in cases is alarming.
" We have entered a phase of exponential growth," said Keroack.
Speaking Monday at Springfield Mayor Domenic Sarno's weekly update on COVID-19, Keroack said Baystate has a total of 100 beds available to treat COVID-19 patients and the capacity to increase that number to 300 beds by cancelling elective medical procedures as was done last spring.
"Because of the surge, our incident command team bas begun meeting daily and there are regional groups of hospital leaders meeting on an ongoing basis to plan for bed expansion," said Keroack
Last Friday, Gov. Charlie Baker announced the National Guard would standup a 240-bed field hospital in Worcester and is scoping out other possible locations around the state.
Keroack said he is a not a big fan of field hospitals because it splits hospital staff into different locations.
"From a staffing standpoint, we are going to try to avoid having a field hospital here if at all possible. I don't know if that is going to be possible though because we are at a point where (cases) are rapidly rising and I don't know where the peak is going to be," said Keroack.
Baystate has 1,500 job openings.
At Mercy Medical Center in Springfield there were 19 COVID-19 patients Monday – that number has been as high as 24 recently, according to the hospital's Chief Medical Officer Dr. Robert Roose, who said the positive test rate for the coronavirus has climbed to over 6 percent.
"The community spread of this virus is actually more rampant now than it was in the spring," said Roose.
The city of Springfield had 646 new confirmed COVID-19 cases last week—the most ever recorded. On Saturday alone there were 295 new cases – the highest daily case count since the start of the pandemic.
"We are a house on fire and we are burning quickly and we will be ashes soon unless we get relief," said Springfield Health and Human Services Commissioner Helen Caulton-Harris.
To combat the surge the city is using community outreach to encourage face mask-wearing and limiting social gatherings to no more than 10 people. Health inspectors are finding most businesses in the city are complying with the latest rules including the requirement that restaurants stop serving by 9:30 p.m., said Caulton-Harris.
Sarno said the city's businesses and residents are suffering economically and he raised the specter of it getting worse if the rising case counts lead to more restrictions. He implored Congress to pass a stimulus bill.
" Please, put the differences aside and get this God damn package done before we loose more people and more businesses," said Sarno.
Since the start of the pandemic, Springfield has made about $10 million available to assist small businesses and residents who are struggling to make rent, mortgage, and utility payments.
The housing agency Way Finders, which administers housing assistance programs in western Massachusetts, is taking 80-100 applications a day, according to Springfield's chief economic officer Tim Sheehan.