Baker Addresses Coronavirus Outbreak In Pittsfield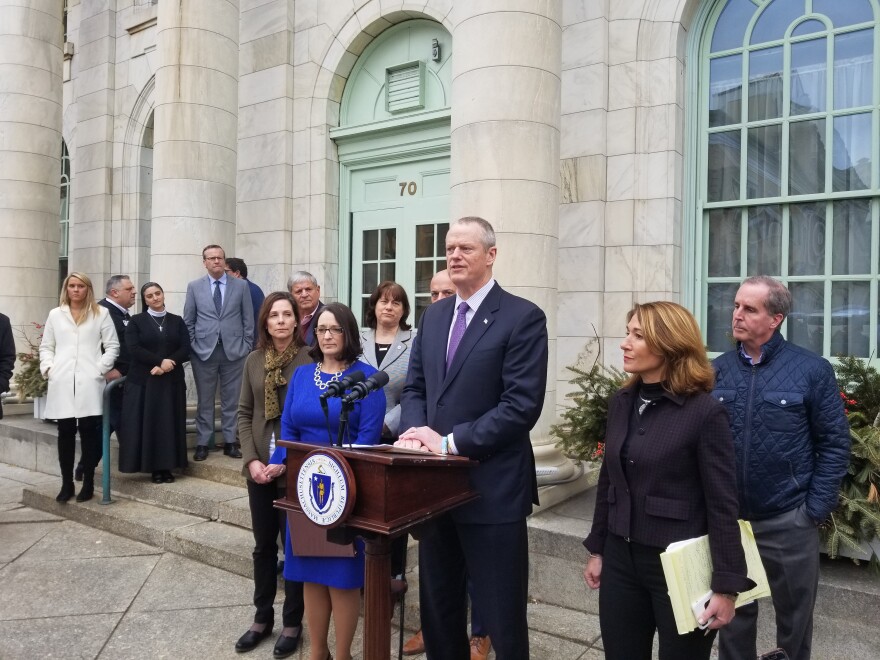 Massachusetts Governor Charlie Baker met with Pittsfield leaders about the ongoing coronavirus outbreak today.
Baker spoke on the steps of city hall, just hours after Mayor  Linda Tyer announced that the city of around 43,000 had issued a local emergency declaration in response to the increase of COVID-19 cases. According to the state, as of Thursday afternoon, Massachusetts has 108 cases of the virus – 102 presumptive positive and six confirmed.
"State health officials are closely monitoring and tracing presumptive positive cases, and this includes the seven cases people know about that are here in Berkshire County," said Baker. "The DPH is currently monitoring a small number of cases of community transmission of unknown origin in Berkshire County, and state officials are working closely with the impacted hospital as well as the local officials to monitor this situation and keep the community safe."
He said that the state has enough supplies to greatly expand the number of residents it can test for coronavirus.
"5,000 is additional on top of the several thousand we got before," he clarified.
Baker said that while the state has an adequate supply for now, it's time for the federal government to step in.
"We need the federal government – the CDC and the FDA in particular – to give hospitals and testing facilities here in Massachusetts that have the capacity to test the material and then the approval that they need to actually begin to test themselves," he said. "The fact that the state lab is the single source of testing at this point in time is not adequate and we have hospitals in Eastern Massachusetts, Central Massachusetts, Western Massachusetts, we have labs not related to hospitals – independent, privately operated labs – all of which have the capacity to do this if they can get several requirements and authorizations from the feds."
Baker issued a State of Emergency Declaration on March 11th. He said reps from Berkshire Medical Center – the county's main hospital, located in Pittsfield – told him that its primary concern is its ability to staff appropriately given the number of employees self-quarantined after interacting with coronavirus patients while they wait for test results.
"Under the terms of that executive order, the board of registration in nursing was able yesterday under that executive order to put in place an emergency procedure that will make it possible for licensed out-of-state medical professionals and nurses to get licensed here in Massachusetts in one day – which I think will dramatically help especially some of the folks who are in the kind of position that Berkshire Medical Center is in today," the governor said.
Mayor Linda Tyer said she felt confident in the state's response to Pittsfield's needs.
"This is an extremely fluid situation and as the mayor of the city of Pittsfield I want to assure our residents that we are well prepared to respond quickly to evolving circumstances," Tyer said. "Earlier today, we did issue an emergency declaration which allows us to quickly access state and federal resources."
Pittsfield Director of Public Health Gina Armstrong confirmed that a pair of state epidemiologists had met with city leaders to advise on the outbreak.
"They are helping us to establish our systems for contact investigation, communications with providers, the monitoring, and ensuring that we are building our capacity to handle the rise in potential cases that are identified by the increase in testing," said Armstrong.