One Year In, Marijuana Sales Bring Money To Great Barrington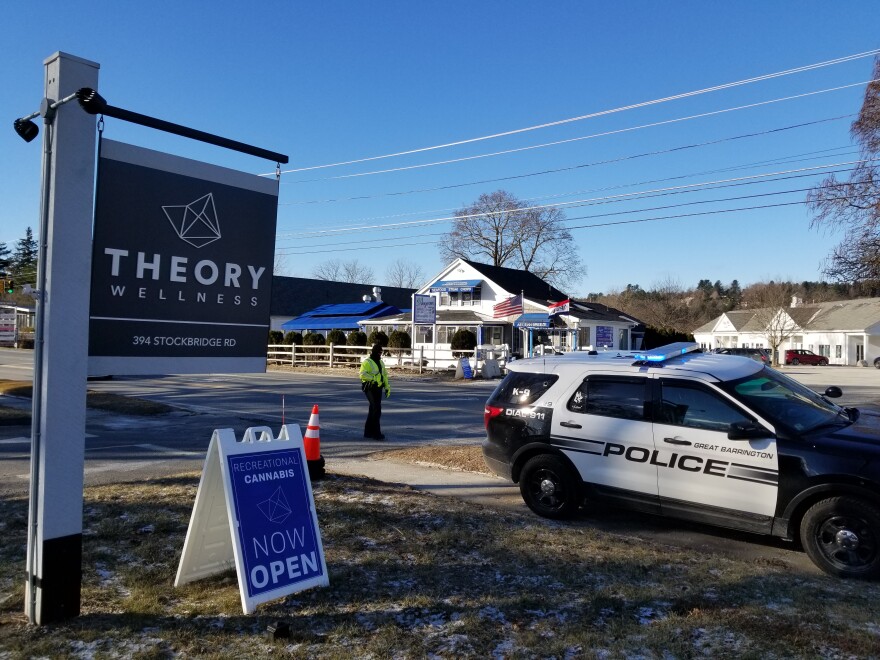 Saturday marks one year since legal recreational marijuana sales began in Berkshire County. WAMC takes a look at how the burgeoning industry has impacted the area.
On the morning of January 11th, 2019, Theory Wellness ushered in a new era for Berkshire County when it opened its Great Barrington doors to recreational marijuana sales – and a long line of enthusiastic customers.
Just six months in, Theory Wellness said that it had banked $17 million in sales.
"We've been continuing to grow, so my guess is we're over $40 million for the first year," said CEO Brandon Pollock. He estimates that around 200,000 unique visitors have come to the shop in the last 12 months. The company's ranks – and physical footprint – have swollen along with its profits.
"We have about 200 now full-time employees as we get ready to open our second adult use store, which is going to be located in Chicopee," said Pollock. "And again, that's about four times as many times folks as we had before we started adult use last year."
Pollock says that Theory is also working on a third retail license, as well as the expansion of its production and outdoor cultivation capabilities.
Great Barrington itself is also reaping the rewards of hosting the county's first recreational marijuana store. Taxes have brought at least $2 million to the town of around 7,000 with an annual budget of just under $30 million.
"So my rough guess would be about $1 million in sales tax, and then another million or so in a host community agreement which is funds that – my understanding is that it hasn't been spent yet – but it would be used to offset the impact of our business," said Pollock.
"At this point, all discussions about what the town is going to spend money on are at the staff level, so the town manager reaches out to the department heads to say 'what are your needs,'" said selectboard member Ed Abrahams. He says that while the $2 million has come in, the town can only spend what's been collected by the end of the last fiscal year – for now around $400,000.
"Half of what comes in the town can spend however it wants and it becomes part of the general fund," Abrahams explained. "The other half needs to be spent on mitigating some of the negative impacts of marijuana."
Abrahams says Town Manager Mark Pruhenski is fielding community suggestions of how to spend that mitigation money.
Meanwhile, the town's police department says it hasn't seen much change since recreational marijuana sales launched.
Chief William Walsh says that despite the influx of out-of-state visitors coming to patronize Theory Wellness, the crime rate is staying steady.
"People are coming, they're making their purchases and then they're leaving – they're not staying there doing anything with it," said Walsh. "We're not seeing an uptick in arrests or anything."
One thing the town selectboard has discussed is more training for officers to better identify drugged driving. But Walsh says it's been slow going on that front, blaming the state for failing to provide required classes.
"We've got that pot of money set aside, but we're having problems finding training classes,"
said the chief. "I'm guessing it's a statewide thing because probably everybody's jumping on board. I'm not sure if it's a lack of instructor or what, but there's a lack of classes."
Abrahams, echoing comments made to WAMC at the six-month anniversary of recreational marijuana sales beginning, says that some impacts are still yet to be felt in Great Barrington.
"Stepping up drug education training, drug education to teenagers who drive past the marijuana store every day and see smiling people on line, to explain that there's another side of this drug – that will need to go on for years," said the selectboard member.
Beyond Theory Wellness, four other stores are now open in the county – Berkshire Roots and Temescal Wellness in Pittsfield, Silver Therapeutics in Williamstown, and Canna Provisions in Lee.