Legal Marijuana Sales Begin In Berkshire County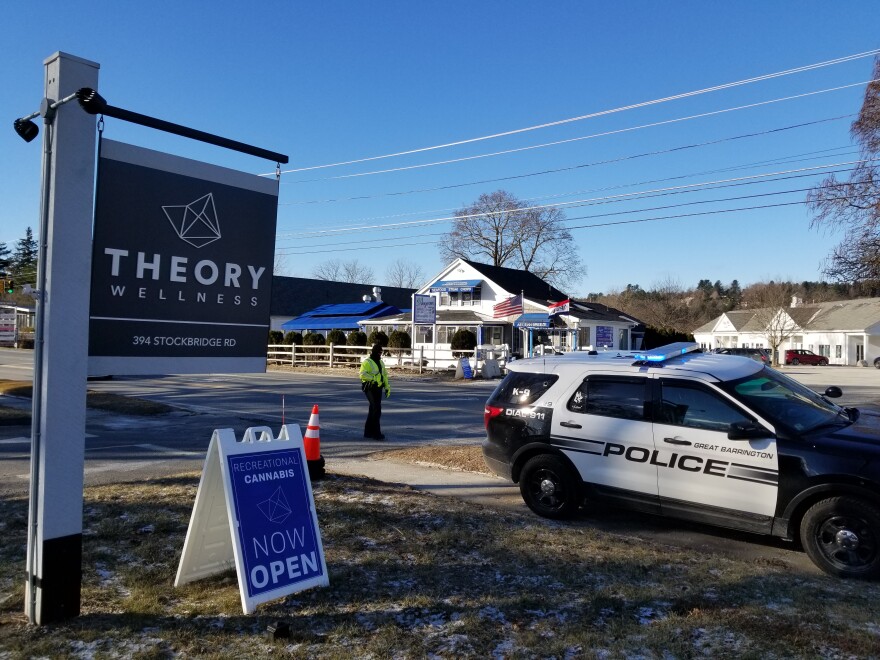 At 10 o'clock this morning, the first legal recreational marijuana sales began in Berkshire County.
Well before the doors opened, a line formed in the frigid January air outside Theory Wellness, just off Route 7 in Great Barrington, Massachusetts.
"I never thought Massachusetts would do it, honestly," said Dustin Miller, 35, from Great Barrington. A pot smoker for almost 20 years, he arrived at Theory Wellness bright and early despite a foot injury that left him on crutches.
"It's sort of a big moment," Miller told WAMC. "I was in Colorado when they did this as well, and it was a huge movement back there. I lived there for years, and it took them a long time. And it's nice to see everyone else move along with the program."
Many who arrived to be among the first to legally buy recreational weed in Berkshire County echoed Miller's sentiments.
"The old guard is falling away over time," said Dave Keefe. "People's attitudes have changed about it. It's not looked at the same way it was. People are responsible about it, and I think that's the main thing that people were reluctant to make it legal."
Keefe, 42, stopped on his way to work as a carpenter.
"I said if the line wasn't too long, I'd be late for work today," he told WAMC. "So I got about 20 people ahead of me, I think I'm going to be late today."
His shopping list was short and to the point: "some Sunshine Daydream."
He's from neighboring Rensselaer County, New York – where the marijuana he planned on buying at Theory Wellness is still illegal. Asked if he had a plan for how to negotiate the situation, he admitted he didn't.
"I don't," laughed Keefe. "I haven't thought about it. Gonna take the long way home today."
He wasn't the only one winging it.
"All right, first of all, this is off the record, eh?" asked an anonymous marijuana custmoer.
"This is very much on the record," responded WAMC.
"Oh. Well then. I'm from out of state, so this is not good," said the unnamed pot enthusiast.
Around 10, a Theory Wellness staffer emerged with an open sign, to the delight of the crowd. He planted it by the store's shingle on Route 7 next to a Great Barrington police car.
Inside, the mood was jubilant. As his staff led customers through the store's menu and measured out containers of pot, CEO Brandon Pollack said that the day meant more than receipts.
"It's probably one of the most exciting times of my entire life," he told WAMC. "We're going through the repeal of cannabis prohibition in real time. It's a once in a lifetime event, so we're psyched."
For some, the excitement was dampened by thoughts of the human toll of the years of marijuana prohibition.
"You know, it's been a long time coming," said Jim McCabe. "I thought a little bit about the people who have had their lives ruined over this plant by our government."
McCabe, 41, is from nearby Richmond.
"Thought some people who died fighting the government, especially on the medical side," he said. "People who have been killed by police. And you know, here we are today, and the beginning of freedom is here."
Outside, the Great Barrington police department handled traffic and directed parking. Sergeant Paul Storti, who arranged the three officer detail for the opening, said the morning had been a success.
"It's going to be a little bit warmer tomorrow, so I think tomorrow will probably be the test to see how many people we have," said Storti. "I anticipate probably a little bit larger crowd tomorrow."
Tuesday, Berkshire County's second recreational weed store opens: Temescal Wellness is about 20 miles north in the county's largest community– Pittsfield.