Pittsfield Police Chief Talks Rising Crime Rate, Staffing Woes, Officer Misconduct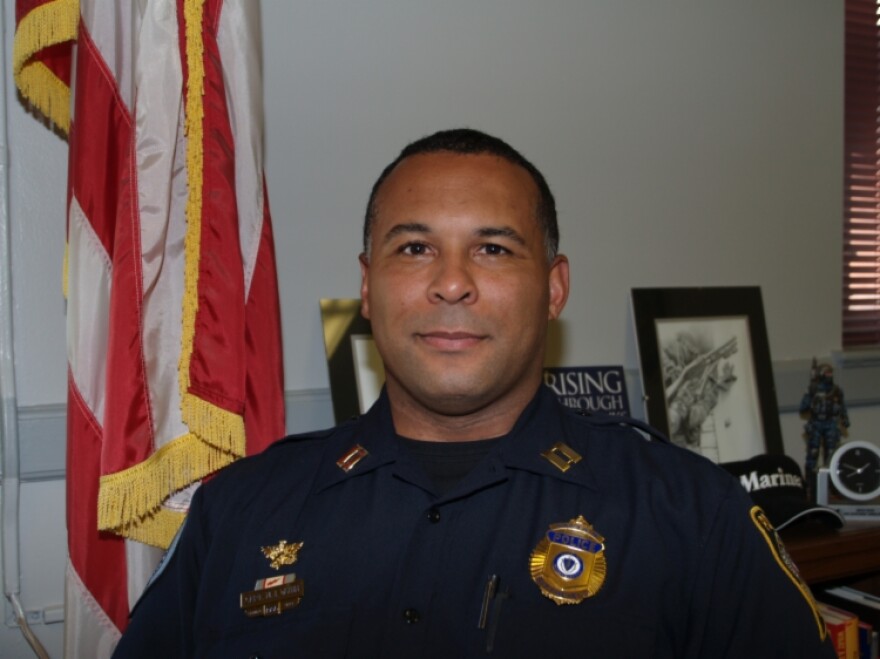 Pittsfield, Massachusetts Police Chief Michael Wynn leads the largest department in Berkshire County. He sat down this week with WAMC to talk about issues ranging from officer misconduct and mass shootings to staffing levels and immigration enforcement.
Wynn, who was appointed chief last year after a decade as acting chief, leads an authorized force of 99. Around 60 uniformed officers and supervisors patrol the Berkshires' largest city of around 43,000 every day. Wynn addressed federal statistics that paint a picture of rising crime rates in Pittsfield.
"If you go and you look at the FBI's Uniform Crime report, one of the very first things they say at the outset of that report is 'don't use these numbers for community to community comparison,'" said Wynn. "They're not designed that way. They're intended for law enforcement planning and deployment, they're not intended to look at various communities and rank one another."
He says his department's assessment of violent crime is more nuanced.
"We are seeing an incremental increase in the last several years, but again, a lot of what we're seeing is people who are known to one another," Wynn told WAMC, "and if it's not, again, if it's not a purely domestic relationship, it's incidents where there's at least some known quantity between the parties involved."
Wynn also said which crimes are reported and how they're classified can create misleading statistics, noting that the FBI has "no clear definition" about what a violent crime is. The definition provided by the FBI for its Uniform Crime Report is " those offenses which involve force or threat of force." The chief said that can lead to some difficult calls in reporting.
"One of the examples I'll give you — and this was between my intelligence unit and the crime reporting unit for the Massachusetts State Police — we have an incident in our data set for 2017 where the weapon that was listed that categorized the aggravated assault was a smoking pipe," said the chief.
He says the pipe in question was thrown, but yielded no injuries.
"It's in our data as an aggravated assault, and in the conversations with the crime reporting unit, they're indicating that it probably shouldn't have been, and in many communities it wouldn't have been," Wynn continued. "So we're over reporting in some cases, because we've been over reporting for a number of years. So if there's an increase there's still an increase, but you have to dig into the data before you look at that and get alarmist about it."
Wynn says there is one prevailing commonality in Pittsfield's crime.
"Most if not all of our crime has some nexus to illicit drugs, whether it's opioids or other illicit drugs," he told WAMC. "At some point, whether it's to support a habit or in connection with something else, we're going to find somebody who's substance addicted during our investigation."
Specifically, the opioid epidemic has led to an uptick in his office's activity.
"It certainly has increased our call volume, call volume across the board. For nonfatal overdoses, fatal overdoses, suspicious activity," said Wynn. "But it's also come with some challenges as far as resources as far as responding to calls, resources for protecting our personnel, resources for disposing of potentially dangerous substances."
As far as personnel goes, the chief tells WAMC he's been saying for years his department is understaffed. Wynn says he's made progress with the administration of Pittsfield Mayor Linda Tyer about reaching his staffing goal of 110 officers.
"But we're in a cycle in our personnel numbers where we're coming up against the retirements for some fairly large classes that came on in the late 80s and early 90s, and so we've brought – I think my last count was we've brought 22 new police officers on in 24 months, but we're still 12 short," he told WAMC.
In October, an 18-year veteran of the force left the department following a July incident where a woman was shot with an unsecured service weapon in the officer's home. Wynn says he stands behind his department's ability to handle its own.
"We've been diligent and disciplined about identifying officers who are accused of misconduct, and when those allegations are grounded, we take the most decisive action we can given the limits of the law and civil service," he said.
Wynn described Miles Barber's departure from the department as "voluntary" to the media last month.
He also explained his department's role in handling undocumented immigrants in Pittsfield, saying it only enforces city and state law, not federal law.
"There are those occasions where we're enforcing the law of the commonwealth and we encounter someone whose immigration status may be undocumented," said Wynn. "That doesn't change our role in it – the organizations that are responsible for whether someone gets held on a detainer are not the police department in our case. It's the courts and the sheriff's department. So we process arrests the way we always would, and that gets taken care after they're out of our custody."