Massachusetts Ballot Question On Patient Limits For Nurses Sparks Debate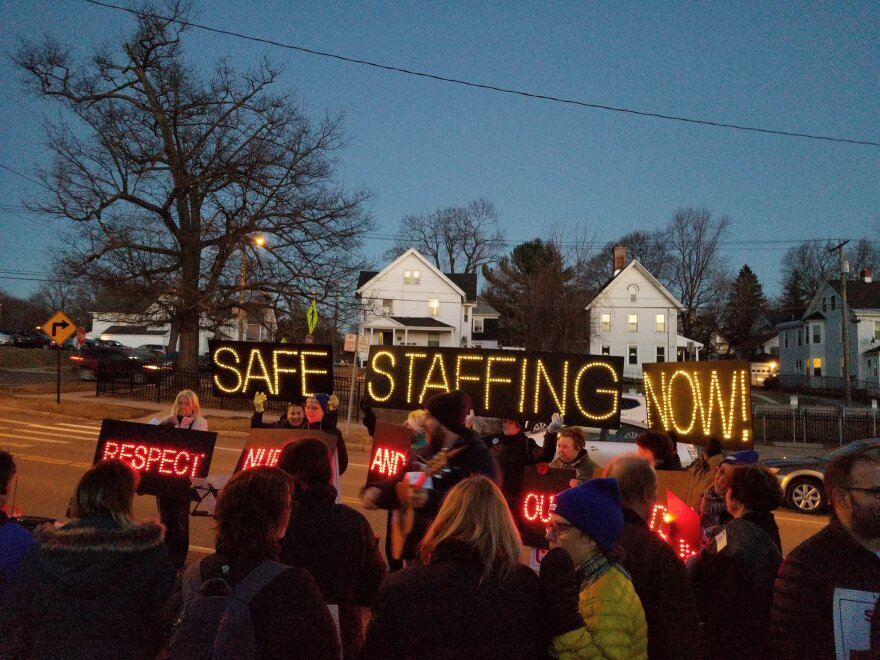 The first ballot question in Massachusetts this November will ask voters whether to adopt new staffing standards for hospitals around the commonwealth. WAMC spoke to both sides of the hotly contested issue.
If Question 1 passes, it would require hospitals to abide by a specific patient-to-nurse ratio — at risk of a $25,000 fine.
"Right now, there is not a limit on the number of patients that we care for at one time," said Donna Stern. She has been a fulltime registered nurse for 13 years, specializing in psychiatric services. Stern works on an inpatient locked psych unit at Baystate Franklin Medical Center in Springfield, and is a member of the Massachusetts Nurses Association.
"Our union is the largest union that represents the largest amount of nurses in Massachusetts — 23,000 bedside nurses," she told WAMC.
Right now, only intensive care units have limits on the number of patients that can be assigned to a single nurse.
"What that means for patient care when we are caring for too many patients, is that there are higher rates of death, there are higher rates of medication errors, there are higher rates of hospital based infections, there are higher rates of hospital readmissions," said Stern.
The proposed law would expand those limits to all units of every hospital in the state. The MNA sees Question 1 as a remedy to a longstanding problem.
"That's why we feel that people in the state of Massachusetts- they need to decide," Stern told WAMC. "Do you want safe patient care, or do you want to continue with the way things are?"
Its opponents see it as a whole new problem.
"We're unable to meet the nursing levels called for in this mandated ratio provision, and even if we could, it would cost over $170 million," said David Matteodo. "We're not sure where we would get that."
Matteodo is the executive director of the Massachusetts Association of Behavioral Health Systems.
"We're a statewide trade association of psychiatric and substance abuse hospitals and units in general hospitals," he told WAMC. "We have 45 members — we go all the way from Berkshire Medical Center to Cape Cod Hospital, and many in between."
Matteodo says it's not about cutting down on nurses — it's that there aren't enough nurses to hire to meet the new levels Question 1 would require.
"We cannot hire 900 nurses, they don't exist. I have a hospital that has 30 beds open now out of a total of 150 because of staffing issues," he said. "They cannot find the staff. This is an impossible mandate for our hospitals to meet, and we'd end up closing hospitals and closing beds."
"What you hear the opposition saying is that they're rigid limits," said Stern. She points to provisions of the law that requires the ratios to flex between different nurse assignments.
"What we're saying is, the nurse can take care of less than four — one, two, three, up to four on a medical surgical unit," said Stern. "I'm a psych nurse, I wouldn't take care of more than five patients at one time."
She doesn't buy that hospitals can't afford the new staffing levels, noting many post yearly profit margins, sometimes in the hundreds of millions.
"Worcester, the UMass system — they closed 13 psychiatric beds last year, not because of a shortage of nurses or a shortage of money," Stern told WAMC. "They made $250 million. They just don't want to have psychiatric beds because it's not profitable."
The Massachusetts Association of Behavioral Health Systems has described Question 1 passing as "devastating to both patients and the behavioral health system as a whole," but Stern says the same law has been in place in California for the last 14 years without consequence.
"Not one hospital has closed because of this," she said.
Voters will decide November 6th.