Regulators Approve Final Steps To Open Massachusetts' First Resort Casino In Springfield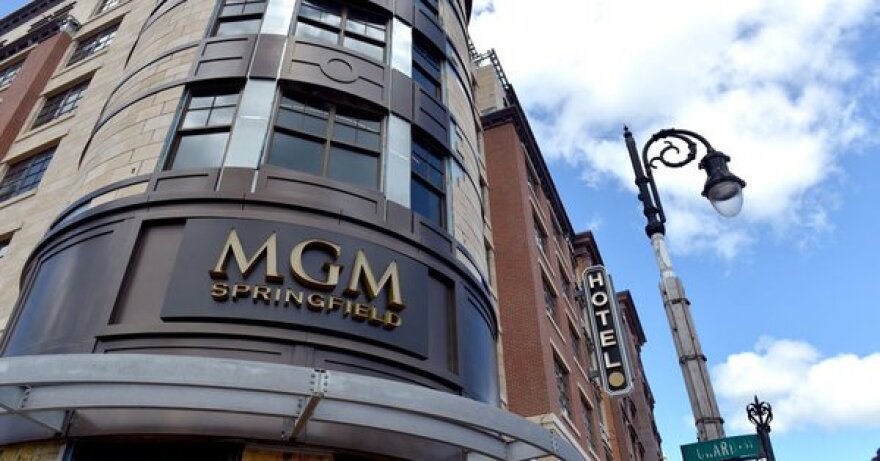 Massachusetts casino regulators met in Springfield Thursday for the final time before the opening in 21 days of the state's first resort casino in the heart of downtown Springfield.
The Massachusetts Gaming Commission was assured by MGM and Springfield city officials that elaborate detailed plans have been thoroughly vetted for parking, traffic and crowd control, and security for the opening weekend in an effort to make sure the state's first venture into Las Vegas-style casino gambling goes off without a hitch.
"Commissioners, we're ready," declared MGM Springfield General Manager Alex Dixon. " We have been working with the city and it has been a pleasure."
The casino is scheduled to open its doors to the public at 11 a.m. on August 24th following a procession and ceremony.
The five-member commission took a series of votes required for the casino to open, including authorizing two test nights. Revenue from the tests will be given to local nonprofits.
After the last of the unanimous votes, Chairman Stephen Crosby told MGM officials, "You guys are off to the races."
Casino regulators toured the nearly finished casino Thursday. Crosby said the $960 million project turned out better than he expected.
"We've seen renderings of this place for years now , but to see the actual building has exceeded what the renderings represented is really fantastic," Crosby said.
In an interview, Dixon would not speculate on how many people are expected to visit the casino complex on opening day.
" I am not a betting man, although I am in the gaming business," said Dixon. " It is really hard to predict."
MGM has begun a marketing campaign to promote the casino including ads on television in the Boston, Hartford, and Albany markets.
Springfield Public Works Director Chris Cignoli said plans for the casino's opening day include closing a portion of Main Street, as well as several side streets, and the exit ramp off Interstate 91 that is closest to the casino. In addition, parking will be prohibited on many streets in the downtown.
" We really need the people's patience," said Cignoli.
DPW dump trucks will be used to block some streets, while others will be closed to through traffic with plastic barrels.
The street closures will begin as early as 4 a.m on Aug 24th.
The city plans to get the word out on electronic highway signs and message boards set up downtown in the 7-10 days leading up to the opening of the casino, according to Cignoli.
" The way we see it is nobody can drive in and around the city of Springfield in advance of this event and not know what is going to be happening," said Cignoli. "Nobody should wake up on the morning of the 24th and be surprised to find streets closed. We are going to spend a lot of time getting the word out about what is going to be happening in the city of Springfield."
Anticipating that downtown parking, including the 3,500 space garage at the casino itself, will fill early in the day, MGM is encouraging the use of free parking at the Big E in West Springfield where an express shuttle bus will begin running at 6 a.m.
MGM has posted traffic and parking information for opening day on its website.
"Our best advice is to plan ahead," said Dixon. " Come early, stay late, know where you want to park and consider alternative means of transportation."
Springfield Police Commissioner John Barbieri said 50 police officers will be on duty downtown on the day the casino opens with more standing by to respond if needed. Two emergency operations centers will be staffed.
He described the security plan as "robust."
" If there is something that comes up that is unusual or unexpected, we will have as rapid a response as possible," said Barbieri.
Not all of the project will be finished by August 24th. Some locations for retail stores are still under construction, and MGM has still not satisfied a requirement of its development agreement with Springfield to build market-rate apartments downtown.