Picasso: Encounters At The Clark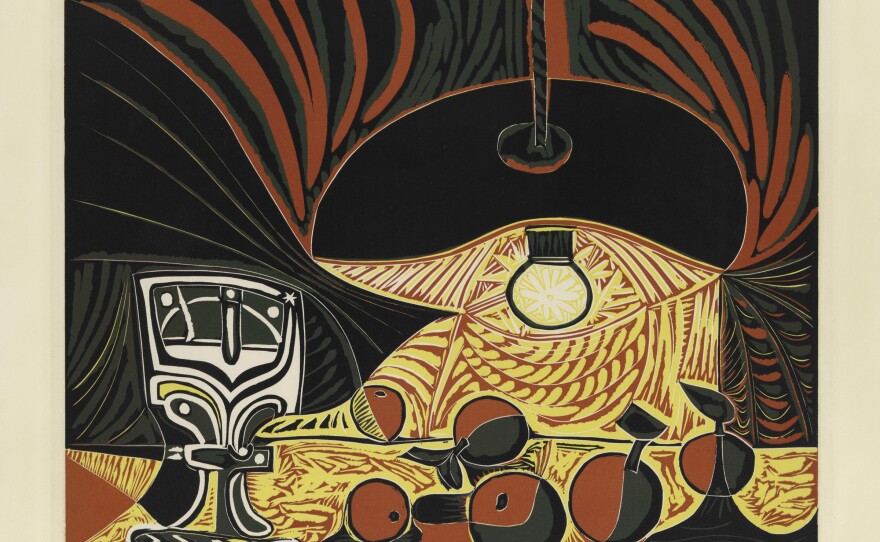 Still Life with Glass Under the Lamp, 1962. Linoleum cut on paper, sheet: 24 1/2 x 29 5/8 in. The Metropolitan Museum of Art, New York. The Mr. and Mrs. Charles Kramer Collection, Gift of Mr. and Mrs. Charles Kramer, 1979, 1979.620.90
© 2017 Estate of Pablo Picasso / Artists Rights Society (ARS), New York
Minotauromachia, 1935 (printed 1936). Etching and engraving on paper, sheet: 22 1/4 x 30 in. Private Collection
© 2017 Estate of Pablo Picasso / Artists Rights Society (ARS), New York
The Dove, 1949. Lithograph printed from a zinc plate on paper, sheet: 22 x 30 in. Philadelphia Museum of Art. Gift of the Philadelphia Water Color Club, 1950, 1950.7.1
© 2017 Estate of Pablo Picasso / Artists Rights Society (ARS), New York
Portrait of Dora Maar, 1937. Oil on canvas, 36 1/4 x 25 5/8 in. Musée national Picasso-Paris, Paris. Pablo Picasso, 1979, MP158. Photo: Mathieu Rabeau © RMN-Grand Palais / Art Resource, NY";
© 2017 Estate of Pablo Picasso / Artists Rights Society (ARS), New York
Jacqueline Knitting, 1954. Oil on canvas, 28 3/4 x 21 5/8 in. Private Collection
© 2017 Estate of Pablo Picasso / Artists Rights Society (ARS), New York
Picasso: Encounters has been on view exclusively at The Clark Art Institute this summer and will close this coming Sunday, August 27.
The exhibition estigates how Pablo Picasso's creative collaborations fueled and strengthened his art, challenging the notion of Picasso as an artist alone with his craft. The exhibition addresses his full stylistic range, the narrative themes that drove his creative process, the often-neglected issue of the collaboration inherent in print production, and the muses that inspired him.
We spoke about the exhibition with Jay Clarke - the Manton Curator of Prints, Drawings, and Photographs at the Sterling and Francine Clark Art Institute.