Governor Calls For Review Of Police Response After Violent Clash In Brooklyn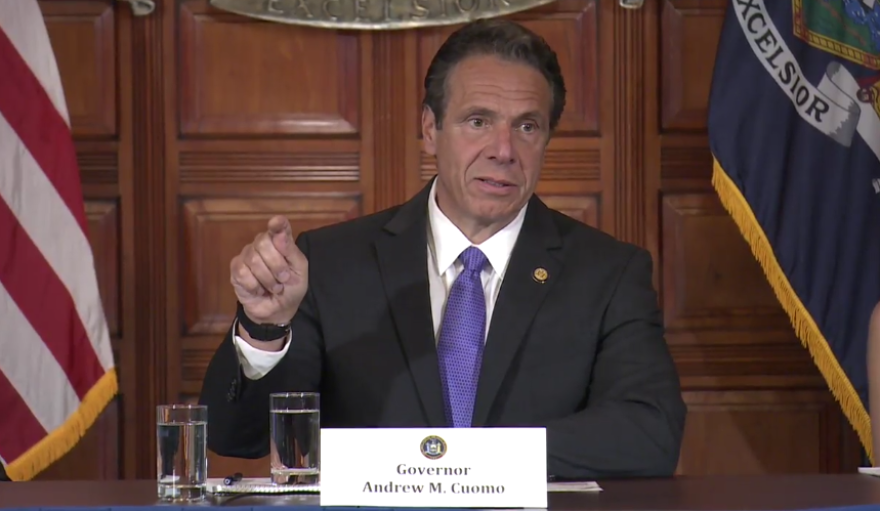 Protesters in Brooklyn clashed with police Friday night, marked by images of a police vehicle set on fire and a video shared thousands of times on social media of a woman being violently shoved to the ground by a New York City police officer.
Addressing the protests following the death of George Floyd, an unarmed black man killed by a white police officer this week in Minneapolis, New York Governor Andrew Cuomo said he stands with the demonstrators who are calling for racial justice. However, he said violence is not the answer.
The Democrat named several unarmed black citizens beaten or killed by police during his daily coronavirus update on Saturday.
"Rodney King was thirty years ago. We suffered in this city through Abner Louima, and Amadou Diallo, and Sean Bell, and Eric Garner. How many times have we seen the same situation? Yes, the names change but the color doesn't," said Cuomo.
Cuomo said he has asked New York Attorney General Tish James to review police clashes with protesters.
James, in a statement, called Friday a "dark night" for the city, adding "there are too many disturbing images to count, images that show generations of pain, anger, and discrimination."
New York City Mayor Bill De Blasio has also called for a review.
State legislative leaders say there must be "better coordinated efforts" to de-escalate tensions and to allow for citizen protests.
Senate Majority Leader Andrea Stewart-Cousins and Assembly Speaker Carl Heastie, both of whom are black, said two members of the state legislature were pepper sprayed by police and one was put in handcuffs while joining the protesters in Brooklyn.
Cuomo on Saturday also signed a bill that will provide death benefits to the families of frontline workers who died during the COVID-19 crisis.