Arnoff Company Opens $11.6 Million Logistics Hub In Saratoga County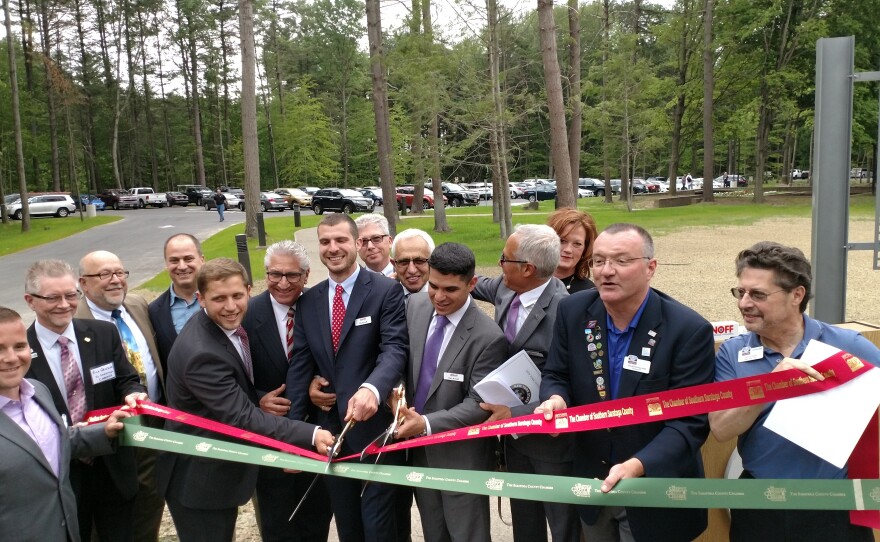 An upstate New York company has relocated from an iconic Albany building to a brand new logistics hub in Saratoga County. WAMC's Southern Adirondack Bureau Chief Lucas Willard reports the company plans to bring more jobs to the region.
Arnoff Moving & Storage outgrew its former warehouse district home in Albany's "Nipper building" on Broadway. In seeking a new location, President Mike Arnoff said the company looked north to Saratoga County.
"As we set down roots here in Malta, here in Saratoga County, it's really a chapter that's about our future and the strategic vision that we've laid out for the fifth generation for our family," said Arnoff.
Employees and local officials gathered Thursday evening for a ribbon cutting for the company's brand new $11.6 million Global Logistics Hub.
The location in Malta, not far from the GlobalFoundries chip fabrication plant, was once the home of an auto supply factory.
The 72,000-square foot factory has been remodled and a 25,000-square foot warehouse was added. The Arnoff company offers services including moving, shipping, logistics, warehousing, and packing. It is certified to move cleanroom tools used in semiconductor manufacturing.
Arnoff described why they chose the location.
"Because, number one, we're closer to the interstates and our ability to logistically and most effectively get trucks to western New York, northern New York, and Vermont and New Hampshire, and out to Boston," said Arnoff. "Secondly, we needed more efficiency in our warehouse operation and be in a more modern building with higher ceilings and broader spaces."
More than 50 jobs were moved from Albany to Malta and with the move comes the creation of 40 new positions. The company is working to fill another 15 openings.
Saratoga Economic Development Corporation worked to bring the company to the Malta location. SEDC president Dennis Brobston…
"SEDC and our Advance Saratoga initiative is about community-led efforts to attract these types of businesses and we're so excited that we're all here today," said Brobston.
One of the local officials at the grand opening was Republican State Senator Jim Tedisco of the 49th District.
Upon learning that the Arnoff company has been in business for 93 years, Tedisco joked that the only thing that takes longer is the New York state budget process.
But he added that one provision in this year's budget will help small businesses.
"I'm excited about the fact in this budget – it wasn't perfect, you can ask all 213 legilsators, we all would've done it different – but one of the things we did is we got our foot in the door on worker's compensation this year. We were No. 3 or 4 in the nation for worker's compensation for small businesses like this," said Tedisco.
Also on hand for the ribbon cutting were town officials, a representative for Empire State Development, and three local chambers of commerce.